Mfantsipim School will begin their redemption campaign in the 2021 National Science & Maths Quiz (NSMQ) from the regional qualifiers this morning.
This will be their second successive time they will start their campaign from the lowest level of the annual competition after failing to make it past the one-eighth stage of the previous national championships.
In 2019, the two-time winners lost their slot as one of the few schools never to have started their NSMQ campaign from the regional qualifiers.
In an all-Central Region debut, St. Augustine's College stood up to the day and shattered the game way before it was over, beating Mfantsipim School and Swedru SHS in the one-eighth stage of NSMQ2019.
At the same stage last year, the Botwe boys suffered similar fate as they were crushed out of the competition by spirited Kumasi Academy with a margin of 18 points.
But the Cape Coast-based school are poised to progress in the Central Regional Qualifiers of the 2021 edition of the National Science & Maths Quiz.
They will be in action against, Swedru School of Business, Gyaase SHS, Fettehman SHS, Twifo Hemang SHTS and Enyan-maim SHS in the fourth in series of the Central Regional qualifiers.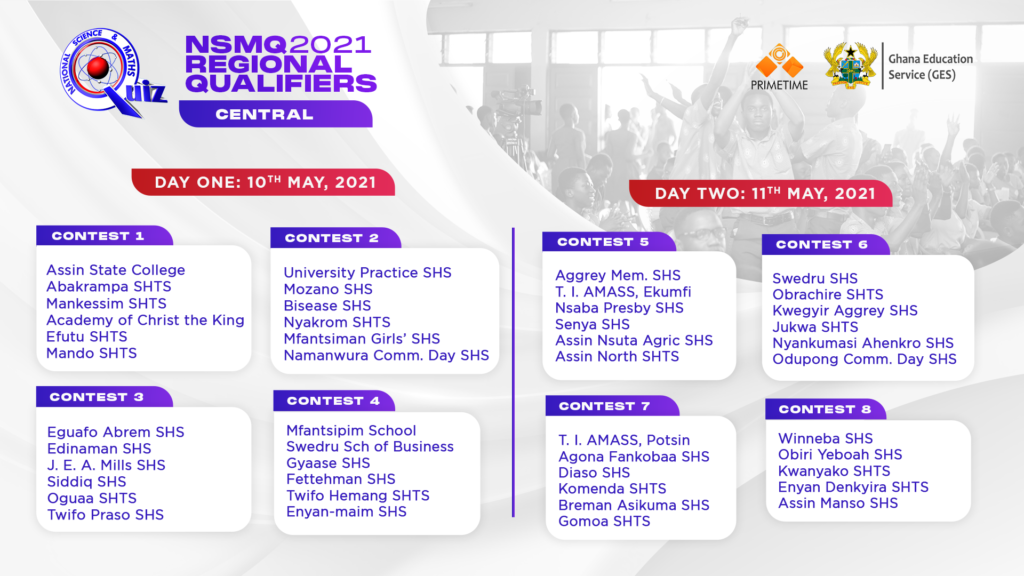 University Practice SHS also lost their seeded slot in 2020, and for the first time, joining the NSMQ competition will have to fight its way through the regional qualifiers.
Mfantsiman Girls SHS have had a rickety campaigns after their first ever appearance at the finals in 2013. They failed to qualify for the national competitions in 2018 and 2019.
Some NSMQ pundits fear the ladies may face a herculean task as they are drawn in the same contest with archrivals, University Practice SHS in the second regional qualifiers.
In all 48 schools will be battling for eight slots available for the Central Region in the 2021 National Science & Maths Quiz.
Meanwhile, St Augustine's College, Adisadel College, Wesley Girls SHS and Holy Child School gained automatic qualifications to NSMQ2021.
The remaining schools from the region to be seeded are Ghana National College, Boa Amponsem SHS and Apam SHS.