A pro-LGBTQ group, Silent Majority, Ghana has called on the Minister of Justice and Attorney General to order for the charges levelled against some 21 individuals, to be dropped with immediate effect.
They are being accused of unlawful assembly at Ho.
According to the Volta Regional Police PRO, Sgt Prince Dogbatse, the suspects were arrested on May 20, for having in their possession materials on concepts encouraging homosexuals at an unlawful gathering to boldly announce their sexuality among other related books such as "Hate Crime, The LGBTQ+ Muslim, Gender Acronyms, Coming Out, My Child: My Love Always, All About Trans."
But the group, in its press statement, communicated that the arrest of these human rights defenders by the Volta Regional Police Command is unconstitutional, thus the need for the sector Minister Godfred Dame to intervene.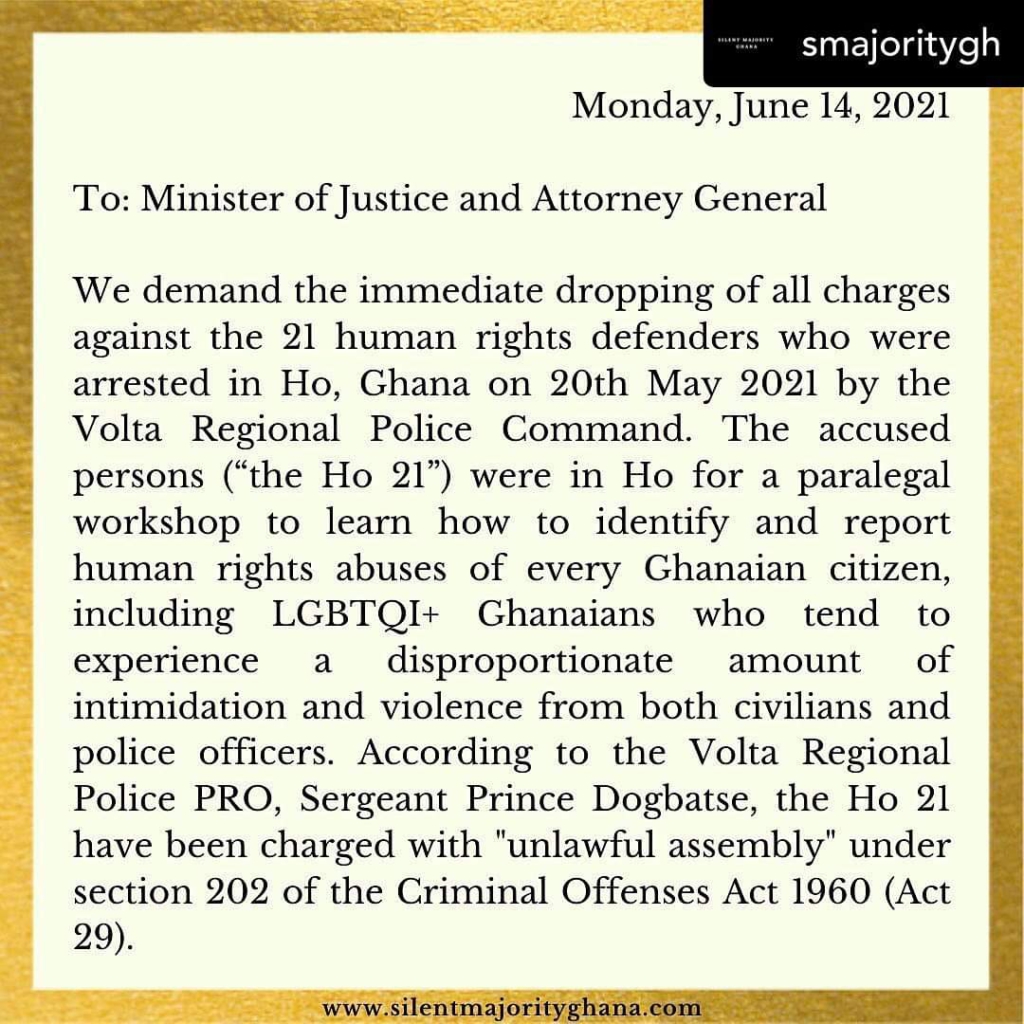 "The accused persons ('the Ho 21') were in Ho for a paralegal workshop to learn how to identify and report human rights abuses of every Ghanaian citizen, including LGBTQI+ Ghanaians who tend to experience a disproportionate amount of intimidation and violence from civilians and police officers."
"The Ho 21 were exercising their constitutional right to association, free speech and advocacy," portions of the June 14 press statement read.
The suspects in question were later granted bail on June 11, after three failed bail appeals, spending 22 days in prison and the widespread support for their release on social media with the hashtag #ReleaseThe21 since their arrest last month.
The reason provided for the delay in granting bail was due to the police requesting additional time to complete ongoing investigations.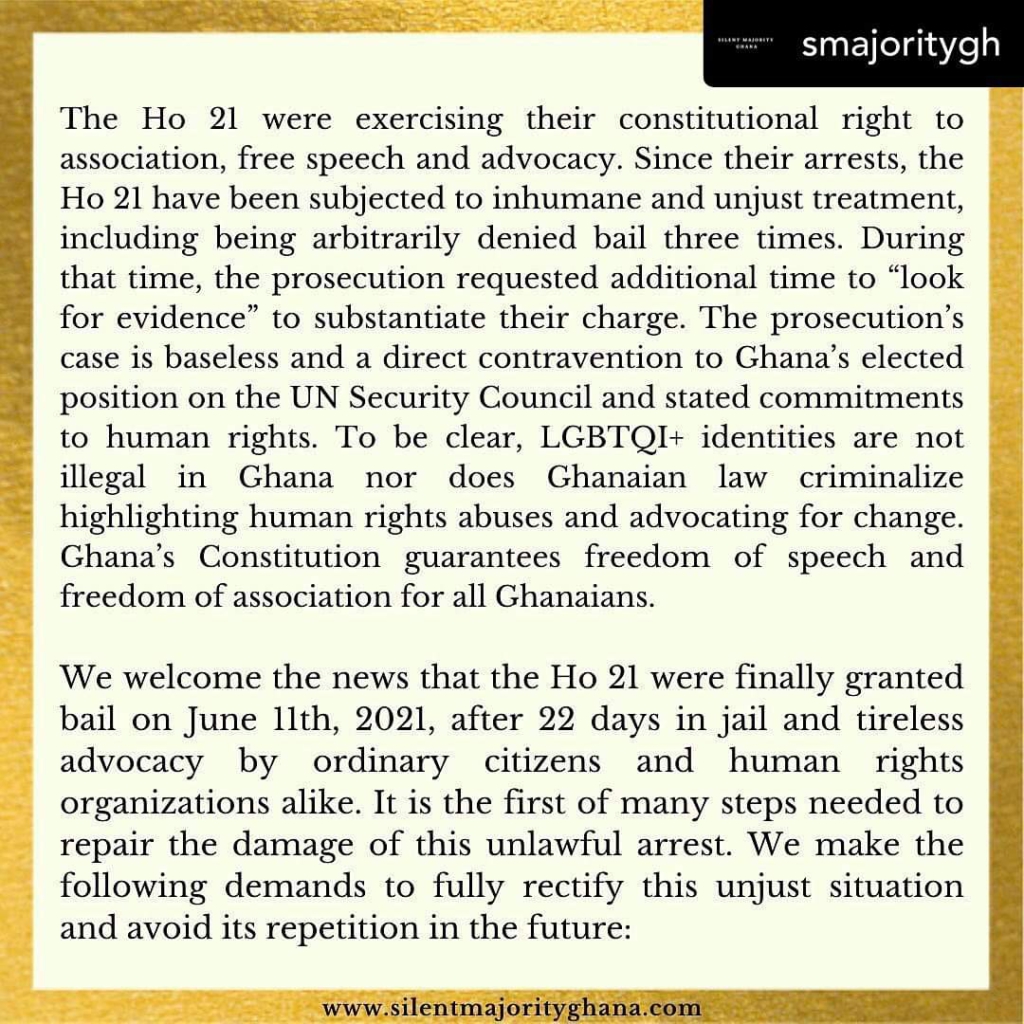 This rationale has, however, been described by some experts as inhumane as the case before the court.
On why the case holds no merit, the group noted that there is no law in the 1992 constitution that frowns upon LGBTQ+ identities.
"To be clear, LGBTQ+ identities are not illegal in Ghana not does Ghanaian law criminalize highlighting human rights abuses and advocating for change. Ghana's constitution guarantees freedom of speech and freedom of association for all Ghanaians," it stated.
Also, the group has accused the security service of unfair treatment meted out to the suspects while in police custody.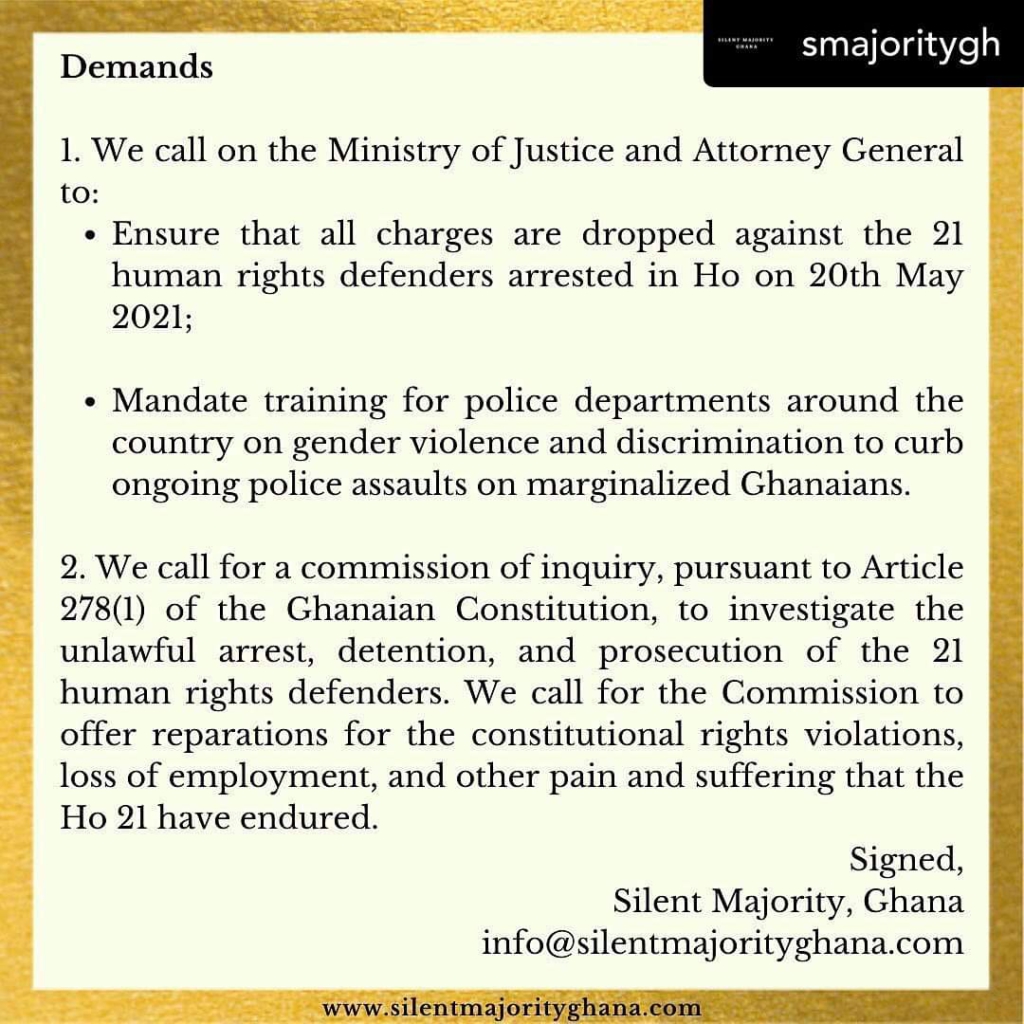 Despite welcoming the decision to grant the suspects bail and calling for their charges to be dropped, the group has requested mandatory training for police departments nationwide on gender violence and distribution to curtail ongoing police assaults on marginalized Ghanaians.
In pursuant to Article 178(1) of the Constitution, the group has called for a commission of inquiry to investigate the "unlawful arrest, detention and prosecution of the 21 human rights defenders."
"We call for the Commission to offer reparations for the constiutional rights violations, loss of employment, and other pain and suffering that the Ho 21 have endured," it added.
DISCLAIMER: The Views, Comments, Opinions, Contributions and Statements made by Readers and Contributors on this platform do not necessarily represent the views or policy of Multimedia Group Limited.