Social media users have expressed distaste for a ruling by an Accra High Court on March 27, 2020, which gave the National Identification Authority (NIA) greenlight to continue registering Ghanaians for the Ghana Card despite a ban on social gathering.
This followed an application filed by two citizens Mark Oliver Kevor and Emmanuel Okrah asking that the Authority be stopped from carrying out its registration exercise as it goes contrary to the social distancing directives issued by President Akufo-Addo in the wake of the COVID-19 cases recorded in Ghana.
But, court, presided over by Justice Anthony Oppong held that the application for an injunction is based on a grievous error and misunderstanding of the President's social distancing directive. The court then proceeds to dismiss the substantive case as well.
Justice Oppong granted a cost of ¢6,000 against the two citizens.
This development does not seem to have gone down well with some Ghanaians as they took to social media to vent their spleen.
The NIA single handedly giving the nation's social distancing efforts the middle finger.

It is depressing that this is happening with what's clearly support from the highest level.

— Michael Oti Adjei (@OtiAdjei) March 27, 2020
It's Obvious These Politicians Don't Care About Our Lives Anymore. In Fact They Never Cared Ankasa!

The Choice You Make Today As To Whether You Stay Home Or Not, Makes The Difference Between Life And Death.

Forget About The NIA And Stay Home Chale!!!😌

— UCC SHATTA WALE🇬🇭🧠 (@iamsamuelpagge) March 27, 2020
Dear Ghanaians,

Be angry, extremely ANGRY.

This virus is exposing everything wrong in this country for you to see, it's up to you to decide if you should continue to allow leaders to treat you like crap!

Anyone who justifies the NIA registration has an agenda

— Miss Forson (@lydiaforson) March 27, 2020
Doesn't the bill passed by parliament give the president the right to ban social gatherings during times like this? Cant the president stop The NIA from continuing the Ghana card registration? Something is wrong somewhere

— Dr. Ayigbe Borla Bird 塞拉姆 🦖🇬🇭 (@Mr_Ceyram) March 27, 2020
The most disappointing people of all are those who make excuses for the President by pretending the NIA is acting on their own volition.

— Felix Kwakye Ofosu (@FelixKwakyeOfo1) March 27, 2020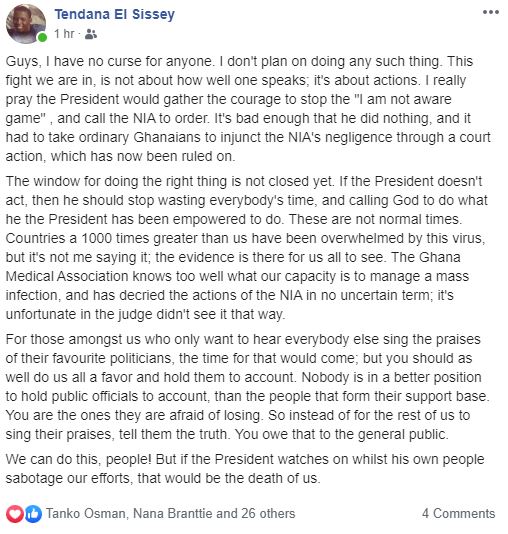 I think those at the NIA ain't Ghanaians or they have some hidden agenda for this coming elections which should be met at all Cost. 😢

Cuz no human with common sense will ever do this. We are finish in this country.

— Filey 🥀 (@efo_filey) March 27, 2020
This is why i was someway about the national prayer- on Wednesday !

if the NIA is entitled to work and registration will continue 👉Creating a good avenue for #Coronavirus spread,

Then Churches & mosques equally have a valid shout to resume.

Poor judgement of the situation🛑 pic.twitter.com/6YZULebPF8

— george addo jnr (@addojunr) March 27, 2020