Musician Jackline Acheampong, known in showbiz circles as Gyakie, has revealed that TikTok contributed massively to the success of her first hit single, 'Forever.'
Although that appears to be an open secret, the singer re-echoed it in a recent interview with Doreen Avio on Hitz FM's Daybreak Hitz.
"TikTok helped my song, 'Forever,' to reach a bigger market," said Gyakie. "It was part of the push for the song as well."
It has become vividly evident that African artistes have devised a new trend for promoting their songs on social media —and that is by activating dance routines, or 'challenges' on TikTok and Instagram Reels.
These dance routines are either introduced by the artistes themselves, or by professional dancers, through their respective social media platforms.
Fans of these artistes and dancers join the challenges to also exhibit their dancing skills. In some cases, selected fans are even rewarded with cash, shopping coupons, and airtime, among other gifts by the artistes for chalking the most views on their pages.
The more "engaging" a challenge is, the more it gets people to join —and this propels the hashtag of the challenge, [which often includes the title of the song,] to appear in TikTok's and other social media networks' trends list.
This for many artistes has proven to be a new way for music discovery and marketing to some music listeners.
Irrespective of how efficient this trend has become for some artistes, revered record producer and audio engineer, Wei Ye Oteng, is of the view that this recent "craze" is rather killing hit songs faster.
He believes hit songs are quickly replaced through TikTok challenges, and thus, the songs do not enjoy enough longevity since new routines come up now and then.
Speaking in an interview with Sammy Forson on Thursday, he said that the dance routines that accompany the songs go on to promote dance than the music itself.
In a Facebook post, he wrote: "Pushing songs to the trends by making all these moves [dance] for it to be a hit is killing our songs faster than allowing it to organically grow to gradually become a hit."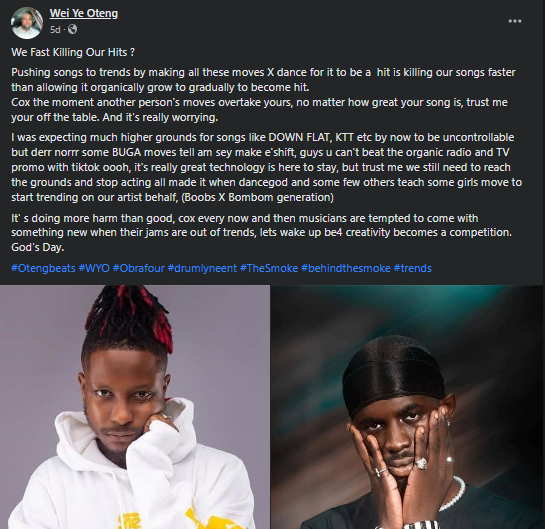 For someone [Gyakie], who has gained some mileage through TikTok with dance routines to her song, 'Forever,' she has a contrary opinion.
"I feel like it depends on the song," Gyakie said. "I know songs that came with dance routines and are on TikTok that are still being played."
She cited an example of a song on several DJs' current playlists, even though it was released in February.
"People are still bopping to Kelvyn Boy's Down Flat," said Gyakie. "It's been a minute since the song was released. It came with a dance routine as well. That's an example. It's a very good song so people enjoy the song when it is played. People still dance to it when it comes up. That's why I said it depends on the song," she told Doreen Avio.
Talking about routines, the singer's latest single, 'Something,' is currently trending on social media, following a dance challenge spearheaded by the 'Dance With Purpose Academy' (DWP Academy).
The song was exclusively premiered on Hitz FM on June 10.