The Member of Parliament for Effutu in the Central Region, Alexander Afenyo-Markin, has called for an investigation into the fatal accident that occurred at Gomoa Okyereko on the Accra Cape Coast road on Tuesday, May 30.
Gomoa Okyereko is known to be one of the accident prone areas on that stretch, and has a signage warning motorists.
In a press release empathising with victims, Mr Afenyo-Markin explained that an investigation would provide insight into the circumstances surrounding the accident.
He said this would help relevant authorities to identify the causes and enforce measures that will prevent similar incidents in the future. 
"In light of this tragic event, it is imperative that we come together as a nation and prioritize the safety of our roads. Let us remain steadfast in our commitment to upholding road safety, implementing necessary precautions, and fostering a culture of responsible driving," the MP noted.
He added that "as we reflect upon this unfortunate incident, I urge all motorists and road users to exercise utmost caution, abide by traffic regulations, and embrace their responsibility to protect their lives, and the lives of others."
The accident on Tuesday occurred after a head-on collision between a petrol tanker and a bus at about 5 am on Tuesday.
The bus was travelling from Abidjan to Buduburam while the tanker was filled with petrol, travelling from Accra heading towards Takoradi.
About 17 passengers are reported dead, with about 40 others in critical condition at the Winneba Municipal Hospital and the Trauma and Specialist Hospital.
Mr Afenyo-Markin has sent his condolences to the victims of the accident and their families.
"In this time of immense grief, I extend my sincerest condolences to the bereaved families. May you find solace and strength in the cherished memories of your loved ones, and may their souls rest in eternal peace."
"To the brave individuals who survived this harrowing incident and are currently undergoing treatment at the Winneba Trauma and Specialist Hospital, please accept my sympathies and well wishes for a swift and complete recovery. Your resilience and courage inspire us all," he added.
The MP also applauded the Ghana National Fire Service's rescue team for their work at the scene.
"Your unwavering dedication and selflessness in the face of adversity reflect the finest qualities of service and bravery," he added.
Read the full statement below: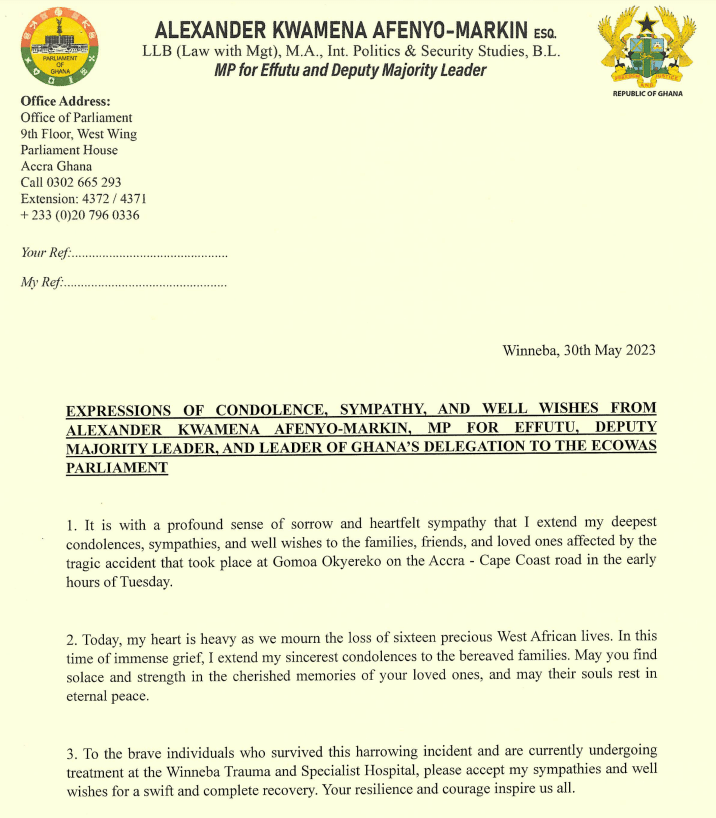 DISCLAIMER: The Views, Comments, Opinions, Contributions and Statements made by Readers and Contributors on this platform do not necessarily represent the views or policy of Multimedia Group Limited.