The Ghana Police Service is set to enhance security for the Easter holidays as it reminds the public of the ban on public gathering.  
The Christendom will celebrate Easter festivities from Friday, April 2 to Monday, April 5, across the world which is mostly characterised by religious activities and amusement events. 
A statement signed by the Superintendent of Police, Sheilla Kessie Abayie-Buckman said the move is to ensure that the Covid-19 protocol and restrictions imposed by President Akufo-Addo are not breached amid the festivity.
It, therefore, appeals to the general public to abide by the Covid-19 restrictions imposed by the President as the Police will strictly enforce same.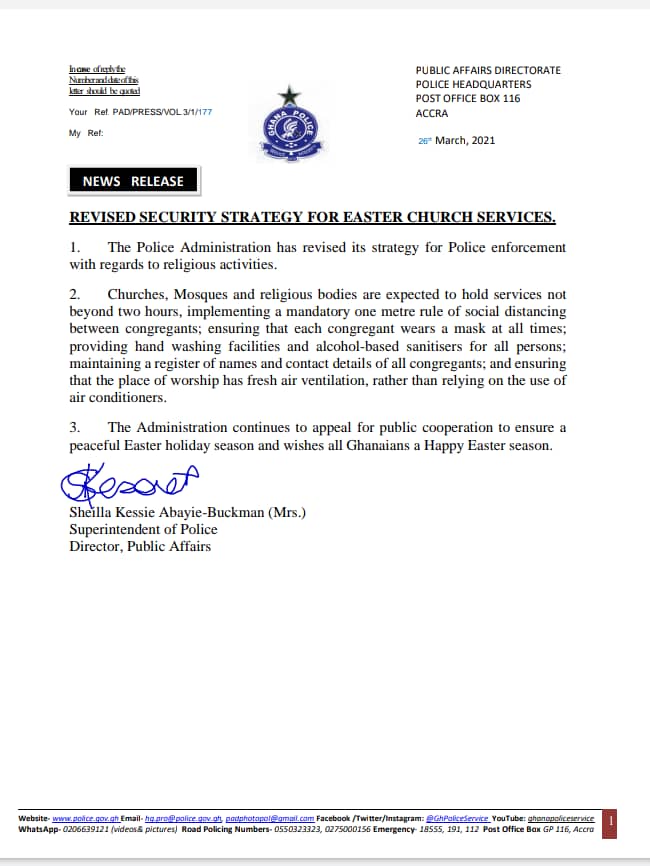 The police reminded churches, mosques and religious bodies that they are to hold services not beyond two hours, implementing a mandatory one-metre rule of social distancing between congregants and ensuring that each congregant wears a mask at all times.
It is also reminded them that they should provide handwashing facilities and alcohol-based sanitisers for all persons.
The Police said they should again, "maintaining a register of names and contact details of all congregants; and ensuring that the place of worship has fresh air ventilation, rather than relying on the use of air conditioners."
The Police Administration encourages the public to continue to be vigilant and report all criminal activities to the nearest Police Station.
In cases of emergency crime situations, the public is encouraged to contact them on 0550323323 or 0275000156 and Toll-Free numbers 18555, 191 or 112.