The Historical Society of Ghana has petitioned the Education Ministry and the National Council for Curriculum and Assessment (NaCCA) to call for the withdrawal of Aki-Ola History textbook written by Enoch Amoah for Senior High Schools in the country.
In a statement signed by the Society's General Secretary, Faisal Inusah the said book after careful examination "suffers from certain limitations, including its failure to identify relevant points and offering of complex explanations of the points when identified, as well as, irrelevant background information on historical issues that students do not need at the Senior High School level."
This, according to Mr Inusah, goes contrary to the history syllabus of the Ghana Education Service (GES) and the West African Examination Council (WAEC).
"Indeed, over the years, we have worked hard to raise students' interest in History at the Senior High School level. We are, however, afraid that the identified shortcomings of the AKI-OLA History textbook can contribute to students' loss of interest in the subject," he stated.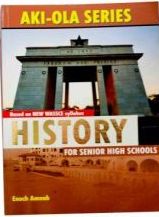 Mr Inusah further charged relevant stakeholders to do the needful by having the most appropriate history textbooks supplied to secondary schools.
"We believe that there are good history textbooks which have been published by History teachers and individuals that can be adopted by the Ghana Education Service to be used by Senior High School students rather than the AKI-OLA History textbook," he added.