In the top European leagues, the transfer market has become a jungle, a hunting ground for clubs to attain the biggest meat or in footballing terms, the best players possible. If a club like Tottenham misses out on an attractive player, there is always the opportunity for another big club to feast.
There has always been room for exceptional bargains but if you are called Pep Guardiola and you manage a club like Manchester City, you have to spend big to win.
"Listen – a lot of clubs invested. United, Arsenal – in periods before winning the leagues – invested more money than the other ones. When Chelsea started to win Premier Leagues, they invested more money than the other ones," Pep responded to the media after constant questioning of his perceived knack for splurging to improve his team each season.
The fans, especially those from the red side of North London (Arsenal), will be quick to reference the frustrating penny pinching days of Arsene Wenger and the unwillingness of their owner, Stan Kroenke, to spend huge sums for quality.
Have Arsenal really been that miserly? Which team has really spent more than others in the Premier League era?
Let's take a look at the real spending of six selected Premier League teams from the 1992/93 season.
Methodology
Six Premier League teams were selected for the comparison of player purchases, player sales and net spend. They are; Arsenal, Liverpool, Manchester City, Manchester United, Chelsea and Tottenham Hotspur.
After some exceptional performances, huge spending and an exponential increase in fans around the world in recent years, the clubs mentioned above have earned the 'top six' tag and are suitable candidates.
The top flight league in England was initially founded in 1888 as the English Football League but was changed to the current Premier League (PL) system in the 1992/93 season. The comparison factored in transfers from the beginning of the first PL season to the just ended 2020 summer transfer window.
Data relating to the start of the very first Premier League season was primarily sourced from Transfermarkt. The Guardian and other sources were used for confirmation. The figures, which were in euros, were converted into pounds using exchange rates provided by the Bank of England.
Since transfers were done within three decades, inflation was considered to give a clearer picture as to who has really spent and sold the most.
Composite price index (CPI) was used to calculate inflation. The CPI is a statistical chart that is used to track changes in the average price of certain types of commodities, securities or even particular types of services. The CPI values were sourced from the Office for National Statistics (UK) and applied to ascertain final values.
NB: All values subsequently mentioned are adjusted for inflation.
Player Purchases
After Roman Abramovich bought Chelsea from then-owner Ken Bates in June 2003, he immediately got to work and his willingness to splash the cash propelled Chelsea to first with over £2.37 billion spent.
In the period from the summers of 1992-2002, Chelsea had spent a little over £228 million in total, showing just how much the London side changed after the change in ownership. Their biggest acquisition in the pre-Abramovich era was Frank Lampard for £16.56 million in 2001.
This summer, the Blues blew everyone out of the water spending over £200 million despite the adverse effects of the coronavirus pandemic. Ironically, that amount is close to their total spend from 1992-2002. In addition, they signed Kai Havertz for £72 million, making him second most expensive acquisition for Frank Lampard's side.
Pep Guardiola's Manchester City take second place with £2.2 billion spent. Their position comes as a bit of a shock considering the fact that Sheikh Mansour became owner of the club in September 2008. Then again, they have spent over £1.8 billion since 2009 and will likely spend more in subsequent seasons.
Manchester United who spent over £1.87 billion in total come third on the list. Sir Alex Ferguson did spend some cash during his tenure but the club's purchases rose exponentially after his retirement.
Since 2014, the Red Devils have averaged over £142 million per year as compared to an average of £40.93 million from the start of the first Premier League season to the end of the 2013 calendar year.
Arsenal places sixth with over £1.30 billion spent, just behind Liverpool (£1.68 billion) and Tottenham (£1.41 billion). During Arsene Wenger's tenure, there were multiple years filled with frustration on his 'miserly' attitude which contributed to the relatively lower figure.
Also, the owner, Stan Kroenke, has employed the self-financing model.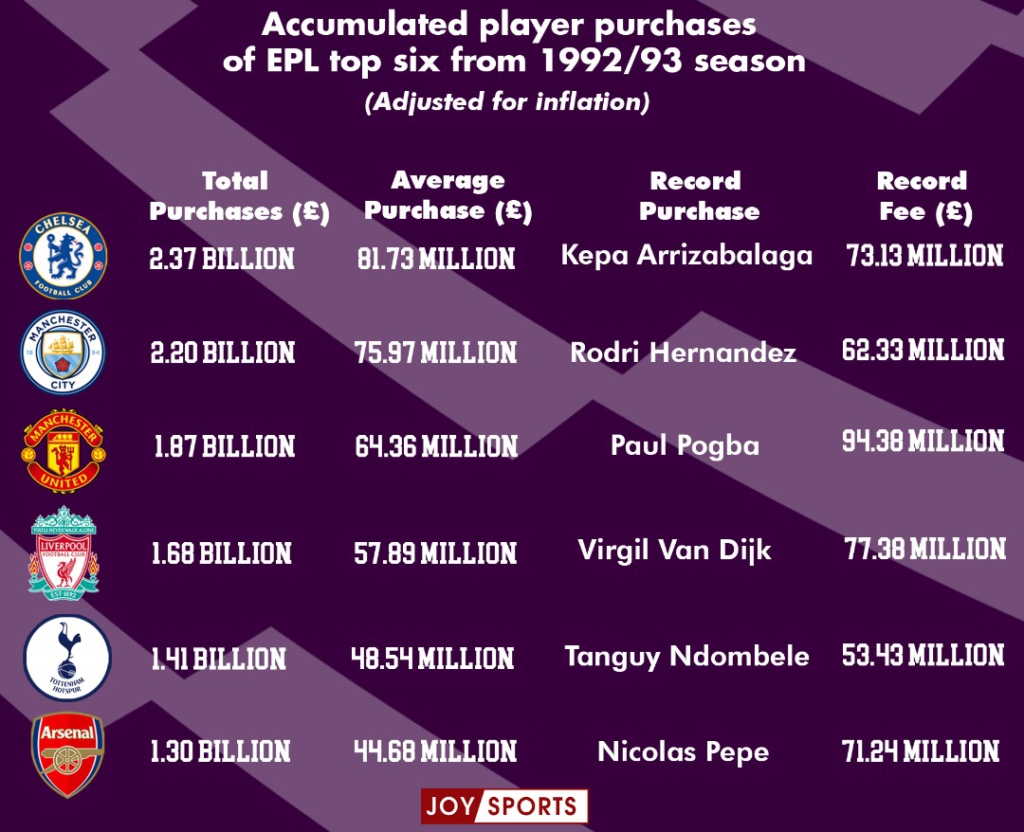 This model simply means that there will be no cash injection from the owner to help in transfers.
A lot of money has been splashed by these top clubs over the years but how many trophies have they won during the selected period?
Sir Alex Ferguson's dominance ensured Manchester United's impressive 38 trophies overall. Chelsea's 24 trophies can be mostly attributed to the arrival of Abramovic and Arsenal's 22 is mostly linked to the Arsene Wenger era.
Liverpool have amassed 16, one place above Manchester City who have 14. Tottenham have won just two trophies despite spending more than Arsenal.
Player Sales
Albeit clubs try to bring talents in every window, they also try to send some of their players away for various reasons. In the case of Eden Hazard, Gareth Bale and Phillipe Coutinho, these players wanted moves away to their dream clubs.
In some cases, the players are deemed not good enough or need more experience in a different team. In the selling column, Chelsea tops the list once again having gained £1.20 billion.  
The Blues, despite buying players for huge sums, have shown during the years that they can ship players out for good money as well. They have also implemented a 'loan army' system where players are sent out on loan for various loan fees.
At the end of the 2019 winter transfer window, the Blues had an astonishing 41 players out on loan, a mixture of first team players and youth.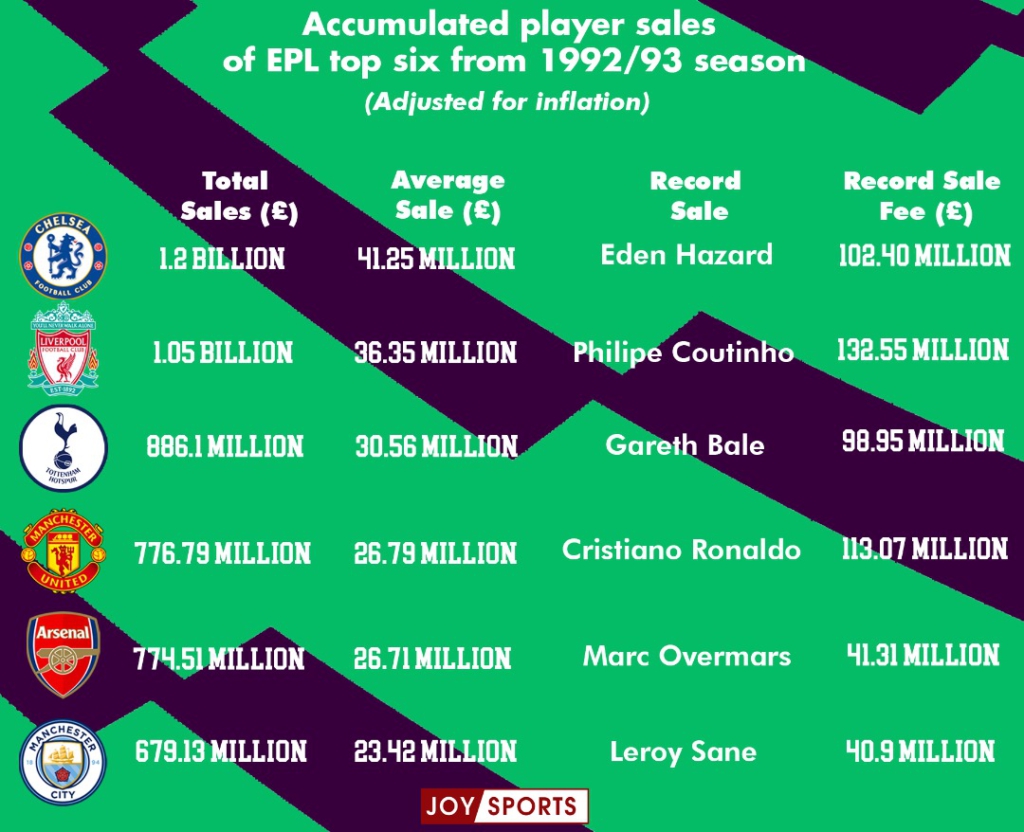 Liverpool places second with over £1.05 billion gained in player sales. The Reds have become masters at getting value from player sales in recent years. A typical example is Luis Suarez who was sold to Barcelona for £74.24 million in 2014. Four years later, they broke their record sale after Philippe Coutinho was shipped out to Barcelona for £132.55 million.
In the period from 1992-2013, The Reds averaged £39.31 million in sales. Since 2014, they have averaged just above £116 million each year from letting players go, a huge improvement.
Tottenham comes third in this column, making £886.10 million. The Lilywhites have lost some of their best players in the past. The likes of Dimitar Berbatov and Gareth Bale traded the White Hart Lane for a place at Manchester United and Real Madrid respectively.
Bale is by far their highest sale, leaving for £98.95 million in 2013. He has returned on a loan basis after spending seven years in Spain.
Manchester City are bottom of the pile with £679.13 million amassed. The Cityzens have mostly brought players in and shipped out players for less. Their record departure is Leroy Sane who was let go in 2020 for an initial fee of £40.9 million.
Net spend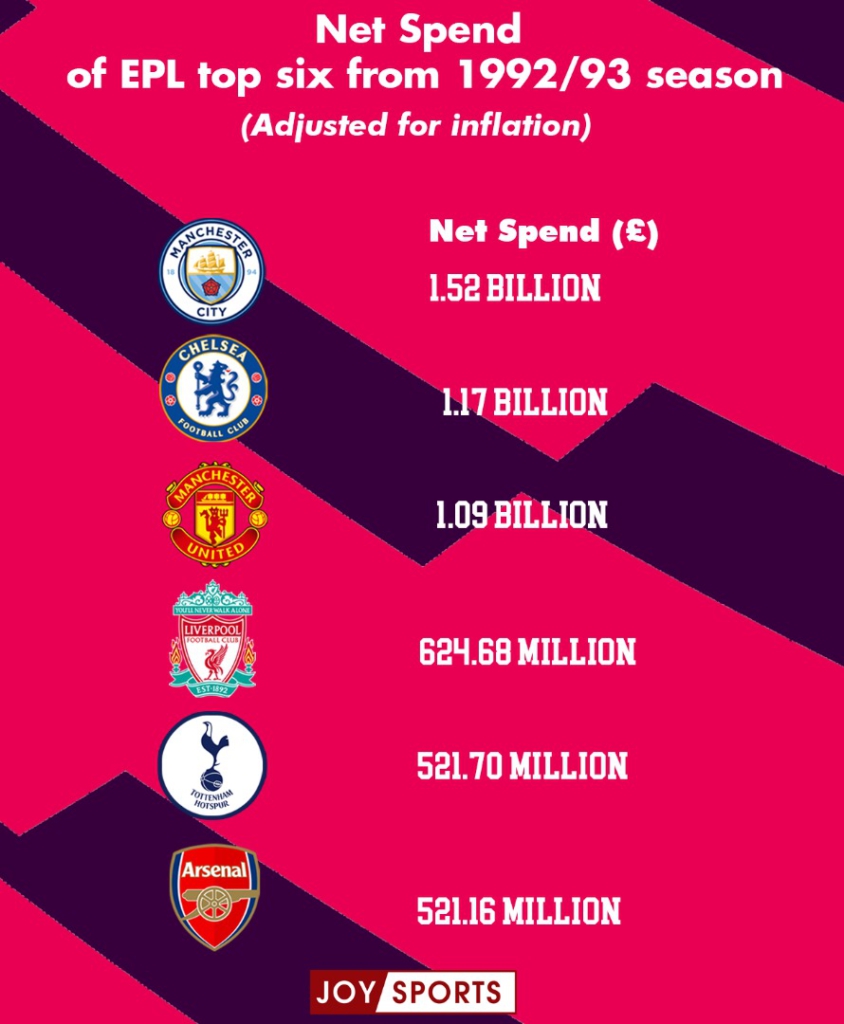 The net spend is simply the difference between money earned from player sales and the money spent on new recruits.
Manchester City has the highest net spend among the top six (£1.52 billion) which comes as no surprise. The Cityzens have sold players for not so high values whilst splashing a lot of money on arrivals over the years.
Player purchases for the Cityzens stands at over £1.8 billion since 2009 whilst making £534.66 million in sales during that period.
Roman Abramovic's Chelsea places second with a net figure of £1.17 billion. Despite the Blues' commendable way of earning money through sales, they have spent considerably higher. In the last decade, they have earned over £903 million from selling but spent £1.47 billion during that period.
Manchester United places third with a £1.09 billion net spend. The Red Devils made huge outlays, especially during the post Ferguson era without earning as much from selling.
Arsenal find themselves at the bottom of the log and it comes as little surprise considering their relatively lower spending as compared to the others.
What the future holds
Chelsea's transfer ban seems to have been more of a blessing in disguise as the club has had ample time to plan and restrategise. They also got huge cash from the sale of Eden Hazard which no doubt influenced their spending spree this summer.
Roman Abramovich has shown willingness to pump more money into the club if possible and it could be the case in subsequent years.
Manchester City aslo have Sheikh Mansour bin Zayed al-Nahyan as their owner. Sheikh Mansour has shown eagerness to spend in the past and that is unlikely to change.
The likes of Liverpool and Tottenham may only spend big if the player in question is too good to turn down and in Arsenal's case, the self-sustaining model will continue.
The world has been hit by the coronavirus pandemic which has no doubt impacted finances of teams negatively. Clubs will no doubt spend to improve their lineups at every chance they get but it may not be as frantic as before.