The last Ghana Premier League (GPL) was 245 days ago. On Sunday, March 15, 2020, six fixtures were honored as part of matchday 15.
The rest were never played, because that evening, the President of Ghana Akufo-Addo announced a ban on public gatherings and sporting activities.
To that point, the GPL had been exciting, giving fans storylines about players, clubs and a lot of drama.
Four months later, the Ghana FA would also indefinitely suspend all domestic competitions.
And now, with the ban on public gatherings lifted, a new beginning is here.
From Aduana Stars to WAFA, here is Joy Sports' handy club-by-club guide to the new season in alphabetical order.
Aduana Stars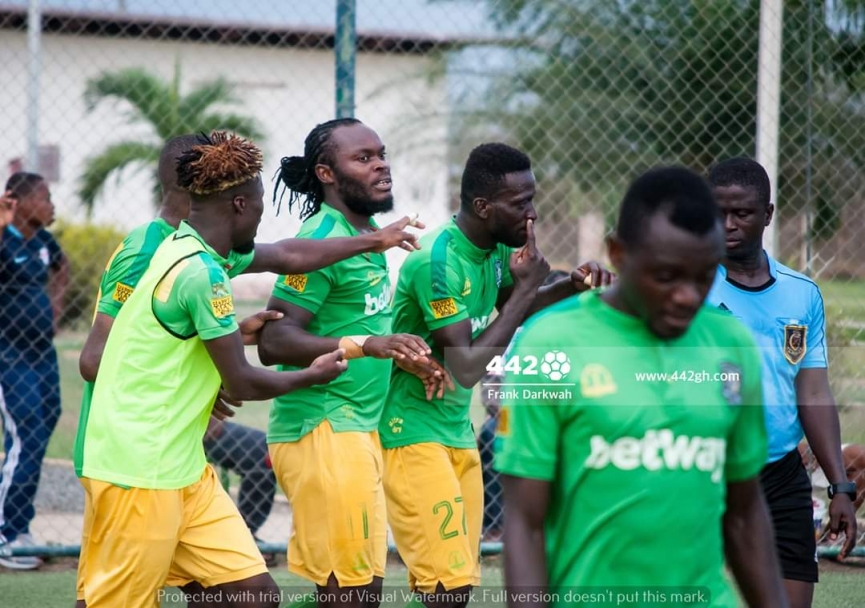 Aduana Stars have been reigning champions of the league since 2017 – their second title after annexing the league in their first-ever season in 2010. Since then, the Bono area stalwarts enter every season as potential title contenders.
Team Info
Founded: 1985
Home ground: Nana Agyeman Badu Stadium, Dormaa Ahenkro
Capacity: 7000
Nickname: Ogya
Coach: Paa Kwesi Fabin
Aduana Stars pre-covid:
Aduana Stars were the league leaders in the truncated season after playing 15 matches. The amassed 28 points with 8 wins, 3 loses and 4 draws.
Transfer activity:
Ins: Zakaria Alhassan, Prince Acquah, Derrick Boateng, Bright Adjei, Sam Adams, Emmanuel Osei Baffour, Richard Mpong, Kenneth Owusu
Outs: Elvis Opoku
Coach in focus: Paa Kwesi Fabin replaced W. O. Tandoh early this year in February. The veteran has coached the Ghana U-17, Ghana U-23, Black Meteors, Asante Kotoko and Hearts of Oak.
In his last job at Kotoko, his style was attacking football. He sets up his teams in a 4-4-2 or a 4-3-3. Fabin is known to begin attacks with creative defensive midfielders, if available. In pre-season, he has used Paul Aidoo in that role because of the departure of Elvis Opoku, who used to do that job. The telepathy is not quite there, yet, however. Because the team are yet to gel, it can be expected that Yahaya Mohammed will be getting a long of long balls and crosses from the wings to convert.
Key player: Yahaya Mohammed
He was the second-highest scorer in the league last season with 11 goals. Never a player to doubt his own ability, the Ghana forward has already promised to be among the top scorers this season.
A ferocious right foot is his weapon, which he uses to often score spectacular freekicks. But Mohammed can also hold up the ball well, using his frame to bully opposition, while occasionally assisting teammates as well.
There were constant rumours that he was leaving for AshGold in the off-season, but Aduana persuaded him to stay.
Officially registered Aduana Stars squad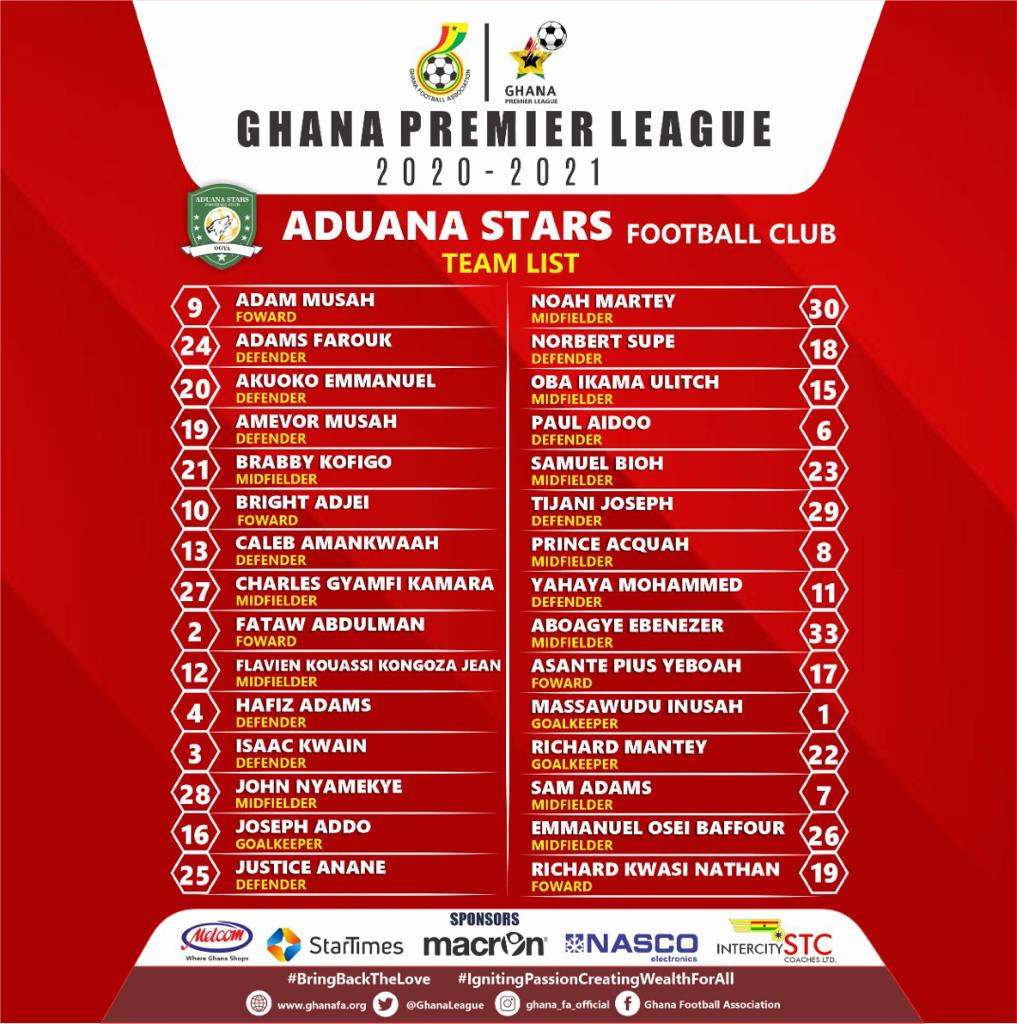 Potential XI – Aduana Stars
This is how the team could line up, all things considered.
Asante Kotoko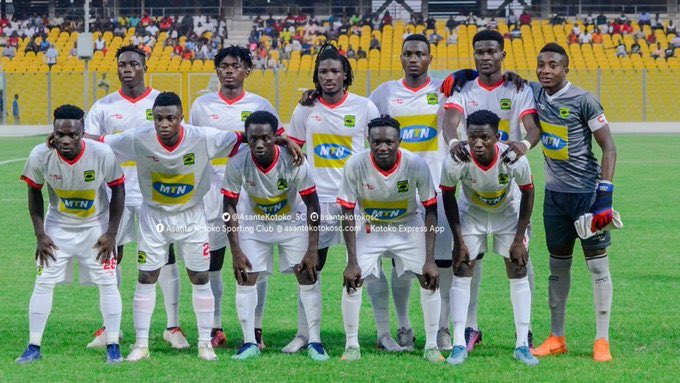 The Porcupine Warriors, have won the title on 23 occasions; no other club has matched that feat.
The Kumasi-based side have shown over the years that they are still a side to fear. After making nine new signings in the transfer window, they're heavy favourites to add another league title.
With a loud presence in pre-season that has featured an impressive list of club sponsors and signings, fans of the club are expectant indeed.
Team Info
Founded: 1935
Homegrounds: Accra Sports Stadium
Capacity: 40,000
Nickname: The Porcupine Warriors
Coach: Maxwell Konadu
Kotoko pre-covid:
Kotoko finished third in the truncated league season, winning 7 matches, losing 3 and drawing 4 in 15 games.
Transfer activity.
Ins: Razak Abalora, Andrews Kwadwo Appau, Patrick Asmah, Fabio Gama, Mubarik Yusif, Abdul Latif Anabila, Evans Adomako Wiredu, Kwame Opoku, Emmanuel Keyekeh, Emmanuel Sarkodie.
Outs: Empeh Dacosta, Agyeman Badu, Augustine Seffah, Matthew Andoh, Matthew A. Cudjoe, Evans Owusu, Richard Attah, Matthew Antei, Douglas O. Ansah, Patrick Yeboah, Kingsley Effah, Osei Kwame (GK), Stephen A. Tetteh, Abass Mohammed, Collins Ameyaw, Sam Adams, Justice Blay
Coach Focus: Maxwell Konadu is a retired Ghana international football player. He was the head coach of the Asante Kotoko in the 2011/12 season where he won the league. The tactician led the Ghana national under 23 football team and the Black Stars B. This is his third stint at the helm of the Porcupine Warriors. He prefers attacking football, with a heavy influence on building from defensive midfield.
Key player: Emmanuel Gyamfi
The right-winger is known for his blistering pace and crossing ability for the Porcupine worries.
Officially registered Kotoko squad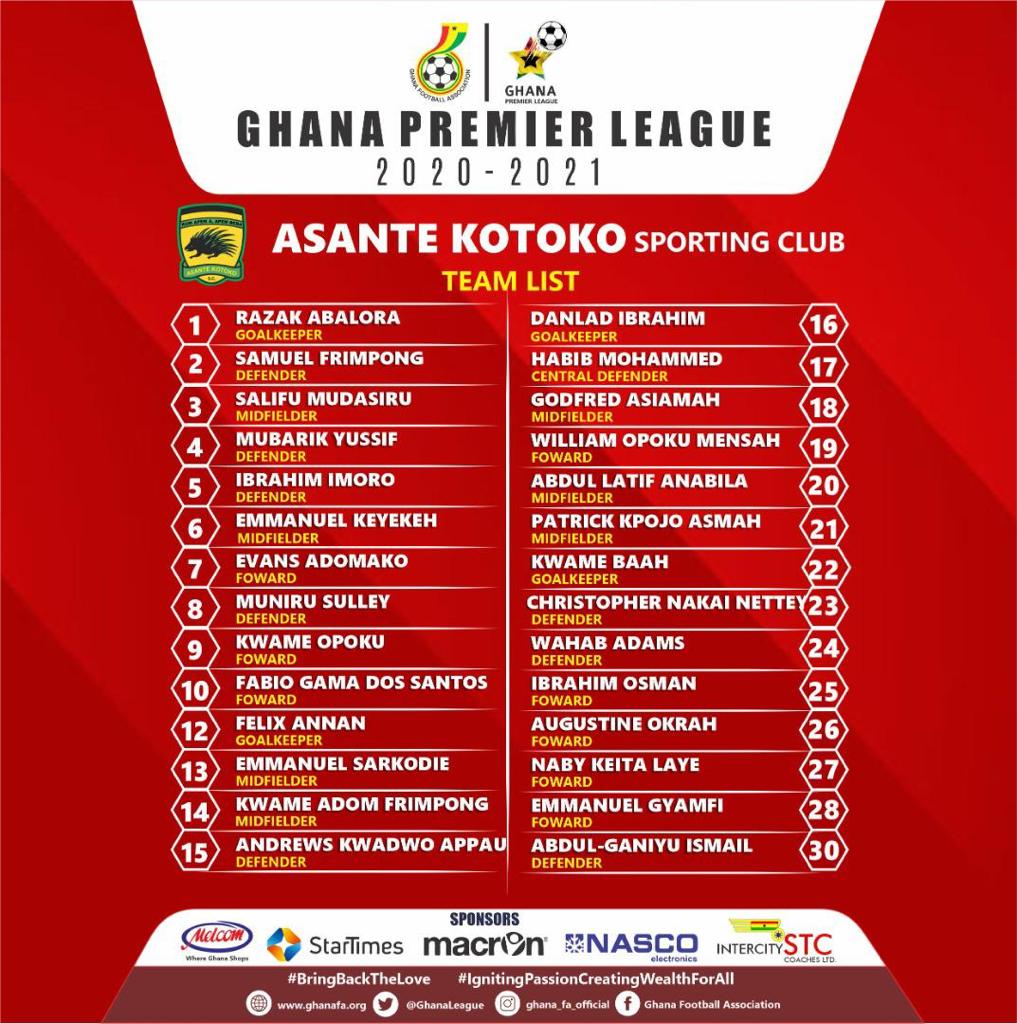 Potential XI – Kotoko
This is how the team could line up, all things considered.
Ashantigold SC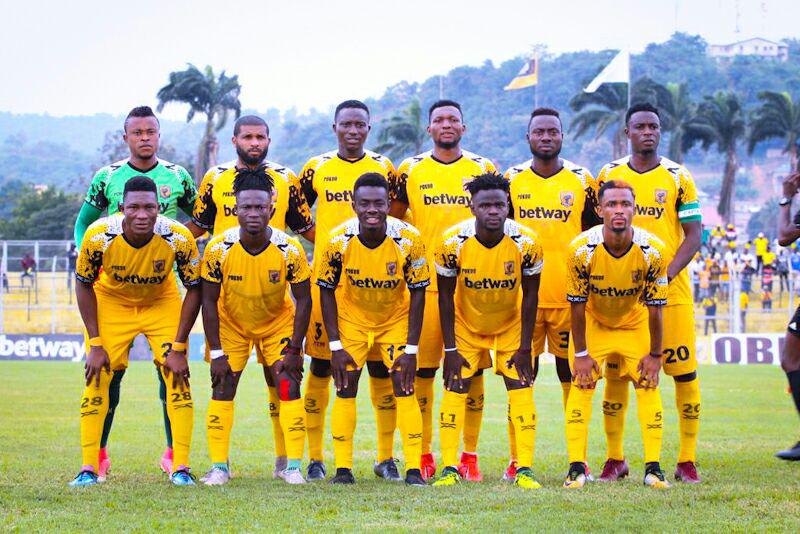 Having won the Premier League on four occasions, the Miners come into this season with a mixed bag of emotions. Departures to key players may affect their balance, after seeing off top players such as James Akaminko, Latif Anabila, Safiu Mumuni and Eric Donkor.
But some shrewd recruitment may yet see gaffer Milovan Cirkovic pull a surprise. With AshGold only contending in the African Confederations Cup, there is the fear that they may not have enough in the tank to do damage in both competitions.
Team Info
Founded: 1978
Home ground: Len Clay Stadium, Obuasi
Capacity: 30,000
Nickname: The Miners
Coach: Milovan Cirkovic
AshGold pre-covid:
Ashanti Gold placed fifth in last year's truncated season, winning 7 matches, losing 4 and drawing 4.
Transfer activity:
Ins: Yaw Annor, Kwame Moses, Stephen Bentil, Micheal Ennu, Hans Kwofie, Nathaniel Asamoah, Johnson David Yeboah, Dacosta Boadu, Matthew Agama, Empem Dacosta and Mohamed Bailou, Kamaradini Mamudu, Abdul Bashiru
Outs: James Akaminko, Eric Donkor, Yussif Mubarak, Abdul Latif anabila, Stephen Owusu Banahene, Benedict Damlen Wobenu, Randolf Akwesi Nti, Emmanuel O. Baffour, Shafiu Mumuni, Frank Boateng
Coach focus: Milovan Cirkovic's only African coaching experience was with Tanzanian giants Simba in 2013. He just recently joined Ashgold, who were making do with Thomas Duah after Italian manager Thomas Landi shockingly left the club. He is known for counter attacking football, but may have to tweak this style because of the heavy midfield-leanings of the GPL this coming season. The other problem is that Milovan arrived just over a week before season kickoff.
Key player: Appiah McCarthy
He is holding midfielder, whose main job is break down opponents attack and he does that very well. Known for his long range efforts and distributor as well, he prefers to play in a 4-2-3-1. Luckily for him, that system is what the new coach has opted to play.
Officially registered AshantiGold squad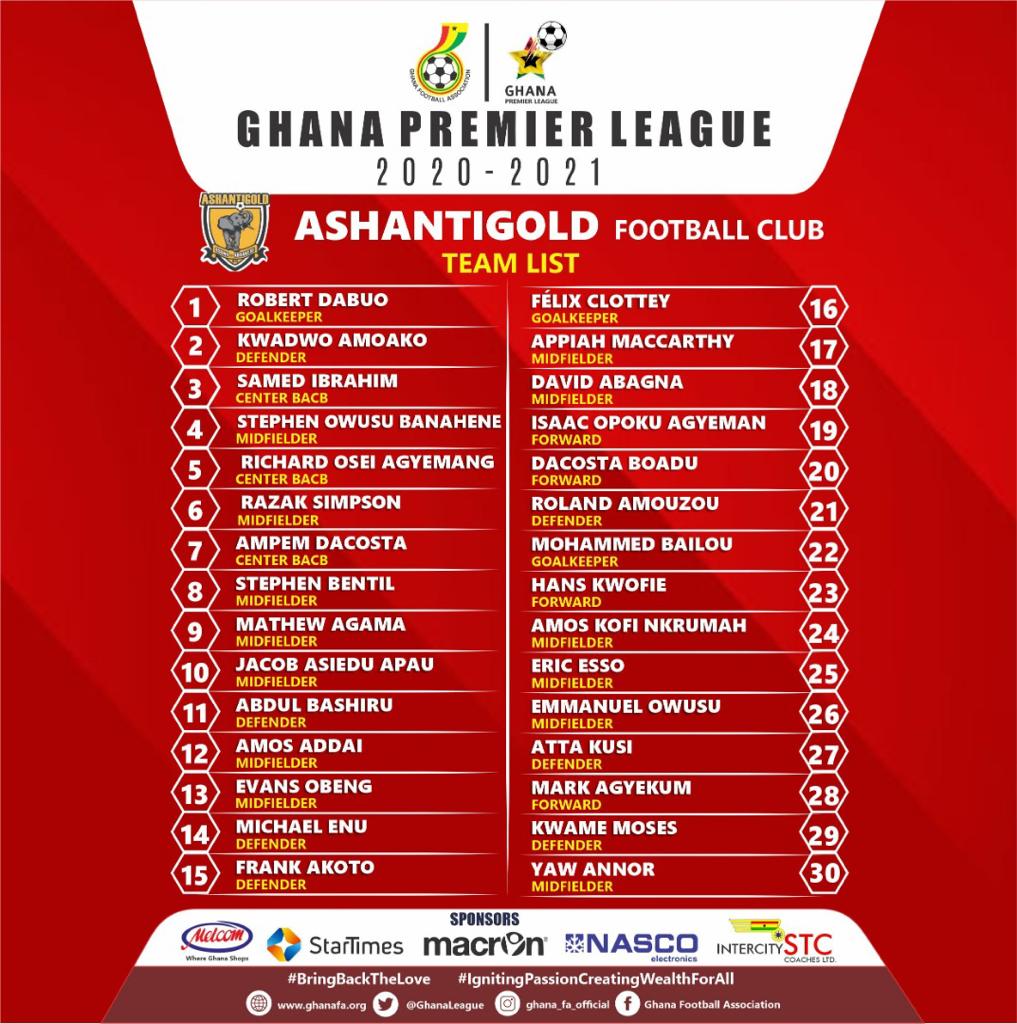 Bechem United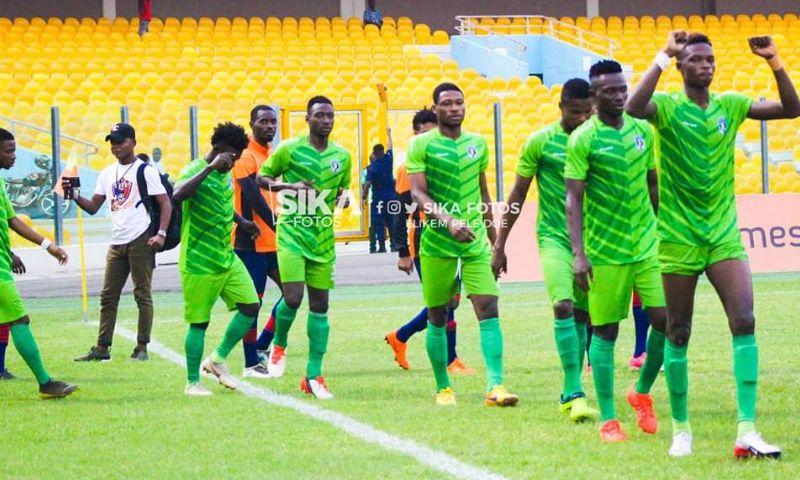 Bechem United have established themselves as a typical mid-table club since earning promotion to the top-flight in 2012.
They have long stated their ambition as being a selling club, heavy on the avoidance of relegation, but not too concerned about winning the league or finishing in the top four.
Team Info
Founded: 1966
Home ground: Bechem Park
Capacity: 5,000
Nickname: The Hunters
Coach: Kwaku Danso
Bechem Pre-covid
The truncated season ended with Bechem United in 7th position, having won 8 matches, losing 5 and drawing 2 in 15 matches.
Transfer activity
Ins: Alhassan Traoré, Benedict Osei, Listowel Amankona, Francis Twene, Sagacious Asante, Francis Adjei, Boubacar Doumbia, Moussa Traoré, Stephen Owusu Kaakyire, Judiceal Agbesi
Outs: Yaw Annor, Augustine Randolf (Karela)
Coach focus: Kwaku Danso led the Hunters throughout the truncated campaign. He was replaced by Romain Folz earlier in 2020 but Folz quickly resigned, leaving Danso back at the hot seat.
Key Player: Prince Kwabena Adu.
Prince is on the right path to becoming a star. He is highly-rated after a stellar last season which saw him score eight goals. He was Bechem's top scorer and in October, was named among The Guardian's Next Generation 2020 – a list of the most likely stars of the future.
Officially registered Bechem United squad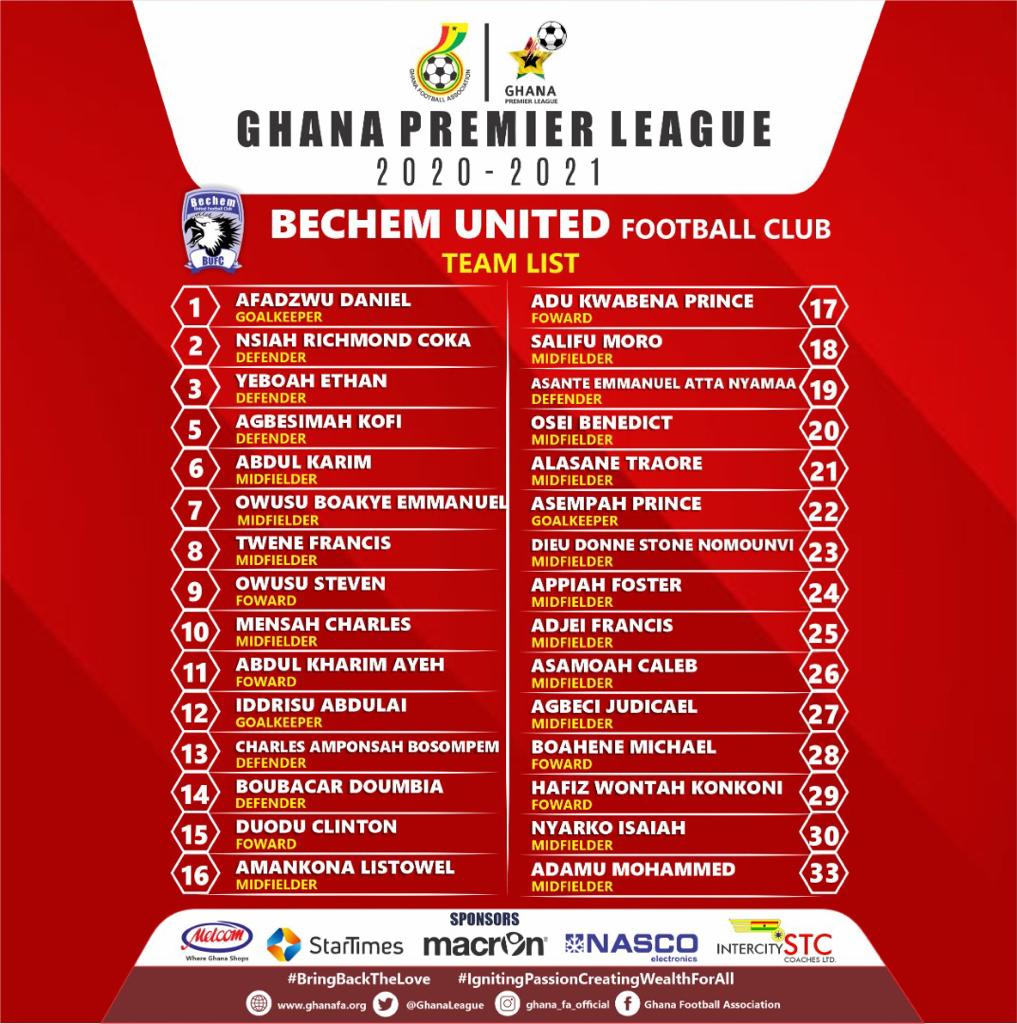 Potential XI – Bechem United
This is how the team could line up, all things considered.
Berekum Chelsea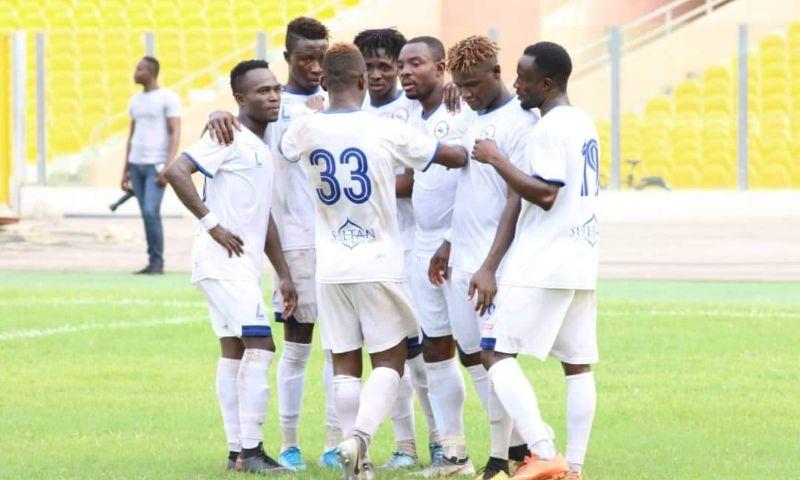 Berekum Chelsea normally do well in the league because it is difficult to take points from them at home. They were crowned champions in 2010/11 season.
Team Info
Founded: June 10, 2000
Home ground: Golden City Park, Berekum
Capacity: 10,000
Nickname: Blues
Coach: Hesse Odamtten
Brekum Chelsea pre-covid:
Berekum Chelsea were second in last season's truncated season. They played 15 matches, winning 8, losing 5 and drawing in the league.
Transfer activity
Ins: James Wiafe Iniesta, Alfred Okai Quaye, Edward Kpodo, Stephen Sarfo, Collins Ameyaw, Mohammed Gouni
Outs: Zakaria Fuseni (Spain), Danlad Ibrahim (Kotoko), Jonah Attuquaye (Legon Cities), Dennis Modzaka, Braman A. Foster, (Legon Cities), Ahmed Adams (Mostoels, Spain)
Coach in focus: The 54-year-old recently signed a long-term contract in October. Odamtten has been heavily involved in youth development over the years and will see his move to Chelsea as the biggest break in his career. He has previously had stints with Cheetah FC, St Mirren and was a development coach for the Greater Accra FA.
Key player: Jordan Opoku
The midfielder is one of the experience players in the league this season. This will be his 12th season as a professional footballer and is determined to lead Berekum Chelsea to finish in respectable position. Jordan, 33, has three league medals to his name.
Officially registered Berekum Chelsea squad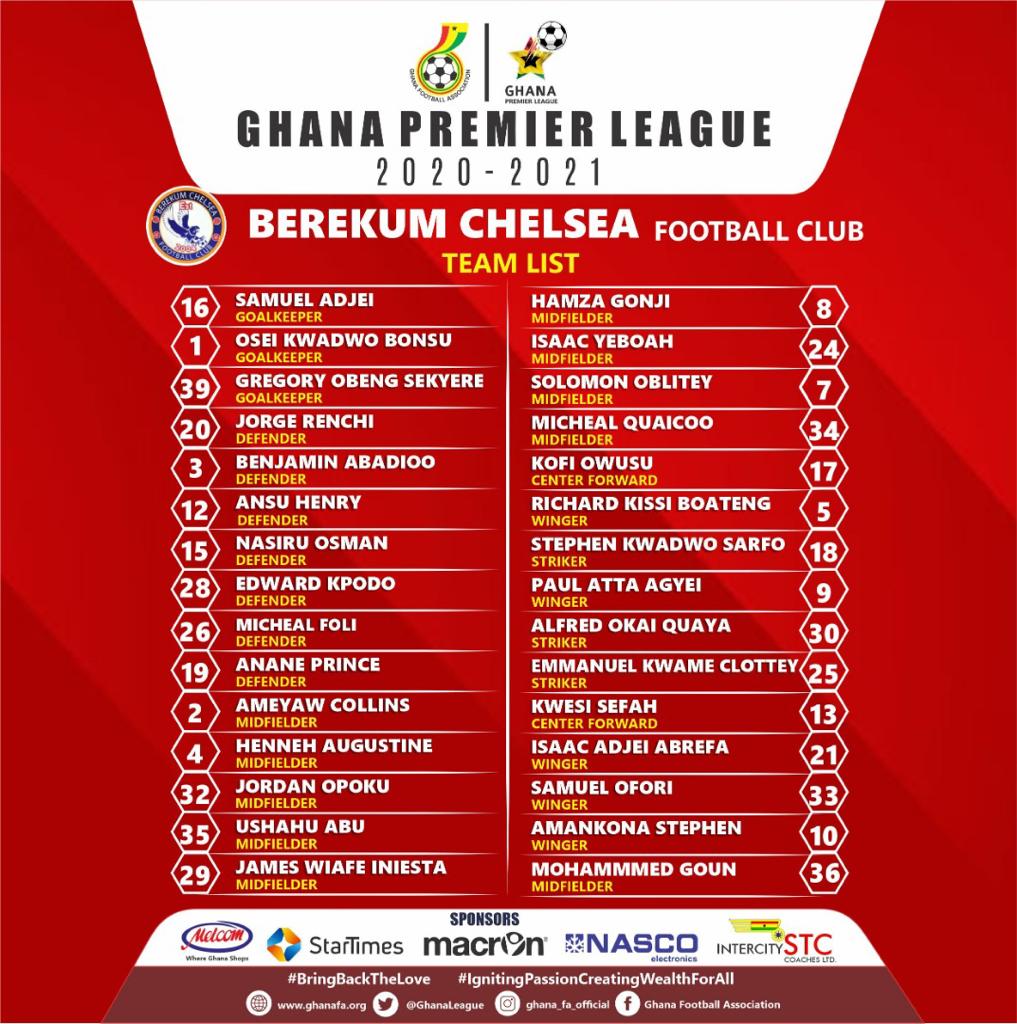 Potential XI – Berekum Chelsea
This is how the team could line up, all things considered
Dreams FC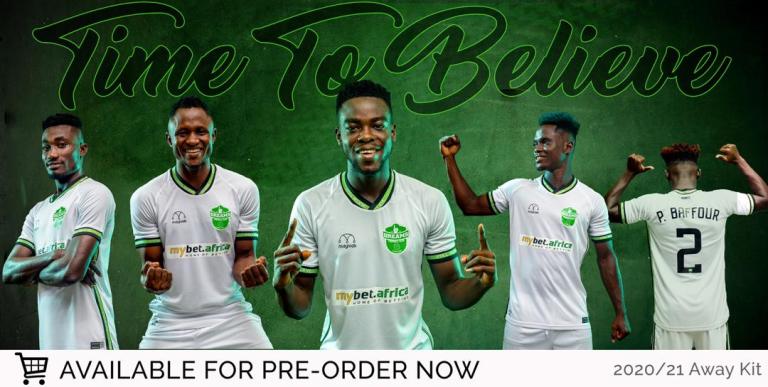 2015 was when they made their first Ghana Premier League debut. They have since established themselves as a club that are comfortable finishing in mid-table, they are not bothered about finishing in the top half of the table. A relegation free season is a successful seson for them. They will look to do better than they did last season after they found themselves in a relegation zone just before the seson was called off.
Team Info
Founded: 2009
Home ground: Theater of Dreams, Dawu
Capacity: 5000
Nickname: Still believe
Coach: Winfred Dormon
Dreams FC pre-covid:
Dreams FC in the truncated season won 4 matches, lost 7 and drew 4 out of 15 matches.
Transfer activity:
Ins: Joseph Esso, Abel Manomey, Agyenim Boateng, Philemon McCarthy, Ali Huzaif, Philemon McCarthy, Solomon Twene
Outs: Abdul Zakaria Mugeese, Samuel Boakye, Adu Boahene, Prince Okraku, David Salifu, Tahiru Alhassan, Adam Saad, Majid Nuhu, Michael Amoh, Gideon Offei Ofori, James Wiafe Iniesta
Coach in focus: Winfred Dormon was elevated to the position of head coach after Karim Zito was appointed the Ghana national U20 coach. Dormon is an ex-player of the club. He also featured for Hearts of Oak and Great Olympics. Because the team relies on youth, Dormon has had to employ a possessive style and attractive football. Goal scoring has been their problem in the last 18 months, and that's an area he'd hope to sort out. With the coming of hotshots Abel Manomey, Agyenim Boateng and Joseph Esso, Dormon should expect his side to be among the season's top scorers.
Key player: Joseph Esso
The striker scored some vital goals for Hearts of Oak in the last campaign. Dreams FC will be banking their hopes on their new talisman to help them in the upcoming season. He can count among his skillset great hold up play, and an eye for goal. His vision to create chances is not bad, either.
Officially registered Dreams FC squad
Ebusua Dwarfs
Ebusua Dwarfs have struggled in the Ghana Premier League over the years. Dwarfs are comfortable finishing in the second half of the table and they are very fond of finding themselves in relegation battles.
Team Info
Founded: 1932
Home ground: New Cape Coast Stadium
Capacity: 15000
Nickname: The 'Mysterious' Dwarfs.
Coach: Ernest Thompson Quartey
Ebusua Dwarfs pre-covid: The Mysterious Dwarfs were battling relegation in the truncated Ghana Premier League season. They placed 16th, winning four, losing eight and drawing three.
Transfer activity:
Ins: Leventius Attah, Godwin Adepah, George Asamoah, Richard Amoah
Outs: Unconfirmed
Coach in focus: The gaffer has been tasked to ensure the Mysterious Dwarfs maintain their top-flight status at the end of the 2020/21 campaign. A former of coach Mankessim United FC (Division 2) and Mfantseman United FC, he is credited with winning the national senior high schools sports festival soccer boys' competition (Central Region) in 2016 and 2017.
Ernest Thompson Quartey is currently the Central Regional Schools and Colleges boys' soccer team coach and has held the role since 2015.
Officially registered Dwarfs squad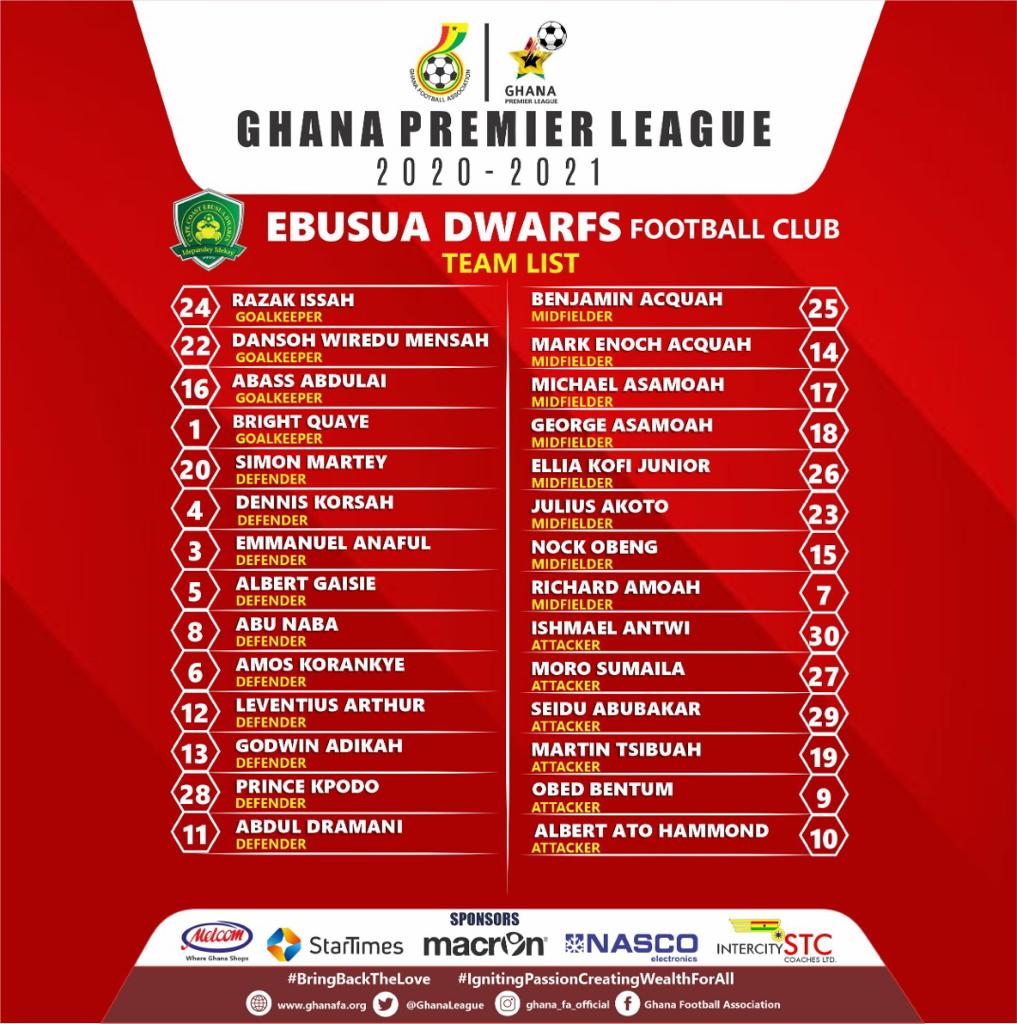 Eleven Wonders
Techiman Eleven Wonders who also prefer to be called "the citizens" have struggled to finish in the first half of the table since they were promoted in 2017. The Techiman based football club have constantly been a relegation candidate in the Ghana Premier League and will look to do better in the upcoming season.
Team Info
Founded: (unknown)
Home ground: Ohene Ameyaw Park, Techiman
Capacity: 2000
Coach: Ignatius Osei-Fosu
Eleven Wonders pre-covid
Techiman Eleven Wonders placed 12th in the truncated 2019/2020 league season, winning five matches, losing four and drawing six.
Transfer activity
Ins: Ollenu Ashitey, Jonah Aryetey, Nana Yaw, Perry Addison Rockson, Douglas Nkrumah, Tetteh Nortey, Abdul Zakaria Mugeez, Prince Okraku, Adu Boahene, Abdulai Ibrahim, Samuel Boakye
Outs: Unconfirmed
Coach focus: Ignatius Osei-Fosu is the head coach of Eleven Wonders. He joined the club last season. The former Liberty Professionals trainer holds a CAF License A' badge. Ignasius is also a Principal teacher at the Kwame Nkrumah University of Science and Technology in basic school. He will be looking to lead his side to avoid relegation in this season.
Officially registered Eleven Wonders squad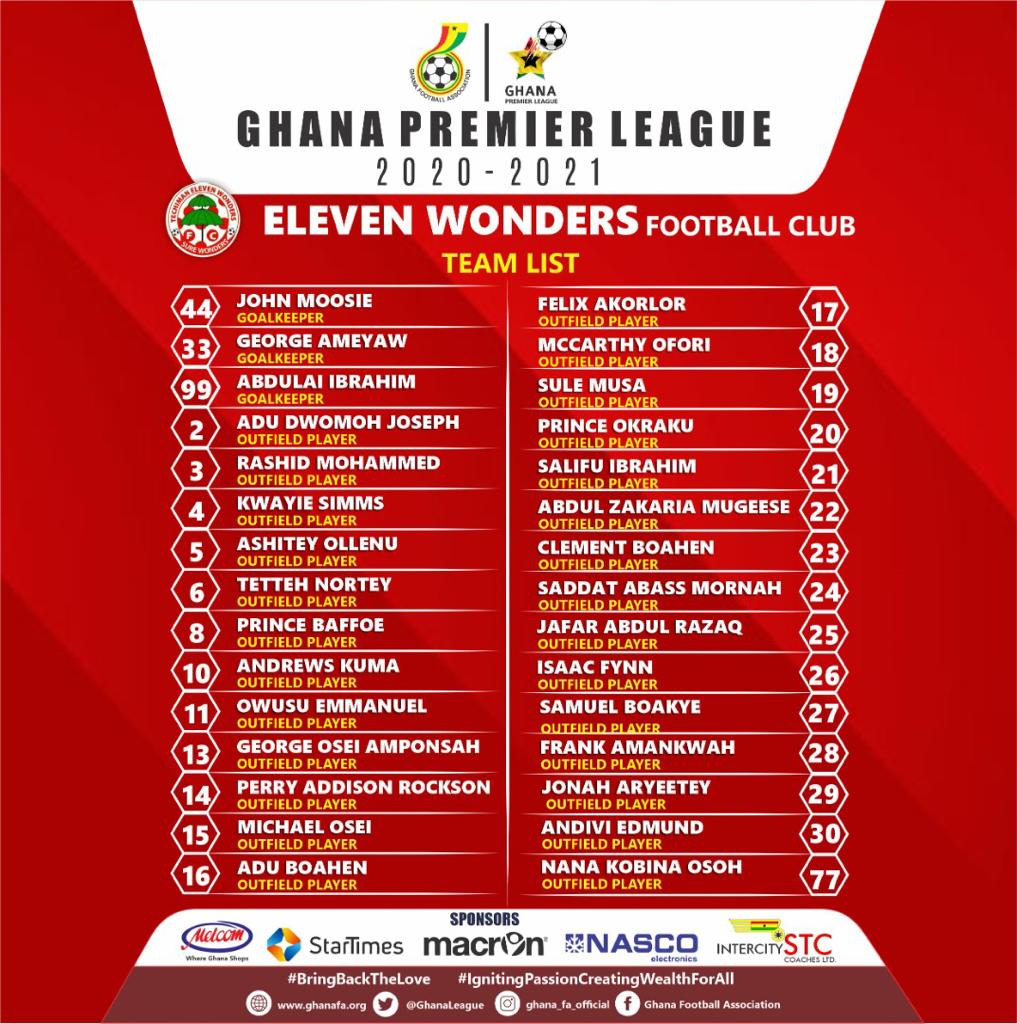 Elmina Sharks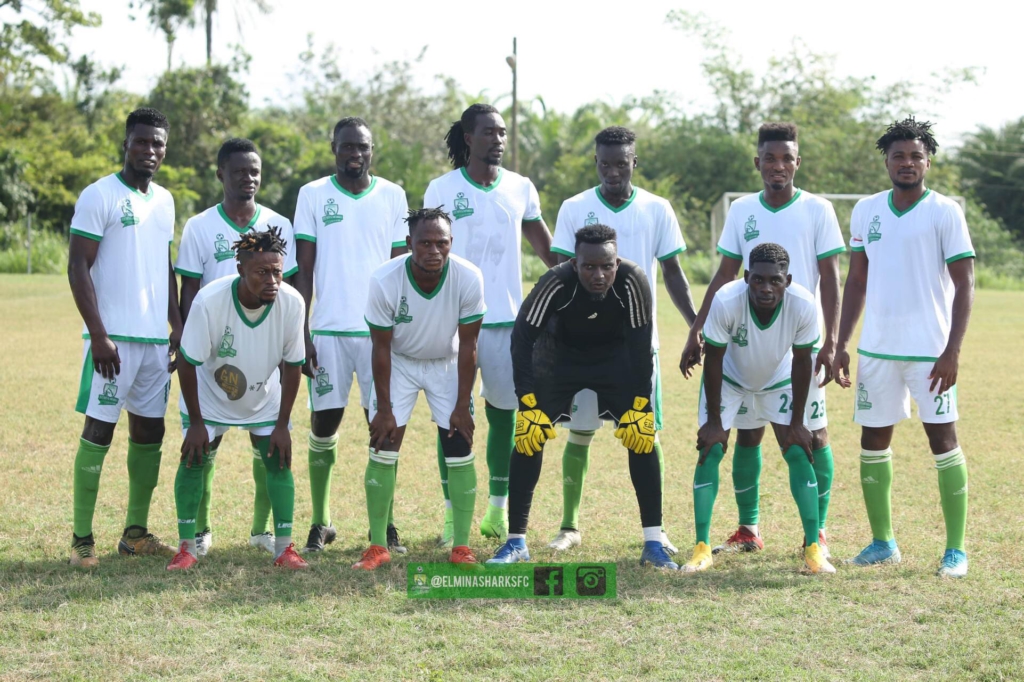 After gaining promotion from Division One League to the Ghana Premier League in 2016, Elmina Sharks have always been a mid-table team. They are known for nurturing players in the league and would strive to stay in the league this year.
Team Info
Home ground: Nduom Sports Stadium, Elmina
Coach: Yaw Acheampong
Elmina Sharks pre-covid:
Elmina Sharks were 4th in last season's ended truncated season, winning 6 matches, losing 2 and drawing 7
Transfer activity.
Ins: Anthony Quayson, Daniel Nii Adjei, Rashid Sulley, James Bissue
Outs: Obeng Crentsil, Tetteh Nortey
Coach in focus: Yaw has been in charge since 2017 and has done a good job so far. Easily one of the most underrated coaches in the league, Acheampong is following his own footsteps as a player as a cunning mind. He knows how to blend youth with experience and is a taskmaster, leading to his teams being workaholic in nature.
This transfer window, Acheampong was busy in the market, signing four players including former Sekondi Eleven Wise midfielder, James Bissue and former Kotoko and TP Mazembe star, Daniel Nii Adjei.
The two are vastly experienced, but it is Nii Adjei that league watchers would really want to see. He has under his belt, multiple Ghana PL titles, and a CAF Champions League winners medal with TP Mazembe. Sharks are confident of a great season, having excelled last term. Bar the pandemic, they could have finished in the top four.
Officially registered Sharks squad
Great Olympics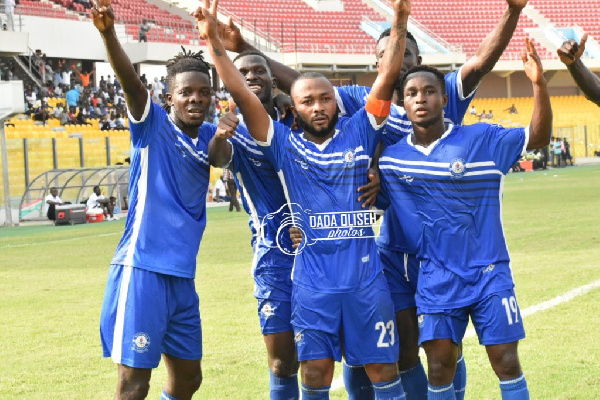 Popularly known as "Oly Dade", Great Olympics are two-time champions of the Ghana Premier League but in the past 20 years, have been alternating between the top-flight and second-tier. They are expected to have a decent season, following a shrewd number of signings in the transfer window.
Team Info
Founded: 1954
Home ground: Accra Sports Stadium
Capacity: 40,000
Nickname: Oly Dade
Coach: Annor Walker
Great Olympics pre-covid
Olympics were in largely inconsistent but prior to the season being cancelled, they were five points above the relegation spot. They won 6 games, lost 7 and drew 2.
Transfer activity
Ins: Ebenezer Sekyere, Charles Danso Otu, Abdul Manaf Mudasiru, Michael Otoo, Karim Alhassan, Alhassan Sunday, Mujeeb Hakeem, Arnold Mensah Abbey.
Outs: Unconfirmed
Coach focus: Annor Walker took over from Prince George Koffie in February 2020 after the latter resigned from the club. In a tumultuous turn of events, Walker was the third coach in the short period of 15 matches that the season lasted. Isaac Nii Armah surprisingly had walked away for Prince Koffie just before the season began, before he also made way for Walker.
Key player
Gladson Awako is their captain and leader. His wealth of experience helped them overcome their poor start to last season and ended it on a high. Awako is a former U-20 World Cup winner with Ghana and also dominated Africa with TP Mazembe in his five-year spell, where he counts the CAF Champions League and Super Cup among his achievements. Stylistically, his vision sets him apart while his close control and eye for goal will also come in handy. Besides Awako, the stand out player to watch is Abdul Manaf Mudasiru, nicknamed Lukaku.
Officially registered Great Olympics squad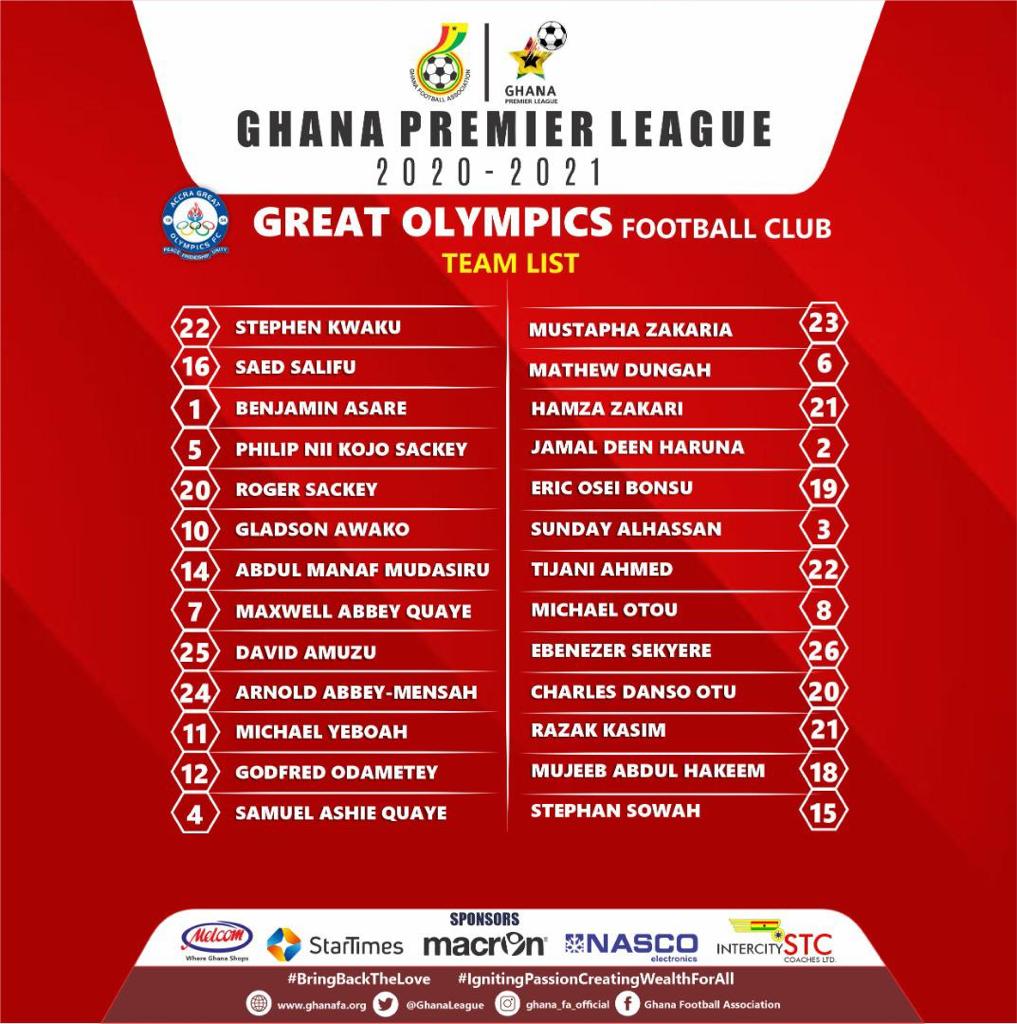 Potential XI – Great Olympics
This is how the team could line up, all things considered.
Hearts of Oak
The Phobians are the second most successful club in the competition's history, having been crowned champions 19 times. Only Asante Kotoko have annexed more titles – 23. However, the Phobians have forgotten how to celebrate a title because in the last 11 years, they haven't lifted the coveted trophy.
Team Info
Founded: November 11, 1911
Home ground: Accra Sports Stadium
Capacity: 40,000
Nickname: Phobia
Coach: Edward Nii Odoom
Hearts of Oak pre-covid:
Hearts of Oak last season played 14 matches, finishing ninth before the league was suspended. In those 14 games, they won five, lost three and drew six.
Transfer activity
Ins: Eric Dizan, Ademola Kuti, Abdourahamane Mamane Lawali, Nuru Sulley, Abednego Tetteh, Patrick Razak, Victor Kwaku Aidoo, Isaac Mensah, Enock Addo, Benjamin Nana Yeboah (GK), Franklin Owusu, Daniel Yeboah
Outs: Kofi Kordzi, Christopher Bonney, Benjamin Agyare, Benard Arthur, Joseph Esso, Abubakar Traore.
Coach in focus: Nii Odoom managed Tema Youth for 10 years. He then went on to coach the junior side of Hearts of Oak (Auroras) before finally replacing Kim Grant as head coach of the first team.
The Phobians have also just announced Joseph Asare Bediako as an assistant coach. This follows the fiasco with Carlos Manuel Van Pinto, who was announced as club technical head, only for the Portuguese to mysteriously leave the club days later.
Key player: Emmanuel Nettey
The box to box midfielder has established himself as the main man for the Phobians. He stole the hearts of fans after his man of the match performance in the win against Liberty Professionals at the Carl Reindorf Park last season.
Officially registered Hearts squad
Potential XI – Hearts
This is how the team could line up, all things considered.
Inter Allies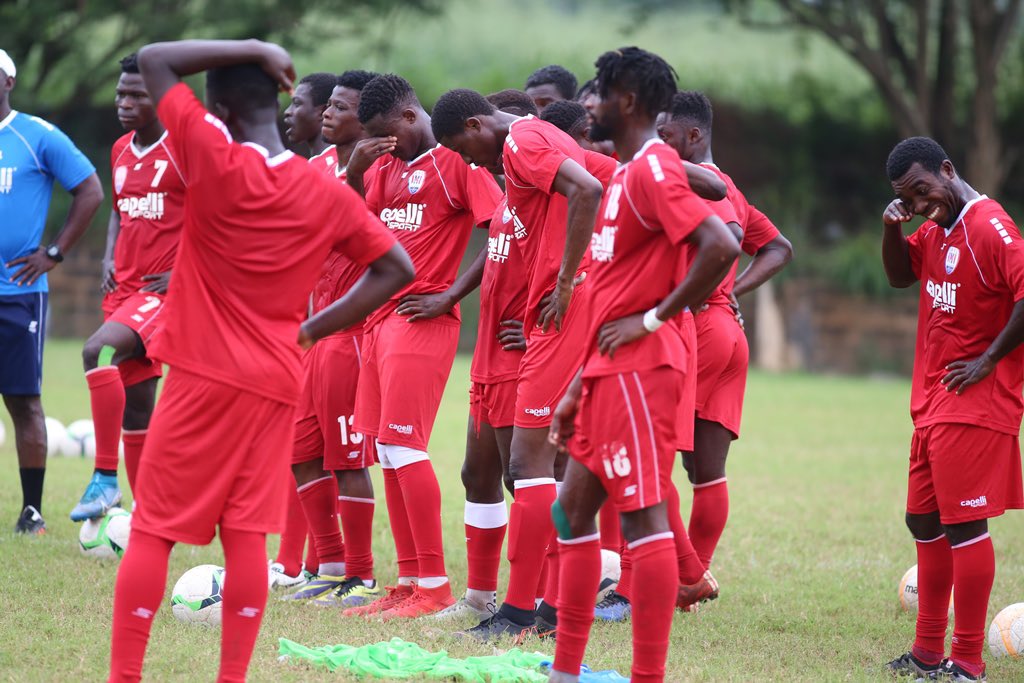 Based in Tema, Inter Allies have done well in recent Ghana Premier League seasons. They are well known for being a typical mid-table club.
Team Info
Founded: October 1996
Home ground: Accra Sports Stadium
Capacity: 40000
Nickname: Eleven is to one
Coach: Henrik Lehm
Inter Allies pre-covid:
They were 11th last term, having played 15 matches, winning five, losing four and drawing five.
Transfer activity.
Ins: Ali Isah, Michael Kporvi, Emmanuel Adjetey, Taufiq Shaibu
Outs: Samuel Armah, Victorien Adebayor, Frank Asanki.
Coach focus: Henrik Lehm, a Danish manager, has coached clubs like Naesby BK, Vendsyssel FF and others. He is more of the technical director of the side, but he can count on the Tony Lokko to help execute his plans.
Under him, Allies have become a compact side. But the danger is always that they can lose key players mid-season, as they have no qualms about selling key players at any time. The departure of Victorien Adebayor will be a big loss, but they are looking to Michael Kporvi as a source of goals.
Key player: Michael Kporvi
Allies will likely struggle for goals, but in Kporvi, they see an outlet. Due to the departure of Samuel Armah to Albania, the burden falls on former Tema Youth man Kporvi, who joins the club from Sudan. He states "helping Allies to do well" as his ambition for the season.
Officially registered Inter Allies squad
Potential XI – Inter Allies
Karela United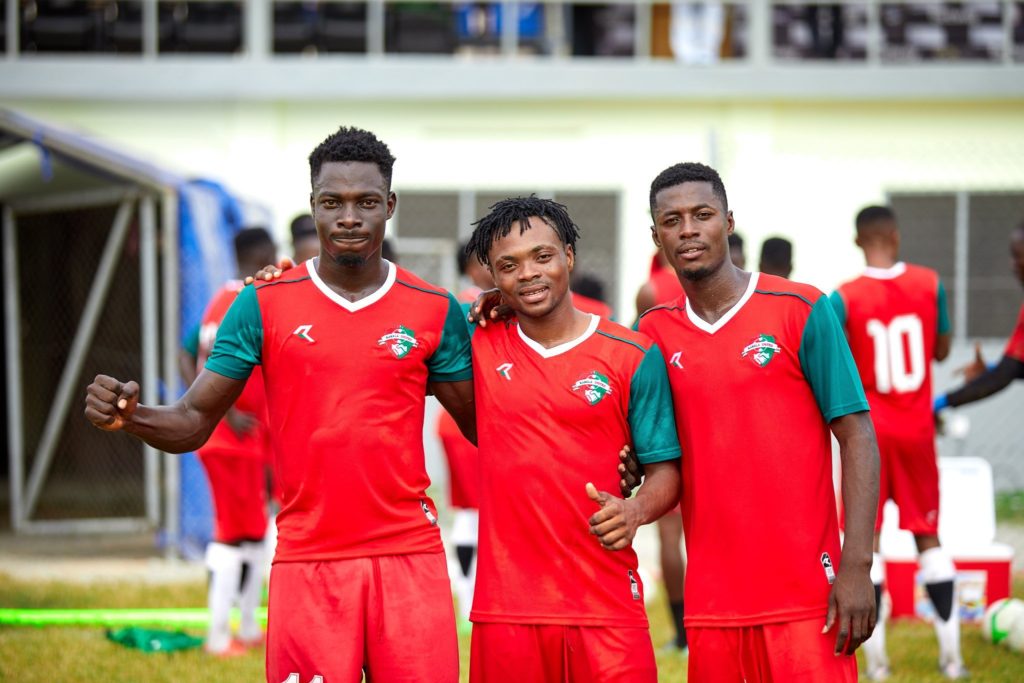 Karela United have done well in the Ghana Premier League looking at their reputation. They are a mid-table team and will look to keep it that way. A monied team in the first few years of their existence, Karela have struggled a bit since the passing of their bankroller and founder, David Brigidi, in 2018. Slowly, things are turning around.
Their home grounds, CAM Park in Nzema-Aiyinase has been converted from natural grass to astroturf through sponsorship from Goldfields, which is likely to alter their style of play to a more possessive based way.
Team Info
Founded: 2013
Home ground: Crossby Awuah Memorial Park (CAM Park) Aiyinase.
Coach: Evans Adotey
Karela FC pre-covid: Karela FC struggled in the last truncated Ghana Premier League season, winning just two games, losing eight and drawing five.
Transfer activity: Richard Baidoo, Prosper Avor, Umar Bashiru, Obed Kofi Sam, Yaw Ansah Fufro, Augustine Randolph, Godfred Adotey
Outs: Emmanuel Keyekeh
Coach focus: Evans Adotey is a former Ghana women's U17 coach.
Karela brought him in after parting ways with Enos Kwame Adipah following a run of poor results. Adotey will count on experienced defender Prosper Avor to keep things tight at the back, in addition to a decent set of midfield options.
They brought in Omar Bashiru, formerly of WAFA and Kotoko, to replace the departed Keyekeh. Adotey likes possessive football, true to his roots of spending years at the AshGold Academy. Expect wing play to feature prominently.
Key player: Diawisie Taylor
The striker is the club's best player and they are lucky they didn't lose him. He has scored 14 goals in two years. A natural finisher and stereotypical number 9, built to score.
Very quick and has enough guile to beat offside traps. Now he is fully fit, the marksman could well finish among the league's top scorers, as he was doing in 2018 before that season was cancelled. His partnership with Umar Bashiru is one to watch.
Officially registered Karela United squad
Potential XI – Karela United
This is how the team could line up, all things considered.
King Faisal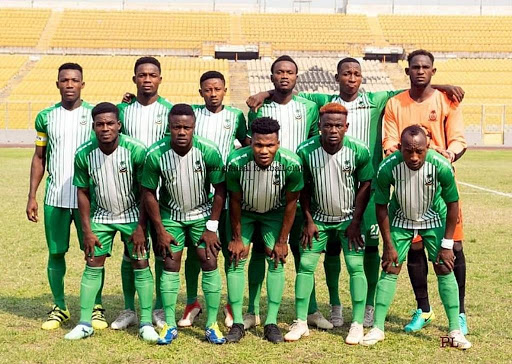 King Faisal are one of the most famous clubs in the country. Their popularity does not arise from on pitch success alone, but rather a club owner Alhaji Karim Grunsah.
As entertaining as he is, he is well known for his outspoken sound bites. Often, the utterances have not been backed by his team's production on the pitch. The Kumasi-based club have danced between Division One and the GPL recently. Indeed, they openly admitted to being thrilled when last season was annulled because it was likely they'd have gone down again.
Team Info
Founded: 1955
Home ground: Baba Yara Stadium in Kumasi
Capacity: 2,000
Nickname: Babes
Coach: Slavisa Bozicic
King Faisal pre-covid
King Faisal after 14 matches in the truncated 2019/2020 season were bottom on the league table (18th). They recorded no wins, lost eight and drew six games. They blamed their performance on a poor pre-season and financial constraints.
Transfer activity.
Ins: Prince Papa Arkoh, Misbawu Adam Okoronko, Yakubu Wadudu, Saddick Adams, Pius Baffour, Kwadwo Frimpong, Sulley Mohammed, Razak Oga Gariba, Mutawakilu Fuseini, Michael Amoah, Gideon Offei Ofori, Enoch Morrison, Daniel Yemoh, Frank Manu, Daniel Okine
Outs: Mustapha Bampoe, Yusif Moro, Patrick Banor, Godfred Sarpong, Godfred Danso, Gabi Mohammed, Kassim Abdul Karim, Yaw Obeng, Mujeeb Abdul Hakeem, Baba Yaya, Iddrisu Sarla, Ibrahim Osman, Rasford Kofi
Coach in focus: Slavisa Bozicic, head coach of King Faisal Babies has targeted a 6th place finish in the upcoming 2020/21 Ghana Premier League season. He was brought on board earlier this year with a reported salary of $3000 per month. Without his main source of goals, Osman Ibrahim, who has been recalled by Asante Kotoko, it's hard to see a regular source of strikes.
Officially registered King Faisal squad
Legon Cities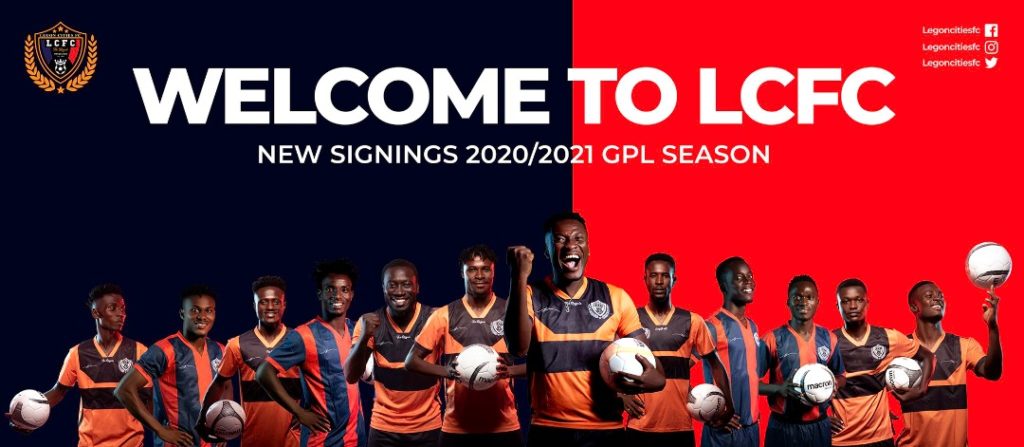 Legon Cities came onto the GPL scene last season, having taken over ownership from former champions Wa All Stars. Where the Upper West region side were modest, Legon Cities are showy, with an emphasis on 'look-at-me' marketing and events.
They got tongues wagging with pre-season shows involving musical stars Wendy Shay, Medikal, Shatta Wale and others. They've now gained worldwide attention with the deadline-day announcement of Ghana's all-time national team scorer, Asamoah Gyan. In addition to the Baby Jet, Legon Cities have an accompanying cast of talented players bought or loaned from all over the GPL.
Team Info
Founded: 2005
Home ground: Accra Sports stadium
Capacity: 40,000
Nickame: The Royals
Coach: Goran Barjaktarević
Legon Cities pre-covid:
They struggled to perform largely due to inexperience. Cities were just a point above relegation zone before the league got terminated, having drawn 7 games, won 3 and lost 5.
Transfer activity
Ins: Asamoah Gyan, Matthew Anim-Cudjoe, Raphael Ocloo, Baba Mahama, Jonah Attuaquaye, Ali Braimah Foster, Nicholas Gyan, Micheal Ampadu, Joseph Adjei, Samuel Norgbey, Vincent Adu Gyamfi, Elvis Opoku, Nasiru Moro, David Cudjoe.
Outs: Saddick Sulley, Benjamin Addy, Ben Daddida, Eric Tomey, Latif Abubakar, Penagiotis Papadopoulos.
Coach in focus: Goran Barjaktarević was born in Bosnia and Herzegovina. He has managed clubs like Hammer SpVg, Brinkumer SV and others. His philosophy is to play blistering counters, which is why he places premium on very physically conditioned teams. However, this approach has not been easy for his team to live up to. Former national team 'keeper Fatau Dauda is still in good form, which should keep his defence – which looks decent – from conceding too many.
Key player: Asamoah Gyan
Legon Cities new signing Asamoah Gyan is set to be the main man for the Ghana Premier League side. The all-time top goal scorer for Ghana will be looking to score a lot of goals for his new club. The 34-year-old scored 10 goals in 16 appearances for Liberty Professionals in 2003. A troubling development is that the player has ruled himself out of the season's start because he is not yet match fit. In his absence, Cities can look to Baba Mahama, Foster Ali Braimah and Elvis Opoku.
Officially registered Legon Cities squad
Liberty Professionals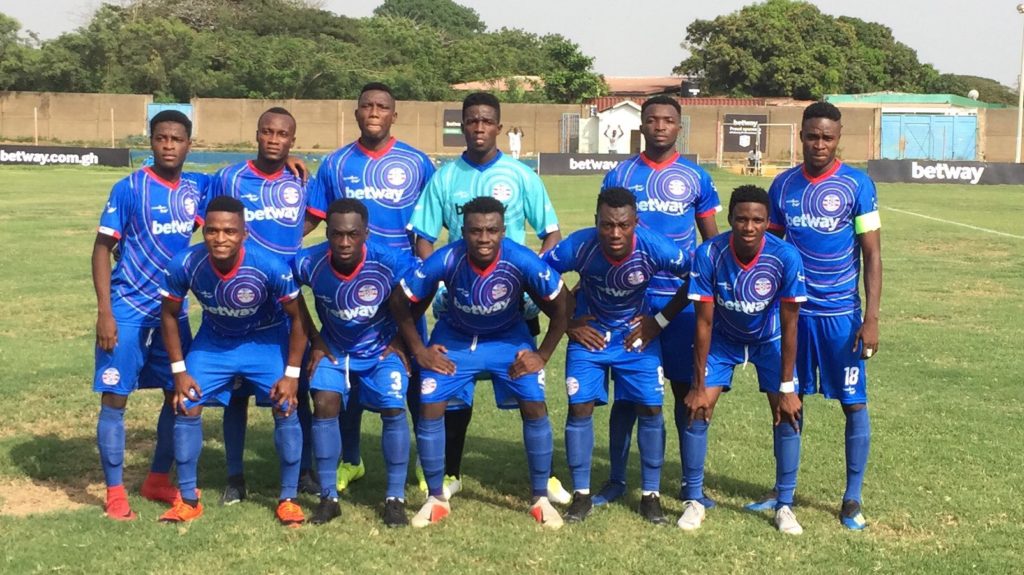 One of the popular clubs in Ghana, having produced the legendary players such as Asamoah Gyan, Sulley Muntari and Michael Essien. Liberty used to be a top 4 club but in recent years, have struggled and are content with mid-table finishes.
Team Info
Founded: 1996
Home ground: Carl Reindorf Park, Dansoman
Capacity: 2000
Nickname: The scientific soccer lads
Coach: David Ocloo
Liberty pre-covid:
Liberty Professionals placed 14th in the 2019/2020 truncated season, winning 4 matches, losing 7 and drawing 4 in 15 games.
Transfer activity
Ins: Maxwell Kavar, Osman Adams, Emmanuel Paga, Daniel Amissah, Seedorf Asante Afful, Maxwell Ansah, Ben Nash Quansah, Razak Boame, Fuseini Mohammed
Outs: Michael Ampadu
Coach focus: David Ocloo is the head coach for the Dansoman based outfit. The 36-year-old coach joined the Dansoman-based outfit last season with a reputation for an attacking style of play and talent development. Indeed, his current team is relying on promoted players from Liberty Babies, from where he bumped up five players. He would also count on the impressive goalkeeper Ganiu Shaibu, whose penalty-saving ratio was the league's best last season – he saved all three he encountered.
Key player: Abraham Wayo
17 year old superstar in the making. Left-footed, loves to operate on the wings, cuts in and has the tendency to stupefy opposition with his quick reflexes and great pace. Think of him as 2015-era Christian Atsu. The slippery Wayo was has scored 7 goals in 7 matches in previous competitive games.
Officially registered Liberty squad
Potential XI – Liberty Professionals
This is how the team could line up, all things considered.
Medeama Sporting Club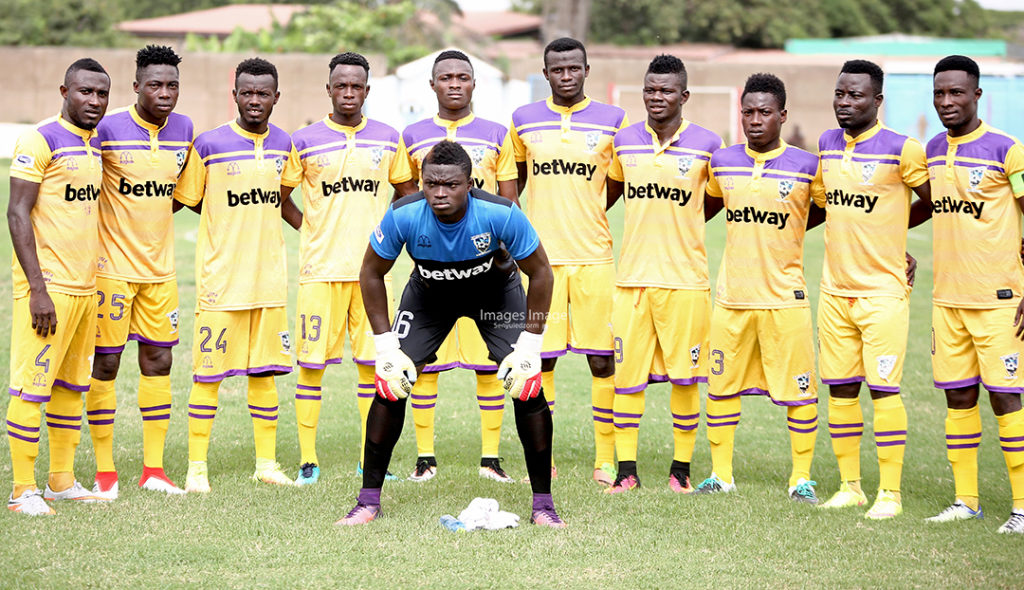 Since the club changed its name from Kessben FC to Medeama SC in 2011 due to new owners, Medeama have been a real force in the Ghana Premier League since their bankroller, Moses Armah Parker took over. In recent years, they have felt the butt end of fate because the league has been truncated by external factors just when they are gearing up to be title contenders. In 2018, it was the Anas documentary, and earlier this year, COVID-19. Both times, they felt the could, at least, finish in the top three. Could they do it this year?
Team Info
Founded: April 18, 2002
Home ground: TNA Park, Tarkwa
Capacity: 10,000
Coach: Samuel Boadu
Medeama pre-covid
Medeama were 6th the last campaign, winning eight matches, losing four and drawing three. Despite a stacked midfield, they had problems finishing games they should have won.
Transfer activity.
Ins: Kwadwo Asamoah, Patrick Yeboah, Frank Boateng, Musah Baba Abdulai, Abdul Basit Adam, Abass Mohammed
Outs: Bernard Ofori (released), Fredrick Kwagya (Loan to Karela), Samuel Ofori (Loan to Karela), Prince Opoku Agyeman (Cape Town City, South Africa), Nana Kofi Babil (Loan to SCR, Altach, Austria), Prince Osei (Parraceullos, Spain), Yaw Ansah Foforu (Loan Karela United)
Coach in focus: Samuel Boadu is also coach of Ghana U-15 team. Before moving to Medeama, he had spent five seasons at Division One side Asokwa Deportivo. Heavily linked with AshGold in the last month as the Obuasi club look to do well in Africa, Boadu has kept faith with the Mauves and Yellows. He is known for his attention to detail, but this season, Medeama need to cure their seeming problem of not doing well in the Brong and Ahafo area.
Key player: Justice Blay
The midfielder has returned after a successful loan spell at Kotoko. He expected to play a key role as they hope to win the league. He is an all-round midfielder, and is widely destined for great things. Blay is just one of an impressive array of midfielders in this team.
Officially registered Medeama squad
West Africa Football Academy (WAFA)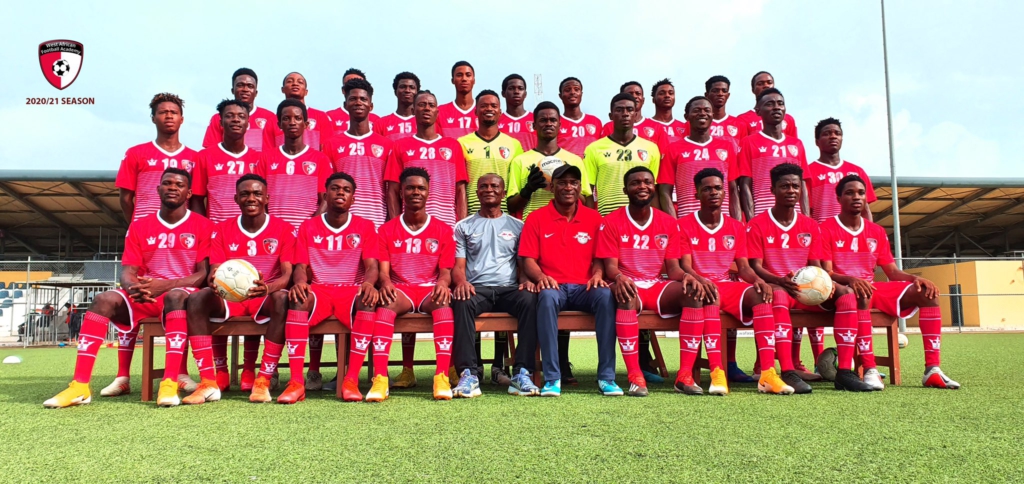 WAFA have stayed true to an identity of playing possession-based, attacking and attractive football. They have become the stereotype for what has become known in Ghana as 'academy-style football.' They are an archetypal selling club, but regularly punch above their weight, and have made it a habit of beating the league's top teams in resounding fashion. They have also made their Sogakope home a fortress for spells at a time. Currently, they are unbeaten in competitive home games since January 21, 2020.
Team Info
Founded: October 23, 1999
Home ground: Red Bull Arena, Sogakope
Capacity: 1000
Coach: Prosper Narteh
WAFA pre-covid:
WAFA finished 7th in the just ended truncated season, winning 5 games, losing three and drawing seven in 15 matches.
Transfer activity:
Ins: Michael Kyei Dwamena, Godwin Agbevor, Francis Boateng (rejoined from Portugal)
Outs: Unconfirmed
Coach in focus: Narteh previously worked with Ebusua Dwarfs in the Premier League on a short stint in 2016. Before that, he masterminded the qualification of Elmina Sharks to the Division One League in 2013. He can count on an improvement to some of the frail performances the team experienced last season, with the full recovery of Ghana youth international forward Daniel Lomotey after an injury-laden term. An internal battle to watch will be between starlet John Tedeku and Francis Boateng at left-back.
Key player: Daniel Owusu
Owusu is just 16 but gave an impressive account of himself last season. He managed to get four goals as he featured in all their games.
Officially registered WAFA squad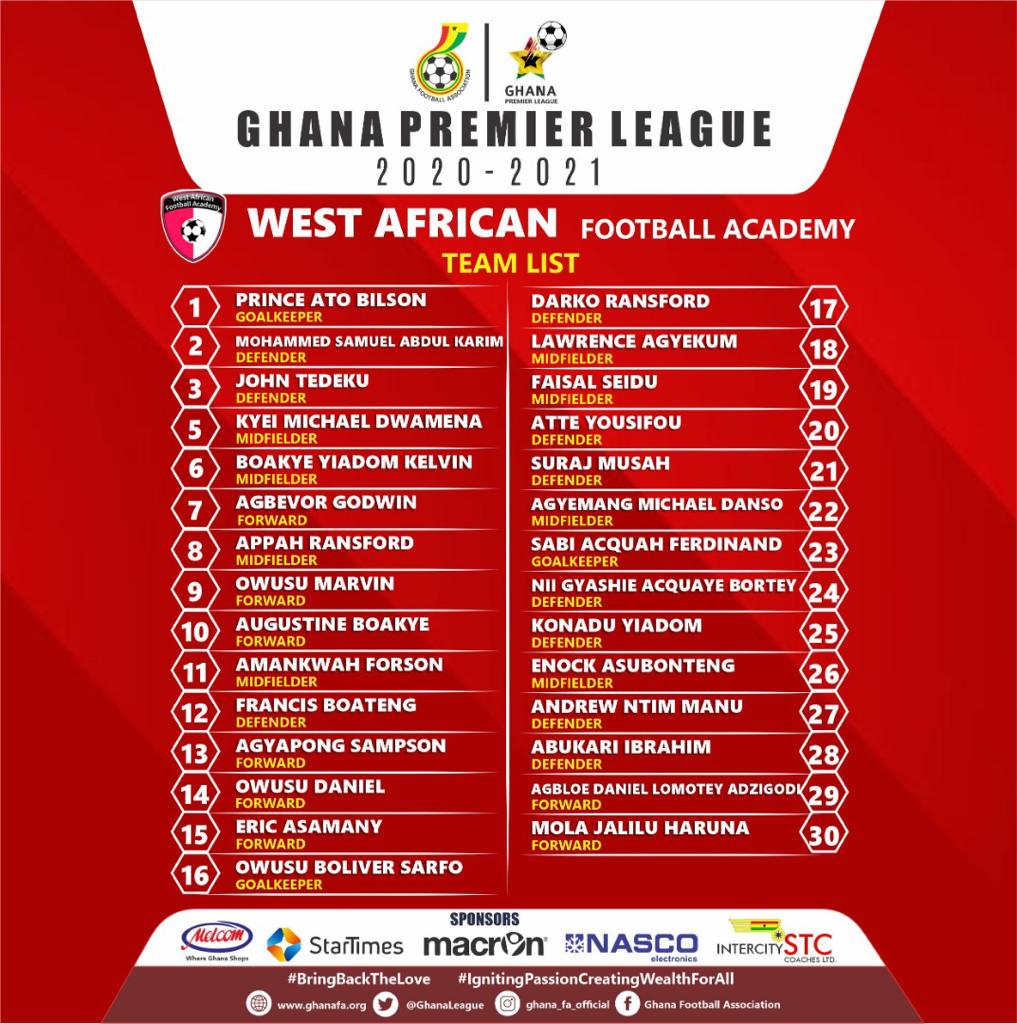 —
DISCLAIMER: The Views, Comments, Opinions, Contributions and Statements made by Readers and Contributors on this platform do not necessarily represent the views or policy of Multimedia Group Limited.