The executives of the New Patriotic Party (NPP) in the Greater Accra Region have sung the praises of presidential aspirant, Joe Ghartey.
In a meeting on Thursday, Mr Ghartey said he had come formally to inform them he was contesting to be flagbearer of the NPP. He told them that he had come to solicit their support.
The Presidential Aspirant presented a strong case for himself taking the Regional Executives through the work he had done as the Attorney-General, as Second Deputy Speaker and as Minister for Railways Development.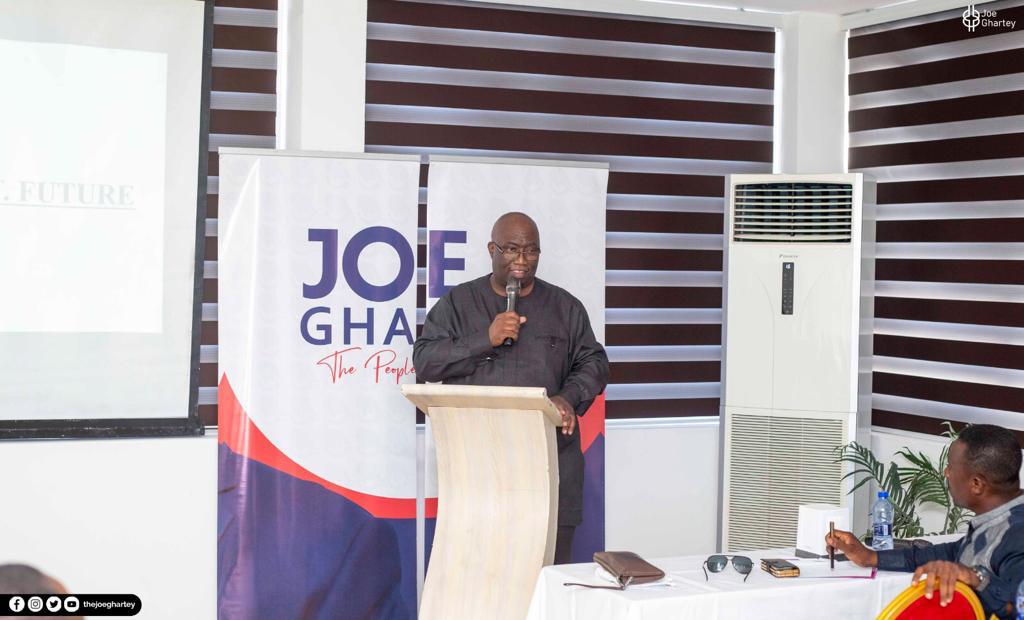 He said these positions in law and order, Parliament and infrastructure development had prepared him for the position of President. On law and order, he said a country which does not practice the rule of law cannot develop.
Equality before the law he said was critical. Joe Ghartey stated that as Attorney General he not only believed in law and order but he also practiced using the law as a tool for social and economic engineering.
He said he was of the firm view that being an experienced legislator and a former Deputy Speaker he was confident that he would as President develop a good working relationship with Parliament for the benefit of the country.
On railways development he said he was glad he was given the opportunity to manage what is arguably the most difficult infrastructure sector to manage. Joe Ghartey explained the by January 2020 the passenger lines form Takoradi to Tarkwa and Accra to Tema were operational. He said their operations were closed due to Covid-19.
The restrictions did not allow for the trains to run at full passenger capacity and therefore operating the trains was not sustainable. In any event the decision had been taken to change all the old lines so it was decided that the service be halted.
Mr Ghartey said the development of the Western Line was ongoing and the Tema to Mpakadan line was almost complete. He said that railway development would be a key part of his development agenda when elected as President.
Mr Ghartey mentioned other sectors that would receive attention by his government which he said would be lean and efficient with a maximum of 60 Ministers.
He further recounted his long association with NPP Greater Accra. He said he was so active that during the first term of Hon Jake Obetsibi Lamptey as Greater Accra Regional Chairman, he was appointed Chairman of the Greater Accra Disciplinary Committee.
Mr Ghartey said from 1992 he had always worked tirelessly in the Greater Accra Region for the Party contributing resources at all levels and to several constituencies.
DISCLAIMER: The Views, Comments, Opinions, Contributions and Statements made by Readers and Contributors on this platform do not necessarily represent the views or policy of Multimedia Group Limited.