Nigeria's Information Minister has criticised a call by the leaders of one of the country's states that people should take up arms to defend themselves against militants, criminals and kidnappers.
At the end of last month, the authorities in the north-eastern state of Zamfara told individuals to "obtain guns to defend themselves against the bandits".
The state "government is ready to facilitate people, especially our farmers, to secure basic weapons for defending themselves", a statement said.
But the federal government disagrees.
"Asking individuals to arm themselves is a recipe for anarchy," Information Minister Lai Mohammed told BBC Focus on Africa radio.
The solution, he said, was for the governors to "support the federal government in the area of security".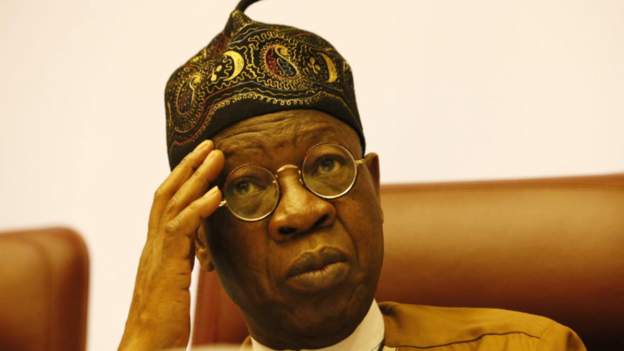 President Muhammadu Buhari is now in the last year of his eight-year presidency and, with frequent reports of attacks and kidnappings, there is a feeling that he has not been able to contain the violence.
But Mr Mohammed said this was not the case.
"State security has improved since 2015," he told presenter Bola Mosuro.
And when challenged that many ordinary Nigerians do not feel safe, the Information Minster responded saying; "You do not make a judgement on a matter that you understand very little about."