The Canadian government, in partnership with the United Nations Children's Fund (UNICEF), has announced funding support of US$8million to Ghana's Covid-19 Response project.
The package will help set up neonatal intensive care units to provide specialized care to those in need as well as strengthen the capacity of health facilities in Ashanti Region in the management of Covid-19 cases through provision of modern laboratories.
Canada commits at least 50 million Canadian Dollars annually in bilateral support through its programmes in Ghana.
The country has over the years introduced and implemented women empowerment projects as means to positively impact on greater society.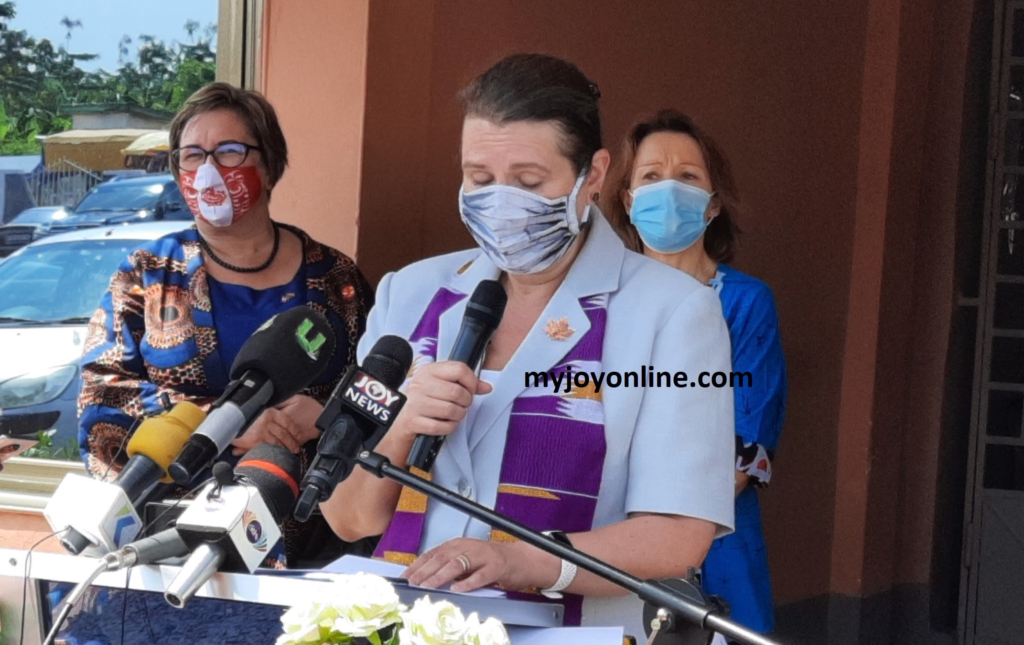 Several health facilities would benefit from the US$8 million funding support for lifesaving health, nutrition and sanitation services for children and women in response to the Covid-19 pandemic.
Forty-six thousand community health nurses, midwives, environmental health officers, among others in the Ashanti region would be catered for by a training component of the project. Beneficial facilities will also receive oxygen therapy equipment, digital tablets, protective gear for frontline health workers, laboratory equipment, among others to facilitate efficient case management, data capturing and monitoring.
It is being implemented in partnership with UNICEF, Government of Ghana through Ghana Health Services and the Ministry of Sanitation and Water Resources.
Announcing the package during a tour of the Ejisu Government Hospital, Canadian High Commissioner to Ghana, Kati Csaba said it will also help address gaps in infection control and prevention especially among children and women at beneficiary facilities.
"I am honored to announce today that Canada would provide CAD 10 million in support of the Covid-19 Response in Ghana project. This investments would have a particular focus on the Ashanti region."
"This facility will support four health facilities including the Ejisu Government Hospital.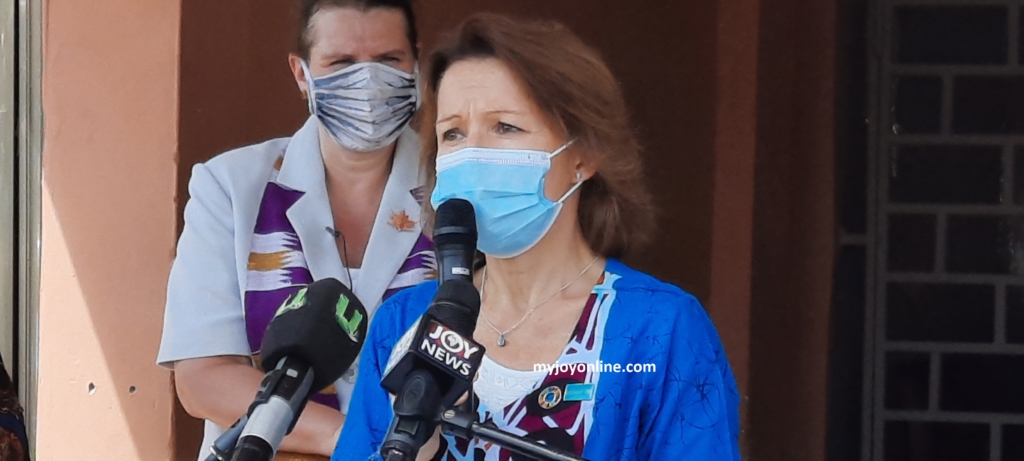 This support would be to set up Neonatal Intensive Care Units in support of the newest community members that need specialized care, to increase the number of laboratories with Covid-19 diagnostic capacity, to address gaps in sanitation and hygiene infrastructure, in order to improve the practice of infection prevention and control and to mitigate the threat of Covid-19 infections at these facilities," she added.
Country Representative of UNICEF, Anne-Claire Dufay said her outfit is delivering tailored-interventions to identify healthcare needs of beneficiary facilities.
She justified the selection of Ejisu Government Hospital and other beneficiary facilities. "This is a hospital here in Ejisu that has a lot of patients; a lot of mothers, pregnant women are giving birth to beautiful babies. Some are born premature so have low birth weight. And these are specific challenges that need to be addressed. And so the tools have been used to identify the challenges and to see how we can improve the quality of healthcare."
She gave some details of the project.
"We would be equipping several facilities, in fact, 15 facilities with oxygen concentrators. We will also equip 4 facilities with obstetric care equipment including this facility and we are going to strengthen the water and sanitation and hygiene facilities".
Ashanti Regional Health Director, Dr. Emmanuel Tinkorang commended the Canadian government for the gesture.
He also lauded the support of UNICEF and other partners, stating the support will help address gaps identified in healthcare delivery in the region.
"I believe that we would get a very good results so that the government of Canada would be very happy that this money has gone to help the people of Ghana more especially the children who are quiet vulnerable and the mothers that are always there for us."