The Christian Broadcasting Network CBN, in Ghana, is spearheading a "groundbreaking" humanitarian initiative in selected parts of the country.
Since 2001, CBN has provided over 2000 wells in many deprived communities in Ghana.
This week, CBN Ghana is commissioning 15 new water systems that will service several marginalised rural communities in the Ayensuano, Atiwa West, and the Kwaebibrim Districts of the Eastern Region of Ghana.
This series of commissioning started in a pawpaw farming and trading community named Dzatsui New Town, a community of about 800 people. The entire community used to get their water from a stream
down the hill, which was already a significant trek from the village itself.
The situation, however, became nearly untenable when a poultry farm was built up the stream from where the village is situated. From then on, whenever it rained, the fecal waste from the farm would wash into the stream, forcing the people from the community to take an even more arduous journey in the hopes of getting clean water, either further up the stream, or from a dam further up the mountain, on the opposite side of the road.
Mr Peter Ambuso the Assembly Man of Achinaso West, was at the commissioning of the mechanised borehole at Dzatsui New Town.
He expressed his gratitude to CBN Ghana and its partners.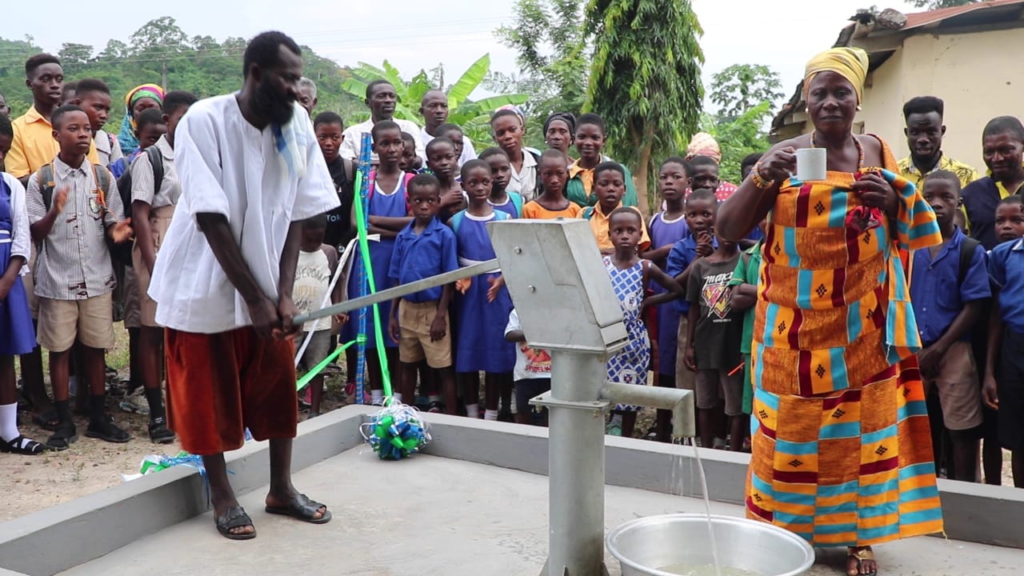 At this first commissioning, the Director of CBN Ghana, Mr. Kwasi Bobo in an interview said: "we are here, commissioning a new water well which is a mechanised water system for the community of Dzatsui New Town. This is by courtesy of CBN Ghana and our partners from Operation Blessing. From Dzatsui New Town, we are on a trip to commission 15 new water systems.
All these are in the Eastern Region of Ghana. After these commissioning, we are looking forward to providing 60 new water systems, which are mechanised boreholes with water treatment systems for 60 new communities before this year ends".
A number of kilometers away, near the summit of one of the many hills in the area, is a village called Yaw Larbi. There stands a school that, prior to the well built by CBN, was far removed from any clean source of water.
The well has eliminated the need for the school and the surrounding community to travel great distances for unclean water, freeing up time for more productive pursuits like learning.
In a small town named Akukrom, with a population of about 1,500 people, getting water has been especially difficult. There have been many who have tried to get a local water source for the town. Until
CBN Ghana came to build, all were unsuccessful. Surveys have shown that the primary challenge in getting water in the locality is that the ground has many "dry fractures".
Where other attempts resulted in a borehole well that lasted only until the dry season at best, CBN Ghana has been able to erect a mechanised well that can produce a 700 litre per minute yield of water, which has been chlorinated, to make it as good as tap water in the cities.
One may wonder how CBN managed to succeed whilst others failed.
The Humanitarian Manager of CBN Ghana, Mr. Samuel Kpakpo Adotei, attributes the success to two things, God and technology.
"We used a special underground water detector and that helped us get the right source. We are also mindful that we are doing this for the Lord, coupled with the commitment of CBN Partners and donors.
We deem it a responsibility to do a thorough job and report back with success for our partners and for the Lord".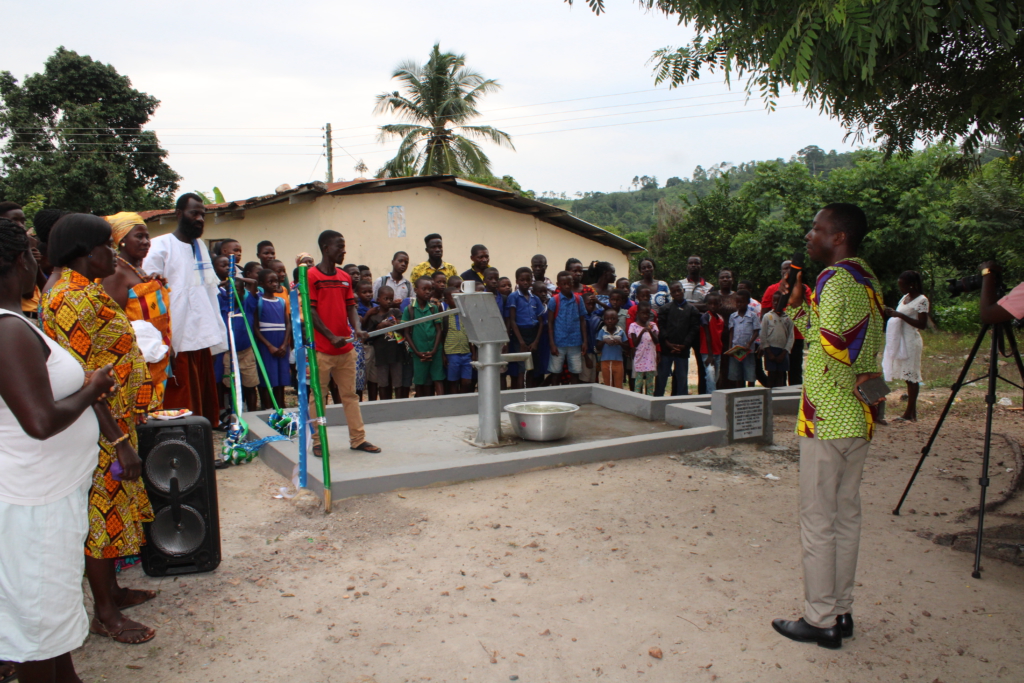 The primary trade of Akukrom is cocoa farming and the making and selling of pottery. These are things that cannot be done without access to water, which can be quite an expensive thing to acquire, especially in the dry season.
In fact, the townsfolk threw a challenge to the people from CBN's Operation Blessing team, knowing that all previous projects to get water had either failed or dried up in the dry season. They said they were watching to see whether it would work even in the dry season and come that time, they had to report
that it was perfect.
This well is set to ease the lives of so many in the area and improve the state of their livelihoods. And, to crown the cake, they can drink from it and use it without the fear of disease from contamination.
We spoke with CBN Ghana's Director, Mr. Kwasi Bobo, again to enquire further about the rationale behind these wells; "CBN is there to show the love of Christ and this we do through our humanitarian services which include our clean water projects where we provide clean water for communities that do not have."
"CBN has been in operation in Ghana for over 25 years."
He explained, "You know we actually started with hand-dug wells. We have now graduated to mechanised boreholes and hand pumps as a way of providing clean water. We've touched over 10,000 people through our Medical Brigade programs, as we speak, all through the southern part of Ghana and parts of the northern sector of the country."
It is clear from their motives that these projects are made to serve the people of these communities for as long as possible and so are built with that in mind. This, we know, cannot come cheap so we asked Mr. Samuel Kpakpo Adotei, Humanitarian Manager of CBN, what it took financially.
"Our systems are made of top-grade materials. We don't compromise quality because we are
implementing World Health Organization (WHO) standards in all we do, and we think of the longevity of our systems- thus we train the locals as part of our work. A fully mechanised borehole which will
give a good yield to service the community costs about GHc 50,000.00 to set up."
Though they have done much good here, CBN Ghana has no intention of resting on its laurels. They are still on the move and plan to commission a further 15 boreholes by the end of July 2022 at Yaw Boamah, Pameng, Akawani, Kwabeng Zongo, Bumso Akyem, Akyem Krobo, Asuom Amanfrom, Subi, Nkanta No2, Amonom, Larbikrom and Akakom. There is also a medical brigade planned in the OTI region in July.
According to Country Director Mr. Bobo, CBN's Medical Brigades is looking forward to giving medical, dental, and eye care to 7,000 people minimum for this year. They will also be sponsoring 10 life-changing surgeries this year. This is all by courtesy of partners of CBN and Operation Blessing partners. He
adds "We believe that we can do more if all of us join our forces together".
DISCLAIMER: The Views, Comments, Opinions, Contributions and Statements made by Readers and Contributors on this platform do not necessarily represent the views or policy of Multimedia Group Limited.