Anfield is no longer a fortress. Liverpool have failed to score in four games since 27 December 2020 (first since May 2000); recording 2 draws and 2 losses. The loss to Southampton sent a warning to Klopp about the mental state of his troops.
The Liverpool of 19/20 season seems to be gone with the wind. It is as though there is no hunger or drive. Achieving 19th league title might have taken a lot out of the team whilst the loss of Virgil Van Dijk has also affected their defensive solidity. Liverpool have also been toothless this season and are performing worse this season going forward than at any other point since Klopp took charge.
The absence of a leader and orthodox centre back has hindered the club offensively and defensively. Since 2016/17 season, Liverpool have shipped in an average of 17 goals as at Game week 19 over the past 4 seasons.
Liverpool have already conceded 22 goals, their second-highest goals-against total under Klopp. The inability to have a consistent centre back partnership this season has been a contributing factor. Liverpool have only had the services of Virgil Van Dijk, Joe Gomez, and Joel Matip for 21 games. As a result, there have been many makeshift centre-back partnerships to steady the ship.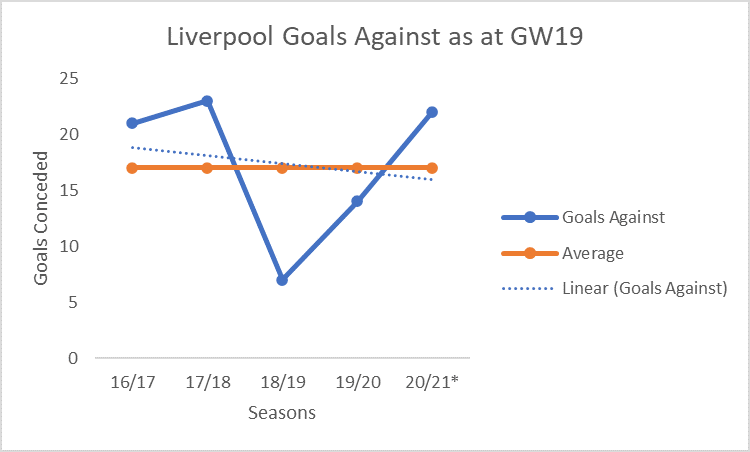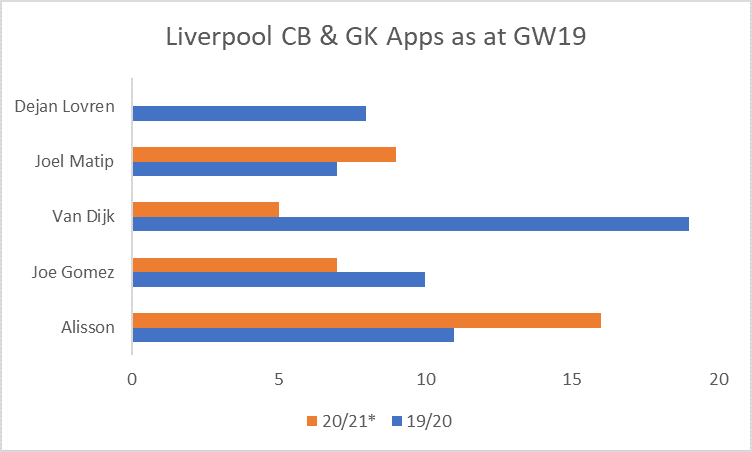 A key element of Klopp's attacking philosophy is having a somewhat high line of engagement to press their opposition into errors. As such, defenders like Van Dijk, Gomez and Matip are great assets for their ability to sniff out any counter attacks by reading the game brilliantly. With these center backs, it is easier for Jordan Henderson and Fabinho to focus on covering the full back positions when the Liverpool full backs make attacking runs into opponents' halves. The Liverpool transitioning phase has also suffered as the quality and range of passing of Van Dijk has been lost.
Midfield was adequately beefed up after the departure of Adam Lallana yet Liverpool have been struggling for a creative spark. The injuries to Van Dijk, Gomez, Matip, Naby Keita, Thiago, Diogo Jota, Shaqiri and Oxlade-Chamberlain have contributed to this. Liverpool have been forced to move their usual central midfield engine (Fabinho & Henderson) to occupy their center back positions to offer Allison more protection. Hence, there are no willing runners in the middle besides Georginio Wijnaldum in their attacking and defensive phases. Thiago has failed to show the qualities that he showed in last season's campaign with Bayern.
In their attacking department, Liverpool have been short of their assists and goalscoring performance of 19/20 season.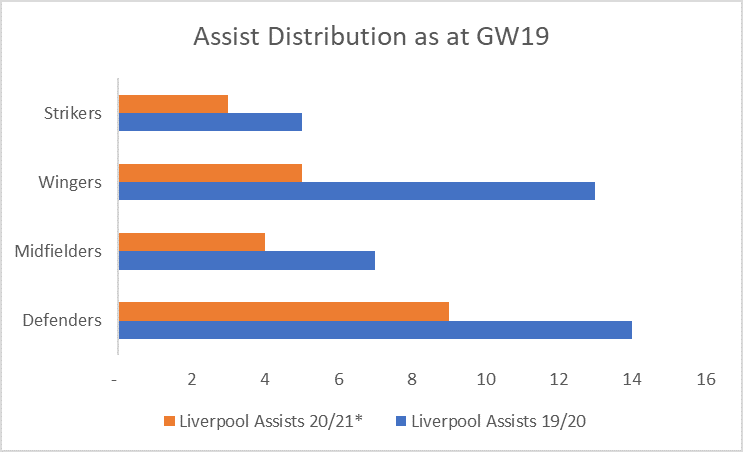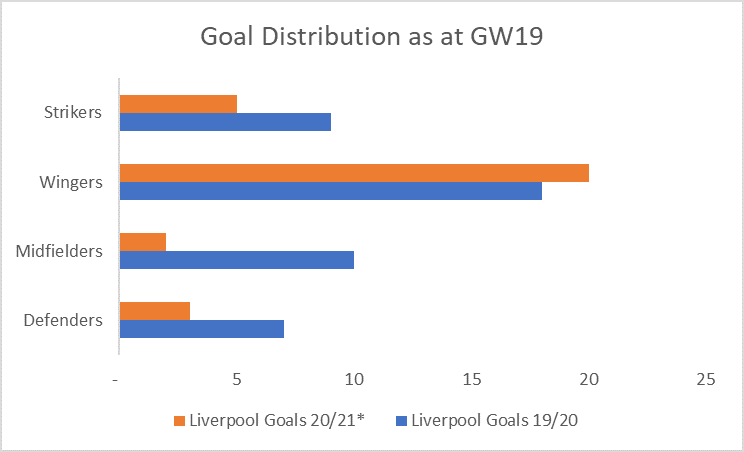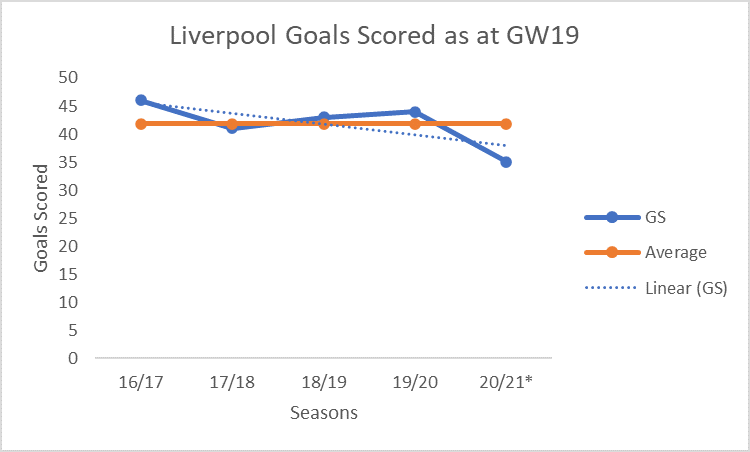 The goal contributions from their full-backs have been reduced drastically whilst their African duo of Sadio Mane and Mo Salah have been shadows of their 19/20 selves. Liverpool have had majority possession in all games except this time, the possession is not yielding in clear opportunities. The
wing play from their fullbacks and balls into space for Salah and Mane to run onto have been cut out drastically. Klopp's focus on preventing an onslaught from teams owing to Van Dijk's absence has seen him restrict the forward runs of his fullbacks whilst teams have also set up relatively lower defensive blocks to prevent any runs in behind from Salah and Mane.
The belief seems to be whittling away in this squad. The energy levels seemed to have dropped and the players are still partying because they had won a title that had eluded them since Adobe Photoshop was created in 1990. The magnitude of their achievement is weighing on them. Subsequently restricting Liverpool to strengthening only their midfield and defence department has affected Klopp's ability to give the main actors of the success of 19/20 season a deserved rest.
However, Klopp could have some respite if he makes certain changes to the approach of Liverpool. As Liverpool are struggling for goals, a focus on improving their set-piece conversion could yield better results.
Whilst Firmino's defensive approach to attacking is useful in the way Klopp wants to play, it could be better for his team to have a different focal attacking head in Mo Salah and Sadio Mane. Liverpool can play the ball into space using the excellent passing ability of Thiago. The 4-3-3 approach is exciting but 4-4-2 Diamond is different but will get Liverpool scoring again.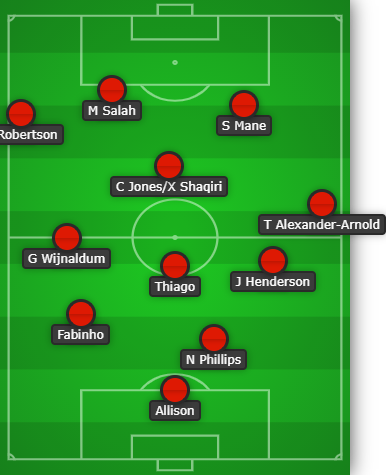 The wing play we have failed to see so much of this season can return that way with Trent Alexander Arnold and Andy Robertson having their respective flanks to themselves. Thiago should be deployed in the same quarterback role in front of the defence with Wijnaldum and Curtis Jones and Henderson offering the other bodies in the middle.
The fullback positions will easily be covered by Wijnaldum and Henderson if need by whilst Curtis Jones can finally show why he's drawn comparisons to Steven Gerrard with his late arrivals in the box. A centre-back pairing of Fabinho and Nathaniel Phillips will be balanced as Fabinho's lack of speed will be adequately complemented by Phillips', who has recorded Liverpool's 3rd fastest speed this season (33.11km/h).
Article by YF Koduah-Sarpong; @_Frempy on twitter