Member of Parliament for the Nhyiaeso Constituency, Dr Stephen Amoah has indicated that government is working around the clock to address the increasing cost of living in the country.
According to the NPP lawmaker, he does not think 'government is sleeping'.
The legislator made these remarks while contributing to discussions on the rising inflation and increased cost of living on Newsfile on Saturday.
In that regard, he told host, Samson Lardy Anyenini that in as much as government is doing its best, there is the need for all other stakeholders to rally behind government's efforts to make the economy better.
In his view, the the country's economic woes did not start today, thus the need for a more collective approach to address the situation.
"The problem we're having today, any honest person will tell you, it's not today's issue. It's been with us [for] years. So I'm preaching to every stakeholder who has what it takes to come on board and let us all make sure [to help]. Sometimes we get it wrong and right, [but]we're all helping.
At present, it's on the government, and I don't think the government is sleeping. The fact is, [we] have 40 year old problems", he said.
Dr Amoah continued: "If we sat there and our population size has grown from Nkrumah's time from about 5 million to about 31 million; if you have a situation where just close to 7% [of people] directly in the formal sector pay taxes, and we're having negative effective tax wage, and these problems have been compounded for years, the government alone [cannot solve them]".
He also charged government to revise its expenditure.
"There are basic issues we need to check such as our discretionary spending and as government; we should be able to now go down. Even though the government said we've cut down by 20%, well accepted. But we can do more", he added.
Meanwhile, a senior lecturer at the University of Ghana, Professor Godfred Alufar Bokpin, has stated that due to the high cost of living in the country, it has become difficult for the average Ghanaian worker to save.
According to him, the recent hike in fuel prices, rising inflation and general economic hardship has prevented many workers from putting some monies aside from what they earn.
Also speaking on Newsfile, he bemoaned the economic difficulties in the country and called on the government to inject more commitment in dealing with the situation, despite its earlier interventions.
"If you're an average worker in Ghana and you look at the proportion of your expenditure on food, rent, transportation and the rest of them, it's practically very difficult to save. You can understand why our savings rate in this country is very low while our investment requirement is high.
That gap will then tend to liberalise the environment and make it so conducive to foreign investors to fill the gap in order to realise our economic dream.
When it happens that way, it's going to be difficult for the average Ghanaian to actually make significant savings in order to take advantage of even the limited economic opportunity available", Bokpin explained.
Contributing to the discussion's on Ghana's rising inflation, he added that apart from the inability of workers to save, workers are also burdened with a lot of tax obligations imposed by the state.
This he said, is a contributory factor to the hardship being experienced by citizens.
Professor Bokpin also mentioned that under the current circumstances, citizens who are on pension are also feeling the brunt of the hardship, due to the static nature of their compensations.
"When you look at all these [taxes], there's no breathing space for the average Ghanaian. It gets worse for those who're on pension and their livelihood is on the strength of the law from SSNIT. And maybe latter generation, tier 2. Because they're on fixed pension and they're impacted much more.
Remember, not every Ghanaian who retires at the age 60 gets ex-gratia. Regardless of how you describe it and justify it. For the average teacher who teaches for 30 years, he goes home with practically nothing", he said.
Professor Bokpin's comments were in reaction to the recent hike in fuel prices and the rise in inflation which has triggered widespread public sentiments.
But the economist said the country's economic woes will not end anytime soon.
Background
Ghana's inflation jumped to 27.6% from the 23.6% recorded in April 2022, according to recent figures from the Ghana Statistical Service (GSS).
The GSS blamed this on the increase in transport fares and food prices.
According to the Government Statistician, Professor Kobina Annim, the rate of inflations for transport (39.0%), household equipment and maintenance (33.8%), housing, water, gas, and electricity (32.3%), and food and non-alcoholic beverages (30.1.6%) were higher than the national average (27.6%).
In May, 2022, 12 of the 13 divisions recorded inflation rates higher than the rolling average from June, 2021 to May, 2022.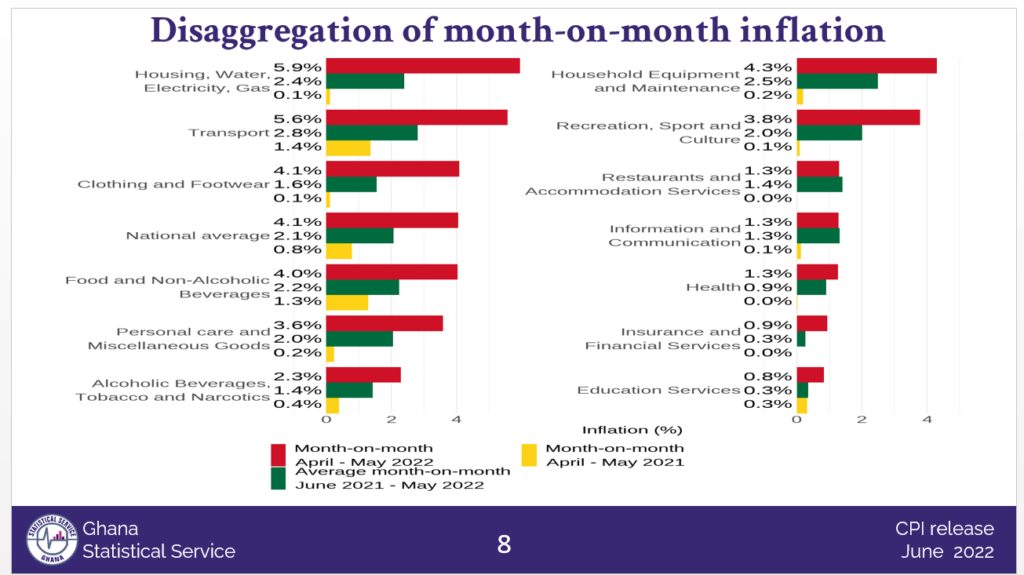 Also, the major drivers based on the year-on-year figures show that grapes, which is imported, saw a 100.8% inflation followed by diesel, 81.1%, also imported.
Firewood also saw 73.7% year-on-year inflation.
Below is the full list of the top 15 drivers of inflation in Ghana: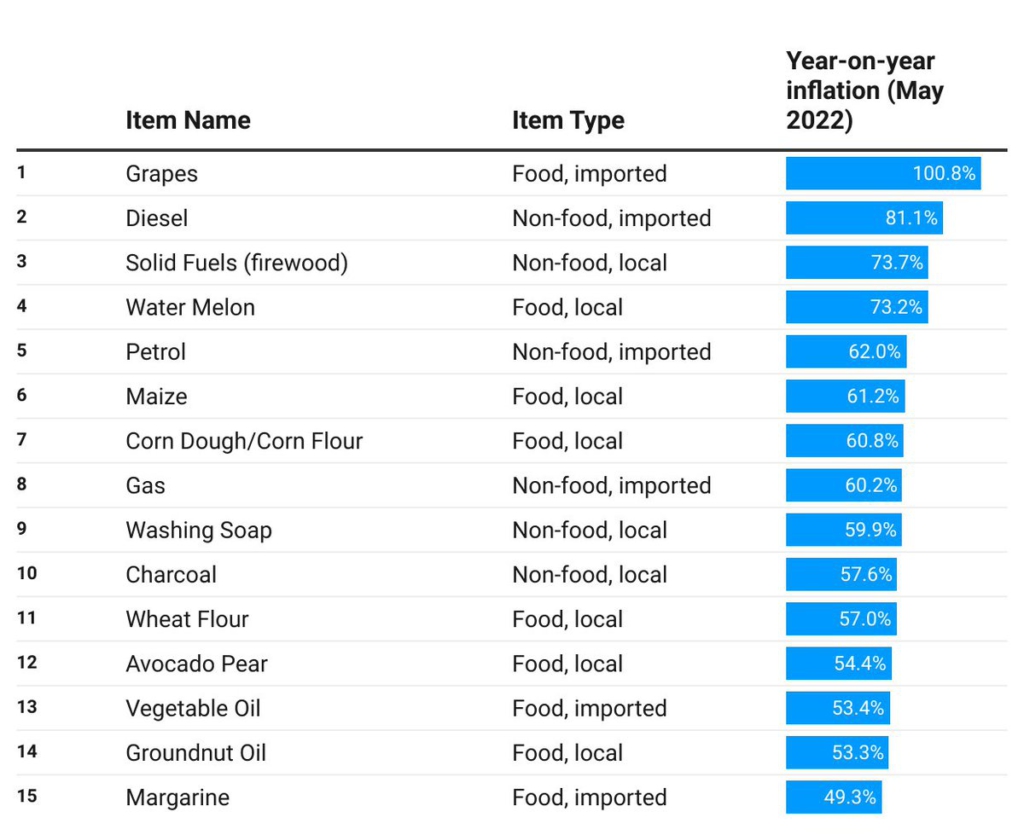 DISCLAIMER: The Views, Comments, Opinions, Contributions and Statements made by Readers and Contributors on this platform do not necessarily represent the views or policy of Multimedia Group Limited.