The Managing Director of the Electricity Company Ghana (ECG), has explained the reason behind deploying the military for the installation of pre-paid meters at Yilo and Manya Krobo municipalities.
In an interview on Hard Truth on Tuesday, Mr. Samuel Dubik Mahama said that the soldiers were needed to protect his staff and that they were not there to instill fear in the residents.
According to him, ECG does not have the requisite number of staff for the operation, hence, decided to involve the soldiers who are also engineers.
"I didn't have the requisite numbers. They are not just soldiers, the Army has an engineering regiment that has electrical engineers, I picked them up and took them to the training school, with the blessing of the National Security, and then, deployed them there to do the exercise," he explained.
Mr. Mahama also said the ECG needed the army on the ground because "we have not had the best of relationships in Manya/Yilo Krobo, so my staff needed support from the National Security."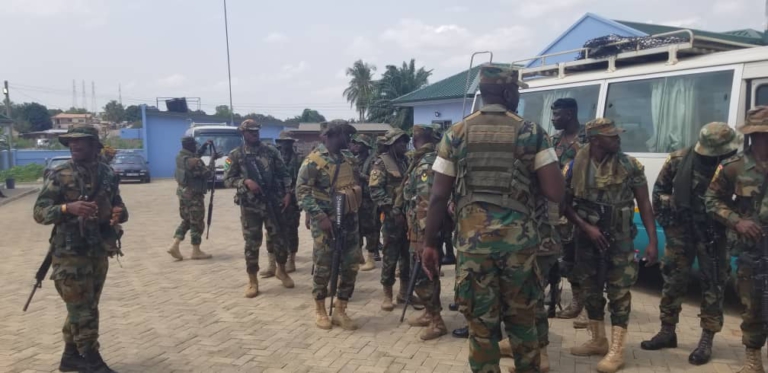 He expressed worry that the Chiefs are not being specific with what they want. "
"All they keep saying is to pardon their debt, withdraw the soldiers and remove the prepaid meters. The prepaid is not negotiable, they should not for a second believe that the prepaid will be negotiated. The soldiers are also not going anywhere, my people need to be protected, they equally have families as anyone.
"We can't keep giving them electricity if they are not ready to pay. They have not been paying since 2014. Electricity is a privilege and not a right, it's only a right to enjoy electricity when we pay," Mr. Mahama said.
He also noted that ECG is operating a business and they are indebted to independent electricity producers. Therefore, bills must be paid in order to pay the debt.
The ECG boss added that, "ECG is losing a lot of money because the residents refuse to pay bills."
DISCLAIMER: The Views, Comments, Opinions, Contributions and Statements made by Readers and Contributors on this platform do not necessarily represent the views or policy of Multimedia Group Limited.