In the Ghana Premier League, club owners are usually not talked about as much as the playing body and technical staff.
However, Abdul Karim Grunsah has arguably been the main attraction at King Faisal for quite some time.
After owning the club for multiple seasons, the controversial bankroller is ready to sell for $2 million or more.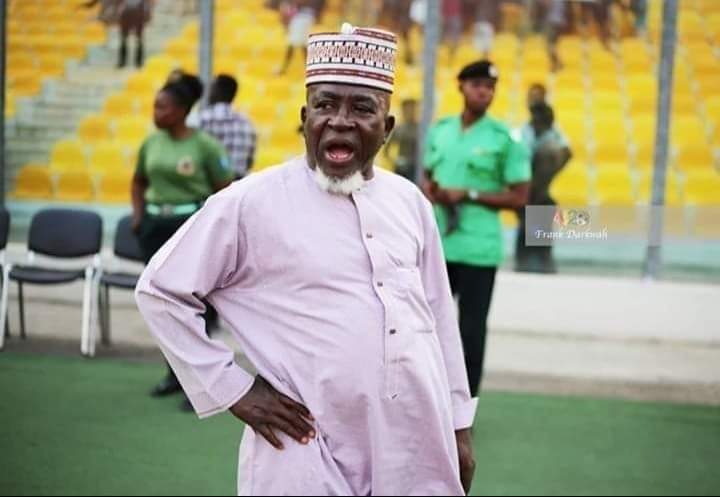 "I am ready for anyone that is ready to buy the club. If somebody can offer not less than $2million, I'll sell," he informed Angel FM.
Making the decision to sell the club is considered a good one. However, the $2 million asking price will be impossible to meet.
Here are reasons why:
Player Valuation
Player valuation in recent years has become a key metric in the measurement of a club's value.
Although it does not necessarily explain how well clubs perform on the pitch, it does in more ways than one give readers an understanding of the quality of players clubs have.
The GPL currently has 18 teams and each team have over 20 players in their squad.
Looking at the figures produced by Transfermarkt, King Faisal have the lowest player value (GHS 7.94 million). It equates to $1.36 million which is well below the asking price.
Granted, the club have some other assets and revenues. However, those assets are difficult to quantify.
On an international level, GPL clubs have mostly struggled to produce enough quality players to compete for spots in the Black Stars.
It has been more than clear in the case of King Faisal. Habib Mohammed was the last player from the Kumasi-based side to feature for the senior national team.
He played for the Black Stars in the 2006 World Cup. Currently, Kwame Peprah has been strong as the spearheaded of the team's attack but will find it hard to make the national team squad.
Although the forward has been included in the 32-man home-based side, the likes of Jordan Ayew, Caleb Ekuban and even some local players will make it difficult for CK Akonnor to pick him in the final squad.
Looking at this, it is quite understandable that Grunsah would like to sell his club. If a future Black Stars calibre player is hard to produce, it would be just as hard to sell them to foreign clubs for good money.
Performances in competitions
Winning the GPL trophy brings bragging rights to any team that manages to accomplish it. It is also a metric investors consider.
Unfortunately, King Faisal have not had an opportunity to brag about winning a league title. In fact, their only trophy worth mentioning is the Ghana top four cup – a pre-season competition – which they won in 2004.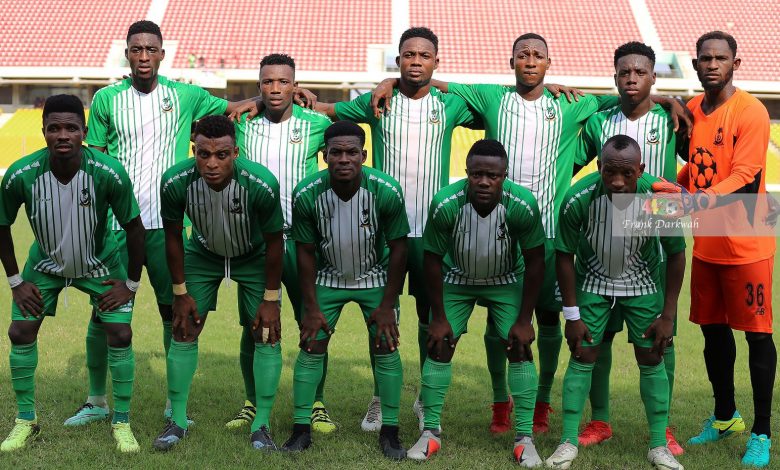 Since the 2006/07 season, the Insha Allah boys have been in the top four on just one occasion. They ended the 2008/09 season in fourth place.
Grunsah's club have been relegated twice in the last 15 years (2010/11 and 2013/14 seasons).
If the GFA hadn't cancelled the 2019/20 football season, King Faisal would have been relegated again. They were bottom of the log at the time and were yet to record a win in 15 matchdays.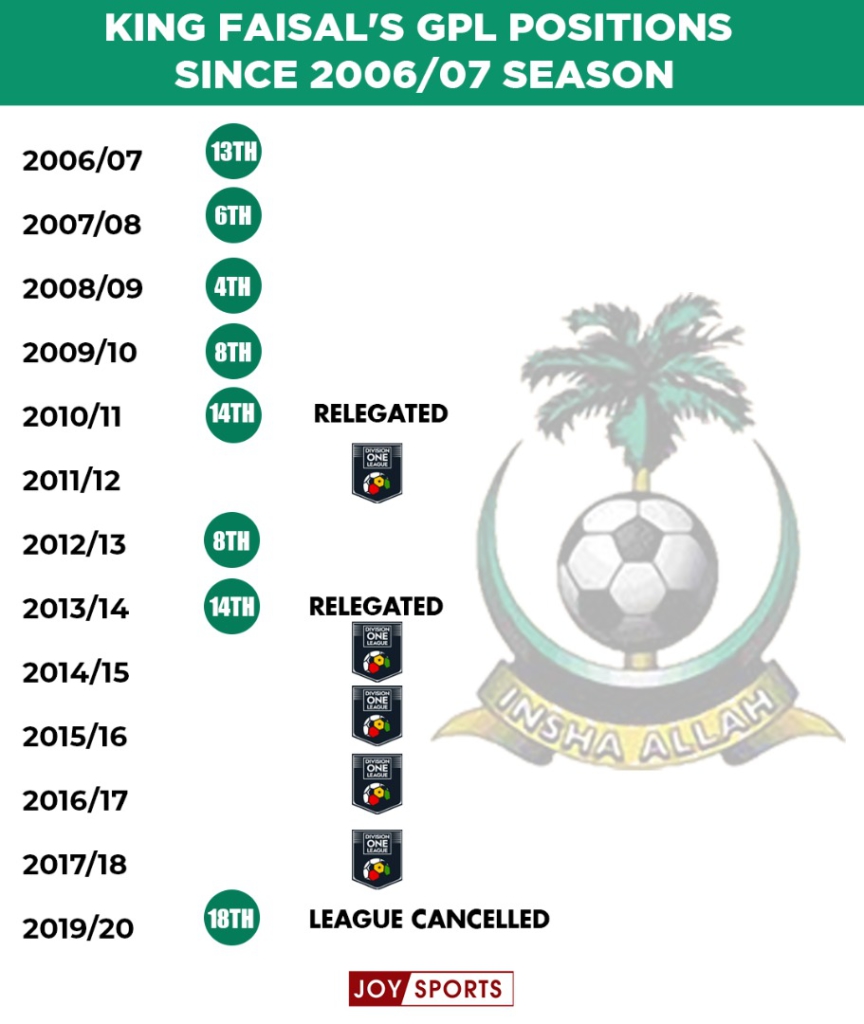 It was no surprise that Alhaji Grunsah constantly called for the league's truncation after the first COVID-19 positive case was recorded in Ghana.
On the continental scene, the club haven't impressed either. They have not made it to the CAF Confederation Cup since 2006.
In fact, the Kumasi-based side have not made it past the group stage of the competition in their last three attempts (2004, 2005 and 2006).
This season, they are 17th on the log with survival proving difficult after each matchday.
Social media pull
In recent times, social media has become a key aspect for development of many organisations.
It has been no different for clubs around the world as it has become a way of attracting potential investors.
King Faisal's numbers in that aspect have been appalling to say the least. They have the lowest number of followers on twitter among GPL clubs (2.2k).
The Kumasi-based club also have the second lowest page likes on Facebook (9.2k).
The story on Instagram is a little better but needs a huge boost. King Faisal currently have 1.4k followers in that media space, only five GPL clubs have lower numbers.
When those figures are added together, King Faisal have the lowest social media following (Twitter, Facebook and Instagram) among GPL clubs (12.8k).
What's more shocking is that they are 1.7 times less valuable in social media than Eleven Wonders. The Sure Wonders are just one spot above King Faisal in the social media totals.
A huge investment is needed in that area and of course it negatively affects the valuation of the club for an investor.
The need for a new direction
Last year, Samuel Osei Kuffour relayed the need for Alhaji Grunsah to let someone else lead the club.
"We talk about things we can do to help but is Alhaji [Grusah] ready [to allow us]? We cannot go to Alhaji and say give us King Faisal. It is not possible. Support is different. If you are giving one cedi or two cedis, that is different. If you want me to get involved with the team, we need to sit down and talk properly."
"Now where is the league and where is King Faisal? Alhaji is 75 years I know. Would Alhaji sit down for people to run King Faisal for him? He will not."
"Alhaji should call people who have the knowledge and connection to run the team. Look at Ibrahim Tanko, look at Chibsah, and look at myself. There are a lot of people out there who can help but we cannot just go there and tell him. It doesn't work like that," Kuffour told Joy FM.
Grunsah now looks ready to leave the scene. But he has not left the club in a good enough condition to demand a price of $2 million.
King Faisal do not have a stadium, have not produced a Black Stars calibre player in a decade and have not invested well enough in their online presence.
Grunsah should reconsider the value he has placed on King Faisal, if he indeed wants to sell the club.