When the Black Stars managed to halt Brazil's rout in a pre-World Cup friendly on September 23 2022, there was an alloy of emotions as sentiments, accompanied by non-stop commentary swept across the country.
The Selecao had run the Black Stars off the field in 40 minutes, scoring 3 and threatening to add more in the second half but Ghana had different ideas. Otto Addo made changes to the team from the first half, with the shape suffering adjustments consequently.
After starting a back 4 with Daniel Amartey and Alexander Djiku as a centre-back pair, and Dede Ayew playing in midfield with Mohammed Kudus and Baba Iddrisu in a 4-3-3, the introduction of new boys; Inaki Williams and Mohammed Salisu, saw the team alternate to a back 3. And whether coincidentally or through calculated measure, a picture of a very nervy and disbanded Black Stars taken in the first half, was repainted.
Although they failed to hit the target in the second-half, there was an improvement from the first, attempting more shots (6) after half-time. Also, they sustained more attacks (41) as compared to 29 from the first 45 minutes.
Besides this improvement in offensive metrics from the Black Stars, Ghana restricted the Brazilians to fewer attempts at goal (8), after 13 in the first half. Overall, the complexion of the entire game had changed, and had Ghana been a little more efficient in the second half, they could have grabbed two goals.
As a result, Ghana's 31.73 million coaches (lol) were left debating between the two systems, in attempts to decipher what the team should adopt as the first game in Qatar approaches. And with hours to kick-off, Joy Sports' Mishael Quaynor takes a look at what the technical team could be considering before choosing between the two systems.
The 'Back 4'
Right from the get-go, Otto Addo and the technical team have not shied away from indicating playing with two centre-backs and full-backs is their desired way for the national team.
A common feature since their taking over has seen Ghana play with two attacking number 8s anchored by a sole defensive midfielder in a 4-3-3, and this has been an advantage as when in possession, it has provided the team numerous approaches to maintain control in games.
In all of Ghana's competitive games under Addo, the team has averaged 57.5% of possession, with the lowest coming in the 1-1 draw with Nigeria in the World Cup qualifiers, and the highest, away to Central African Republic in the Afcon qualifiers.
Comparatively, Ghana recorded an average possession of 51.3% in the 2021 Afcon campaign, which had a highest value of 63% versus Comoros, and 38% as the lowest in the defeat to Morocco. And in Ghana's three games at Afcon 2021, the Black Stars created 17 chances in total, and managed to create 28 in Otto's first three games as boss.
So definitely with his back 4, the team's in-game philosophy has changed. But besides this domination Ghana has carved out, in Otto's back 4, the Black Stars have also adopted various in-game approaches to games.
Ghana's 'numerous approaches' has been exhibited by their malleability in the back 4, alternating with a 2-1-4-3 and even a 3-4-3, 3-1-4-2 and 3-2-4-1 – all in a back 4. A fundamental benefit of this flexibility is the Black Stars become a slightly difficult team to defend against, since when players rotate positions and roles, it makes it a complex task for opponents to control the team.
The back 4 has also been integral to Addo's usage of dual attacking midfielders, roles which Kudus and Jordan Ayew were first deployed in, in Addo's first game at home to Nigeria. Daniel-Kofi Kyereh and Dede Ayew have also been tried in the roles.
However, the profiles required in the dual 8 means Kofi Kyereh will be a better fit in Qatar. Alongside their attacking responsibilities, the dual 8s have important defensive roles once the team is out of possession, and in the first half versus Brazil, Dede Ayew struggled with it, directly leading to the Selecao's second goal.
Kyereh, who plays as an attacking midfielder at Freiburg, has averaged 0.6 tackles per game in the 2021/22 season and averaging 0.4 clearances as well as 0.3 possession wins in 9 Bundesliga games. Meanwhile, Woo-yeong Jeong, also an attacking midfielder for Freiburg averages 0.4 tackles per game, averaged 0.4 clearances and 0.4 possession regains in 12 games.
At the 2021 Africa Cup of Nations, the midfielder posted impressive numbers in a disappointing campaign for the national team with an average of 1.0 interceptions per game, 2.3 tackles per game, won back possession 1.0 and 0.3 clearances.
His ability to do a job defensively means he could be effective alongside Kudus as dual number 8s, since they both have credible amounts of attacking talent to play in those roles. Besides, their similar, yet contrasting roles – Kudus, who is more of a dribbler and ball-carrier, and Kyereh, who plays tidier with one touch passing, could be compared to the Modric-Kroos relationship at Real Madrid. Meaning, both could compliment each other well in Qatar.
Besides the 4-3-3, the Black Stars also trialed a 4-4-2 in the friendly with Nicaragua, playing Inaki alongside Kudus – who played a similar role like he has at Ajax this season.
The 'Back 3'
Despite Ghana's seeming insistence to play with a four, Addo has displayed an appreciable level of tactical adaptability.
As indicated earlier, versus Brazil, the Black Stars switched to a back 3 in the second half, consequently halting their onslaught by the South Americans – much to the admiration of Ghanaians. But it was not the first time a back 3 was used. It first happened away to Nigeria's Super Eagles in Abuja, where Ghana had to withstand torrents of pressure from their hosts.
As a result, they held on to secure a 1-1 result and qualify for the World Cup. The basic idea of a 'back 3' is to add more presence in defense. In France, Ghana's back 3 saw the introduction of Mohammed Salisu after the withdrawal of Kamaldeen Sulemana. In Abuja, Jordan Ayew was whisked and Andy Yiadom introduced at right wing back.
Dennis Odoi, who was playing right back in the first half, was moved to left wing back and Gideon Mensah – left back in the first half – repositioned as a left-sided centre-back. This also reveals Addo's ability to make do with resources available, but he might not have to worry so much in Qatar after calling up an array of profiles into his final squad.
The basic idea of a back 3, which introduces a third centre-back, is to add more presence in defense. With a third centre-back and two wing-backs who tuck in when the team is out of possession, there is a backline of five in defense.
Also ahead of the five are either three midfielders or four, depending on how the team decides to shape up; either in a 5-3-2 or 5-4-1.
Against Brazil, the back 3 was introduced as Ghana conceded too many spaces between midfield and defense. A third body in central defense means a centre-back could step up to engage opposition in between the lines without worrying too much about space left behind him.

In Abuja, its introduction was to mitigate Nigeria's excessive use of the wide areas in an attempt to open up the Black Stars. So defensively, the team adopted a 5-4-1 diamond, to enable lateral midfielders conveniently shadow Nigeria's midfield runners while wing-backs could confidently step out to engage Nigeria in the wide areas.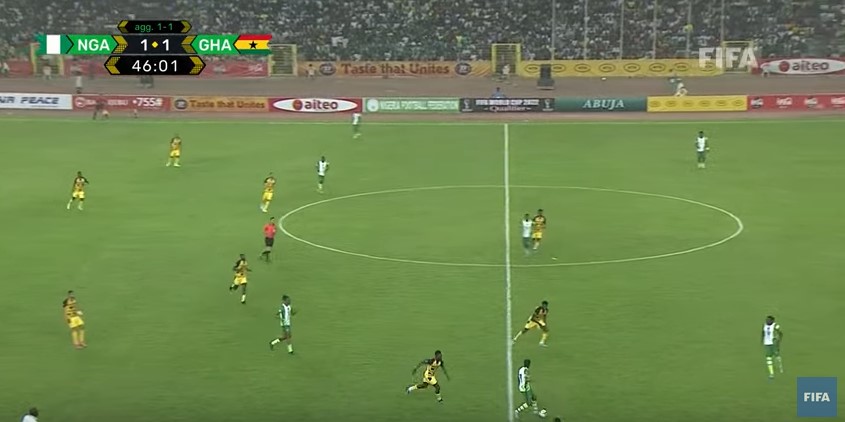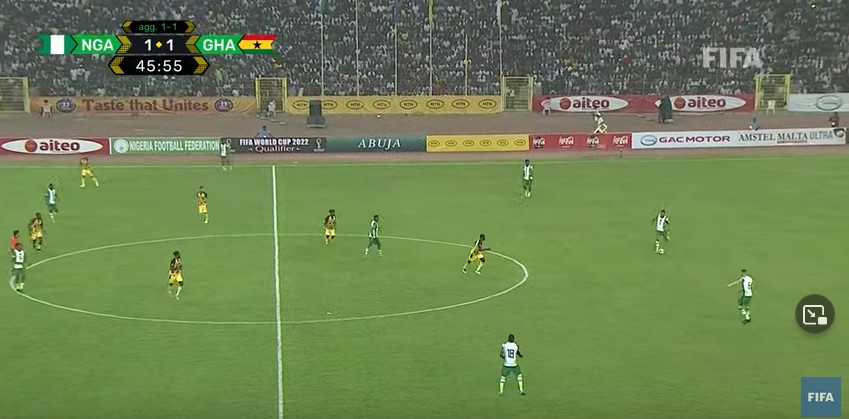 But Ghana's shape during build-up in a back 4 usually has the defensive midfielder drop in to form a back 3 with the two centre-backs. So starting in a straight back 3, Ghana can easily play out in their desired shape without having to sacrifice a midfielder.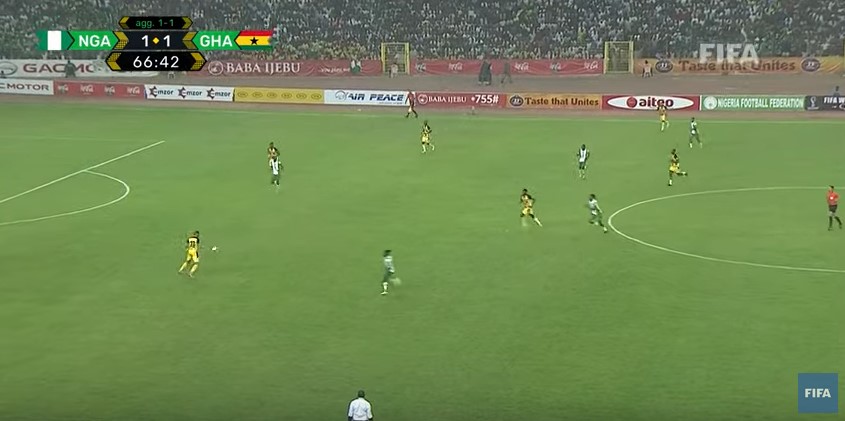 What happens in Qatar?
"I adapt to the opponent, I take a close look at the strengths and weaknesses of the opponent, and based on that I play a system so it's flexible. I have many styles," Otto Addo said to the press, and considering Ghana's opponents in Group H it's probably a wise approach.
However, there is bigger headache for the Black Stars, a team blessed with a plethora of attacking talents yet below par efficiency. Ghana's top scorer from club level heading into the World Cup is Kudus with 10 goals in 21 games. Meanwhile Inaki, Sowah and Kamaldeen have a combined 8 goals in 52 appearances. Dede Ayew – Ghana's top scorer in the squad heading into the World Cup – has managed only two goals in seven league games with Al Saad this season.
Critically, while creativity has not been a Black Stars problem since Otto Addo took charge of the Black Stars – creating 62 chances – efficiency has been problematic, as only 12.9% has been turned into goals.
As a result, the Black Stars will need to be measured in their approach. Ghana's 'back 4' is targeted at establishing dominance and exerting control, and while the inability to finish off opposition has not yet left the Stars licking their blushes in any competitive game, the fire quality of Uruguay and Portugal especially, could mean they are due an awakening.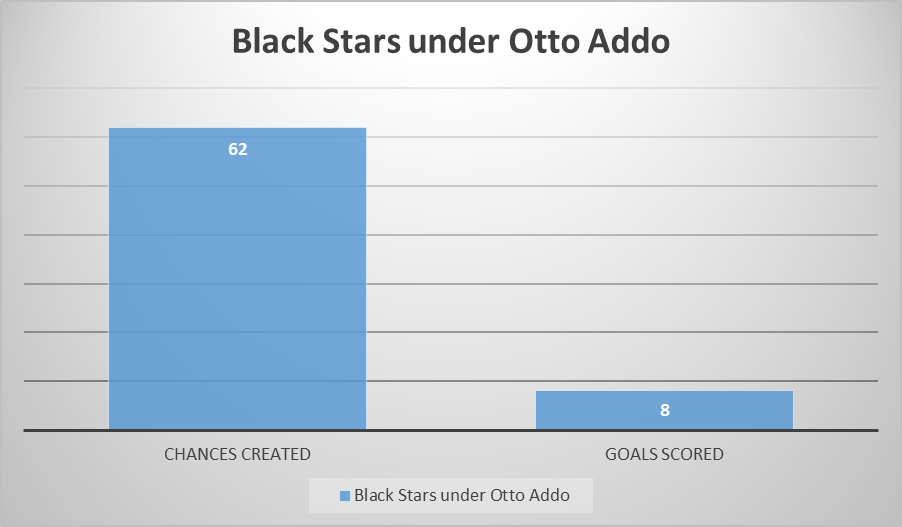 It is for this poor conversion record it is imperative the Black Stars introduce a third body in defence via the back 3. And the notion that the system is defensive and floors a team's attacking edge is overly exaggerated.
Netherlands boss, Louis Van Gaal explained: "You have no idea at all. I'm sorry to say it, but you're just a journalist. You want to implement your vision, but you have no vision in football. You have a vision for the newspaper, fantastic. You attract attention, and so on," he told a Dutch journalist.
"But with 5-3-2 or 5-2-3 you can attack incredibly well. Chelsea [under Tuchel] show it every time, with different formations. And I take my hat off to Mr. Tuchel, because he got in halfway through [last season]."
There's a fine line between a defensive and an offensive approach when employing a back 3, and it takes committed attention to detail to ensure a team is not overly on one side of the line, and with the talent available – a core of Alexander Djiku, Daniel Amartey and Mohammed Salisu, as well as the combination of the Black Stars technical team, Ghana could just flourish in the system.
DISCLAIMER: The Views, Comments, Opinions, Contributions and Statements made by Readers and Contributors on this platform do not necessarily represent the views or policy of Multimedia Group Limited.