The coronavirus pandemic this year has had effect on virtually all aspects of our lives. It has caused change to some of our most basic activities, as well as some complex systems in society. Almost every activity is now being viewed in the lens of the pandemic and though it has proven one of the greatest challenges in modern society, we can confidently say that many people of the world have responded brilliantly to protect our fundamental needs of which include the food that we eat to survive.
This year, a noteworthy assessment made by the UN Food and Agriculture Organisation (FAO) is that, while the world produces more than enough food to feed everyone, there are simply too many people who suffer from hunger on a daily basis. This goes to show that there is an imbalance existing in our societal systems concerned with food, that adversely affects the poor victims of hunger.
In fact, the UN Food and Agriculture Organisation (FAO) records that Ghana has a land area estimated at 22,754.00 hectres with about 14,831.00 hectres—more than half—representing areas of agriculture.
Given that about forty percent (40%) of Ghana's population are involved in agriculture (ie. crop/food production), almost tallying with the global figure of about forty-five percent (45%) of the world's population involved in same, our country does not fall short in the ability to adequately provide food to all its inhabitants. Unfortunately, countries like Yemen and Chad, with Global Hunger Index of 45.9 and 44.2 were among countries most affected by hunger and malnutrition. It simply means we still have some distance to cover.
Ghana has been able to maintain commendable levels of food production and accessibility, and earned the FAO award for reducing hunger in 2015.
However as recent studies indicated that the agriculture sector was dominated by the older population, who also have lower life expectancy, steps were taken in 2018 to increase farmer participation with the youth.
Such achievements are the results of conscious investment in the agriculture sector, and today, we witness the investments being augmented with policy programmes like the Planting for Food and Jobs and Youth in Agriculture to mention a few.
While being mindful of the fact that food wastage is a major contributor to the reason why about 820 million people suffer from hunger worldwide, our attention is being drawn to the need to step-up food storage practices to directly deal with food wastage.
In the same spirit, we acknowledge the contributions of many non-governmental and non-profit organisations like "Food for All Africa", which is also been celebrated today for its immense contributions to reducing hunger especially at the height the Covid-19 pandemic here in Ghana.
Today the 16th of October 2020 being World Food Day, I also wish to stress that the effects of climate change, now and in the near future, need to be critically examined in relation to food security. The inefficient food distribution system in many countries today—particularly those that are war-plagued and those struck by flood and drought disaster—will not be the only major reason why more people will be driven into hunger in the near future.
Guided by extensive research in climate studies, it is projected that the world's agricultural landscape will be reshaped by climate change. The resulting effect will be a further imbalance in food distribution systems where colder regions in the world will become more favourable for agriculture while the current agriculture powerhouses will experience great declines in yields.
Sub-Saharan Africa is without question a major powerhouse in agriculture today and losing such capability can only impair UN Sustainable Development Goal (SDG) 2 of Zero hunger.
As we celebrate this important day and the efforts of the people from all over the world, be it groups, organisations or individuals, contributing to the reduction of world hunger, we are also pleased that the prevalence of people worldwide that suffer chronic hunger decreased over the last decades, from 18.7% in 1992 to 10.8% by 2018.
It is also important that we continue to remind ourselves of the importance of also achieving global food security and motivate ourselves to respond to the challenge with foresighted solutions. Using technology and modern farming practices.
****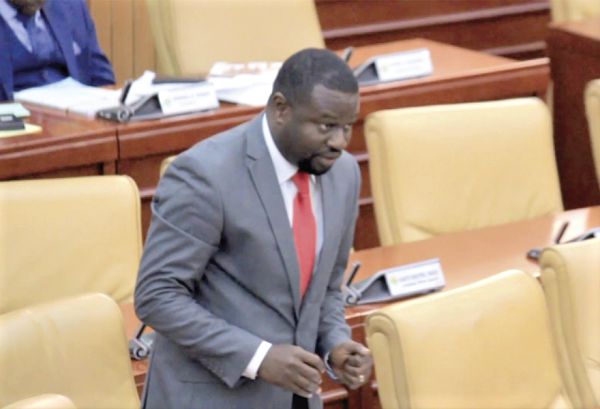 The writer is the MP for Nsawan Adoagri and Chairman of Parliament's Foreign Affairs Committee