The National Democratic Congress (NDC) is demanding the immediate removal of New Patriotic Party (NPP) goal posts from polling centers in the Ketu North constituency.
The NDC says goalposts on some school parks which will serve as voting centers in the December 7 elections have recently been painted in the NPP's red, blue and white colours.
They accuse Chieftaincy and Religious Affairs Minister Samuel Kofi Dzamesi who is the NPP parliamentary candidate of acting with impunity.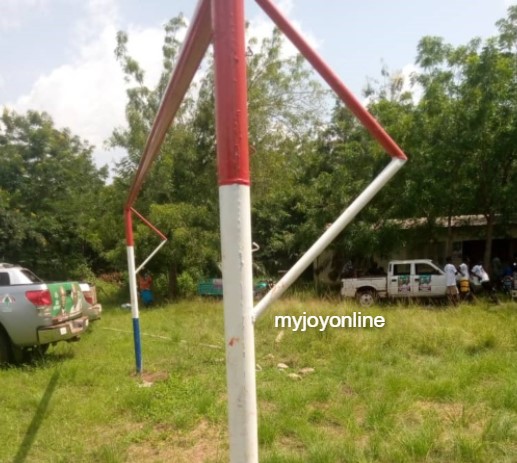 "The NDC in Ketu North Constituency has taken serious notice of the visible and glaring display of party colours at the very locations on basic school campuses across the constituency that have been and are going to be used as polling centers in the forthcoming December 7 presidential and parliamentary elections," a petition from NDC Constituency Secretary, Rev. Martin Amenaki to the Municipal Electoral Officer said.
"This rather unfortunate lawless act is being perpetuated by no less a party than the ruling NPP that has in recent times developed an insatiable penchant for painting goal posts donated to community school parks in their party colours – blue, white and red," the petition claimed.
"This clearly violates section 37 of the Representation of the People Law, 1992 (PNDCL 284) as amended which bars any individual or political party from campaigning for votes for a particular candidate or party in the day of election.
"It also contravenes Section 24 of the Electoral Offences and Sanctions Handbook published by the Electoral Commission, which clearly outlaws the open display of party colours and paraphernalia at any polling center on a polling day," the petition added.
The NDC is demanding removal of the NPP colours if peace in the area can be maintained.
"In order to forestall any reprisal eventualities that may mar the peaceful conduct of polls come December 7 in the Ketu North Constituency, the NDC demands the immediate repainting or removal of those goal posts painted in party colours from all school premises that are designated as polling stations across the entire constituency," Rev. Amenaki said.
"As a major stakeholder, the NDC strongly affirms its endorsement for a free, fair, transparent and violent free election and once again reassures the election management body of its cooperation and support for the performance of its rightful duties to the good people of Ghana towards deepening our democratic credentials," the petition concluded.
According to the NDC, the said NPP branded goal posts can be found in at least 10 communities in the constituency including Mite Park – Dzodze, Deme, Adzoatsi School Park, Wuti School Park and Kutsinu. The rest are Tadzi, Tamekorpe, Tove/Gbornoe, Dorwuime and Tornu Park.
The NPP says it is preparing a response to the allegation which it will issue in due course.
The December 7 parliamentary race in the constituency will see incumbent MP and Deputy Minority Leader James Klutse Avedzi come up against the Chieftancy Minister.