A chase spanning 30 months, has been confirmed by JoySports sources to come to fruition. Mohammed Salisu, aged 23, has made himself available for future Black Stars call-ups after several talks with key officials of the Ghana Football Association (GFA).
The defender has been on the radar of the senior national team for a sustained period, and his availability will be more than welcome news to Otto Addo and his set of assistants, who followed through efforts of their predecessors.
Under new leadership, the Black Stars have looked their best in some three or four years, executing clear game plans and having a more cohesive playing unit, all, which are bound to be enhanced at the 2022 World Cup once Salisu joins the national team.
Where does Salisu fit?
The Black Stars since Otto Addo's arrival, have looked to strike a balance between playing on the front foot and also being a well-drilled defensive team.
Playing at home in the first leg of the World Cup playoff versus Nigeria, the Black Stars in a 4-2-3-1 controlled large portions of the encounter, limiting the Super Eagles to seven shot attempts, and while Ghana won nine corner kicks, Nigeria managed only two.
Ghana looked to adopt the same approach in the return leg, but struggled to cope with Nigeria's expansivity and intensity. In the first half alone, the Nigerians restricted Ghana to only 34% of possession, while also attempting five shots on goal with Ghana recording just a single attempt.
Half-time saw the Black Stars switch to a 5-4-1 diamond which resulted in the Black Stars having four more goal attempts while still mitigating Nigeria's wing play.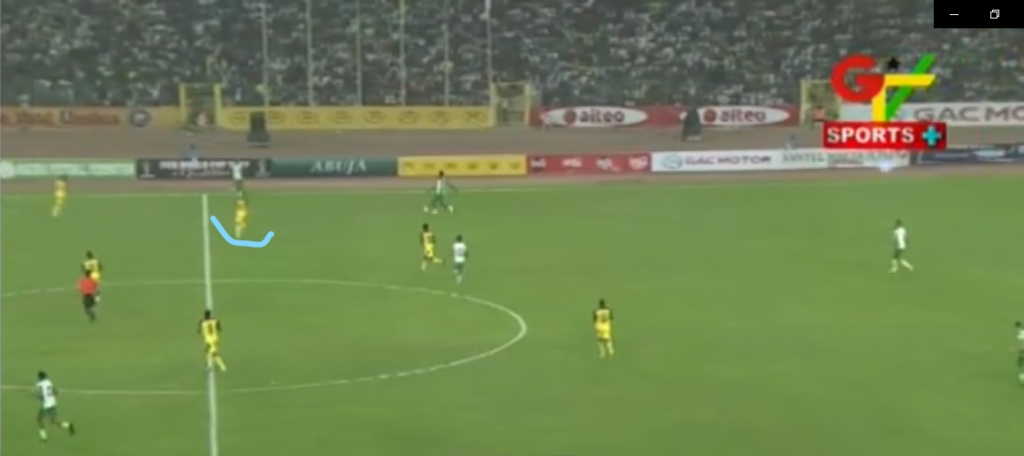 In most games under Otto Addo, the senior national team has favoured playing three center backs, with Daniel Amartey and Alexander Djiku serving as the core. A set of other profiles have played rotation roles as the third central defender, but in an in-depth view, whenever the Black Stars have had possession, Baba Iddrisu has often dropped in as the third center back in games where he has played in a midfield pivot with Thomas Partey.
In such events, Ghana start with two central defenders and against Madagascar, Mensah intriguingly – or probably not so much, was played centrally with Amartey and the explanation was simple.
"I feel more comfortable if somebody can move with his left foot. Actually, our number 6 [Baba Iddrisu], was mostly free and it is difficult from the left side, to play him with the right foot. So if we have a natural left-footer, we can use that space more and we can play to Baba much easier than a right-footed player. That was the reason I decided to play Gideon there," Otto Addo said in a press conference after the game versus Madagascar.
A clear thought process which paid dividends as the defender was the Black Stars player with the most touches after fulltime. But Salisu's availability could mean less and less experiments from management of the team, as preparations for the World Cup intensifies.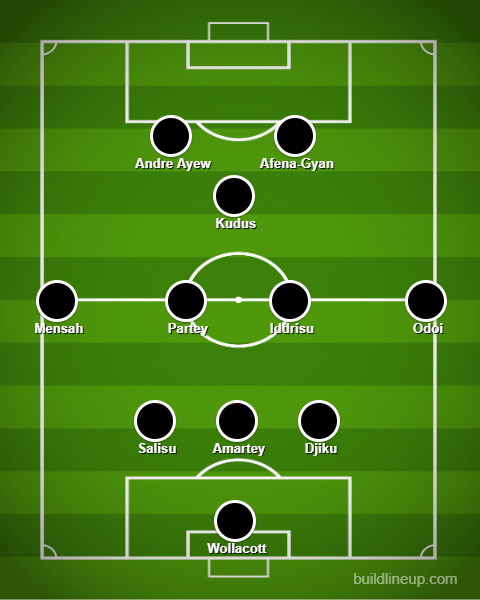 How does Salisu fit?
Salisu, during his time at Southampton, has displayed traits of an above average ball-playing defender. In the 2021/22 season of the Premier League, the defender completed an average of 45.6 passes in 46 appearances and despite not registering an assist, he created one big chance in the Premier League while completing 101 long balls.
These are numbers which could bode well with the national team at the World Cup, as Otto Addo wants his defenders to be ball dominant. Gideon Mensah in his LCB role versus Madagascar, had 78 touches of the ball, completing 38% of his long passes. He also posted a pass accuracy of 85% and created one big chance in the process.
The bigger picture shows that in all four of Addo's competitive games as head coach, Black Stars central defenders have had 495 touches on the ball while completing 88.06% of attempted passes.
Defensively, Salisu registered a tackle success of 58% in last season's Premier League, while making 95 interceptions. Daniel Amartey in the same season, recorded a 59% tackle success and made 83 interceptions while Strasbourg's Alexander Djiku in the 2021/22 season of Ligue 1, averaged 2.0 interceptions per game and also recorded a tackle success average of 1.6 per game.
These three combining for the Black Stars can offer the team the defensive leverage it'll need while producing above average quality with possession. Addo has relied on a 3-1-4-2 system for the senior national team, as it supports the attacking patterns he is trying to implement. Nevertheless, it has dire defensive consequences which Central African Republic took effective advantage of.
As a result, the addition of Salisu as well as a tweak in the senior national team's approach, could just give the Black Stars the reliable defensive structure to fall on.
How Salisu supports flexibility
Despite seeming to favour playing with a back three, Otto Addo has displayed his ability to be flexible, as the national team has operated with different modules from a 4-2-3-1, 4-3-3, 3-1-4-2 and a 4-1-4-1.
These have underlined the platforms under which the Black Stars have approached games under Addo, and assistant Black Stars coach, George Boateng hints Addo's desire is one which has been there from the start.
"It's brilliant because Otto was instrumental in that decision, I have to say because Otto since February 1st, said the first game we can play 4-3-3 but second leg he wants to change it to 3-5-1-1 or 3-6-1. That was already discussed in the first meeting we (Hughton, Addo, Dramani, Richard Kingson and Boateng) had," Boateng told JoySports after Ghana beat Nigeria.
In all four competitive games, Addo has started a midfield which features Iddrisu-Partey-Kudus or Iddrisu-Kudus-Ayew in either a 4-2-3-1 or 4-3-3. As explained by the premier 'Black Stars playbook' edition, Iddrisu in the 4-2-3-1, drops to form a back three in support of the Black Stars' build-up phase. But in a 4-3-3, he holds his midfield role while the right-back tucks in as the third center back.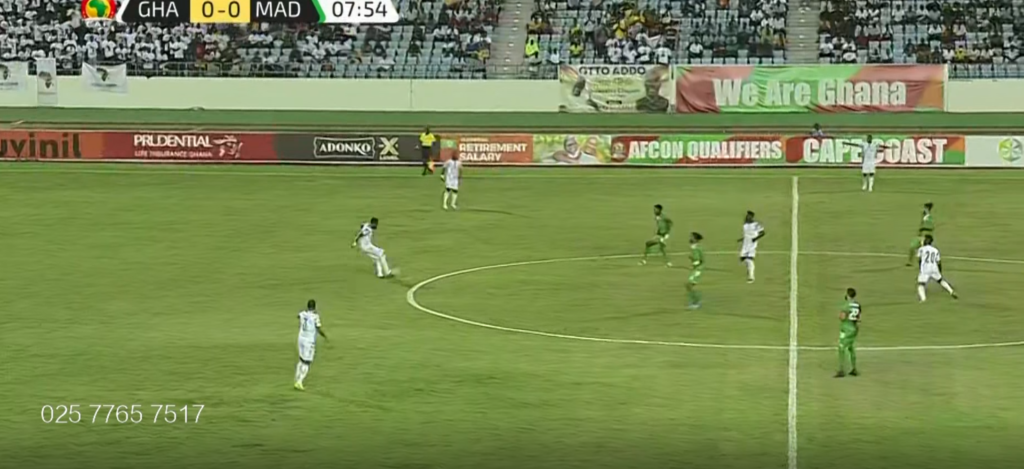 And as suggested, the Black Stars may want to adjust from a 3-1-4-2 to 2-3-4-1, in order to provide better cover against transitions, while sustaining the double 8 approach and Salisu, being left-footed, can enhance Black Stars' switch to a back four.
Playing a back four means the senior national team can play with a more balanced and technical midfield combination with Partey, Daniel Kyereh and Mohammed Kudus as a trio in a 4-3-3.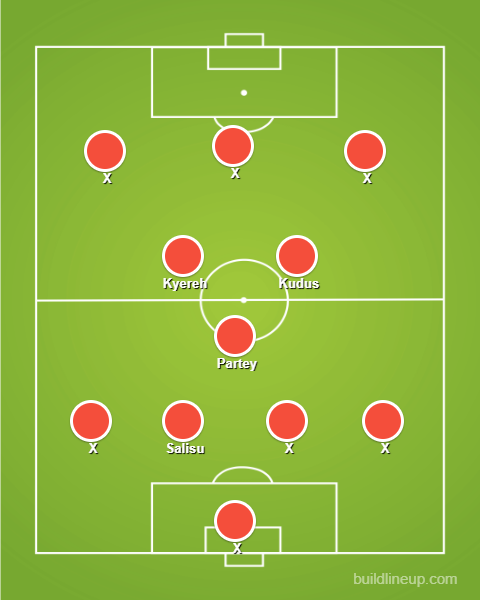 However. Ghana landing a very difficult draw for the World Cup means Addo could opt for a system which offers more cover in defense, making it less likely for Ghana to use a 4-3-3.
Nonetheless, Salisu's availability presents the technical team with a chance to field a more balanced and efficient Black Stars side in Qatar, even with a back three.
DISCLAIMER: The Views, Comments, Opinions, Contributions and Statements made by Readers and Contributors on this platform do not necessarily represent the views or policy of Multimedia Group Limited.