The 2020/2021 season was a great one for Accra Hearts of Oak after they won the Ghana Premier League and the MTN FA Cup.
It was not only an exciting moment for the players but for fans who had yearned for years for the love of the game to be brought back.
The unveiling of the Phobians new kit for the next season has given it's fans another reason to keep loving the side and keep the enthusiasm high ahead of the next season.
Reactions of some fans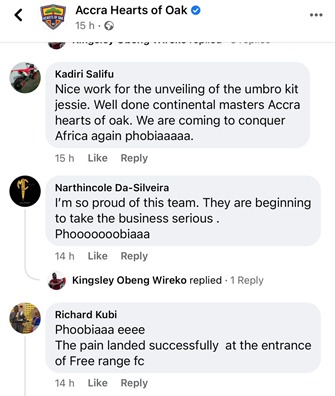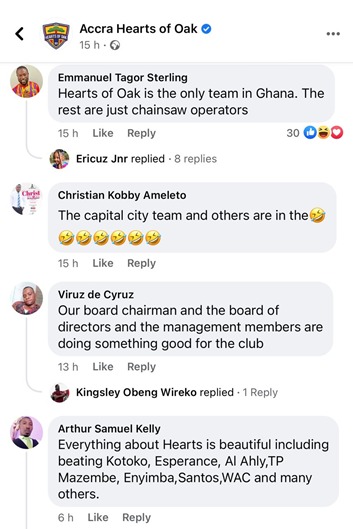 Last night, the champions of Ghana Premier League, Accra @HeartsOfOakGH unveiled what would be their next kits at a ceremony in Accra. Replicas of the beautiful jerseys are available for purchase by the faithful supporters. #Phobia110 #AHOSC #Umbro pic.twitter.com/b7CWoSTyoq

— Francis Doku (@TheGHMediaGuru) September 17, 2021
This is fire 🔥🔥🔥🔥

New @HeartsOfOakGH jersey.

Best!!#Phobia110 #Phobia110 #Phobia110 pic.twitter.com/MaF9OQbRVi

— George Addo Jnr (@addojunr) September 16, 2021
The jerseys are siiicckkk!!! #Phobia110 🔴🟡🔵🔥

— Daniel Koranteng (@Dani77k) September 16, 2021
Whoever did the designs deserve an honorary award and a statute..

Damn.

I am tripping for it…

*#Phobia110*
*#PhobiaDɛdɛɛdɛ*
*#PhobiaBɔbɔɔbɔ* pic.twitter.com/8OG6CtP6Hv

— YAW SANOGO (@YawSanogo) September 16, 2021
#Phobia!!! The best #Phobia110
"Hearts of Oak is sweeter than marriage" ✊🏽 pic.twitter.com/J25tJ4FAdN

— PANTINO (@Pantino11) September 16, 2021
New season new kits. We dey here 🌈🌈phobia #Phobia110 pic.twitter.com/nTz4RVU4bO

— KALYJAY (@gyaigyimii) September 16, 2021
Didn't think @HeartsOfOakGH could outdo themselves but my goodness what a kit!#Phobia110 pic.twitter.com/V9nREgRmol

— Gary Al-Smith (@garyalsmith) September 16, 2021
Accra Hearts of Oak is the name
we're PHOOBIA#phobia110#phobiaumbro pic.twitter.com/5jsrMsaFgF

— PHOBIA 11.11.11 (@Jeff_Oma87) September 16, 2021