'The Black Stars 10' series will give the reader an idea of the greatest players to illuminate the Ghana national team in the past 20 years.
You might disagree with some of the picks, and most likely wouldn't also agree with the order, but the aim is to ensure you enjoy the stories. You can read more about the introduction to the series here.
In recent times, the Black Stars has been chopping and changing in the right-back department. The likes of Harrison Afful, Daniel Opare, Samuel Inkoom, Andy Yiadom, Tariqe Fosu and most recently Benson Anang have featured on the right side of defence with none permanently nailing the spot.
There was a time where a particular player filled the spot easily. He had a weird sleeve combination; a long sleeve on his left and a short sleeve on his right. His name is John Paintsil.
"I had a dream that I was playing in one long and one short sleeved jersey," he explained his combination to SVTV Africa.
"That was in France when we were preparing for South Africa 2010 World Cup so I approached the person in charge of the jersey and I told him I want my jersey to have one short sleeve and the other long sleeved. So basically I had a dream and I followed my dream."
John Mensah and Isaac Vorsah did their job in the middle of defense whilst Paintsil made strides from the right-back spot. He was quite solid defensively and was also capable of going forward.
As a youngster, Paintsil did not see football as his first choice. He surprisingly wanted to be a police officer.
"I've always admired police officers, because my father was a police officer," he told Graphic Sports.
"I was only playing football because I enjoyed it, but what I really wanted to do was to join the police service."
"Growing up, I was only waiting to finish with my secondary education and join the police service, but then football came calling." His early passion for the law may have played a part in the discipline he showed on the pitch.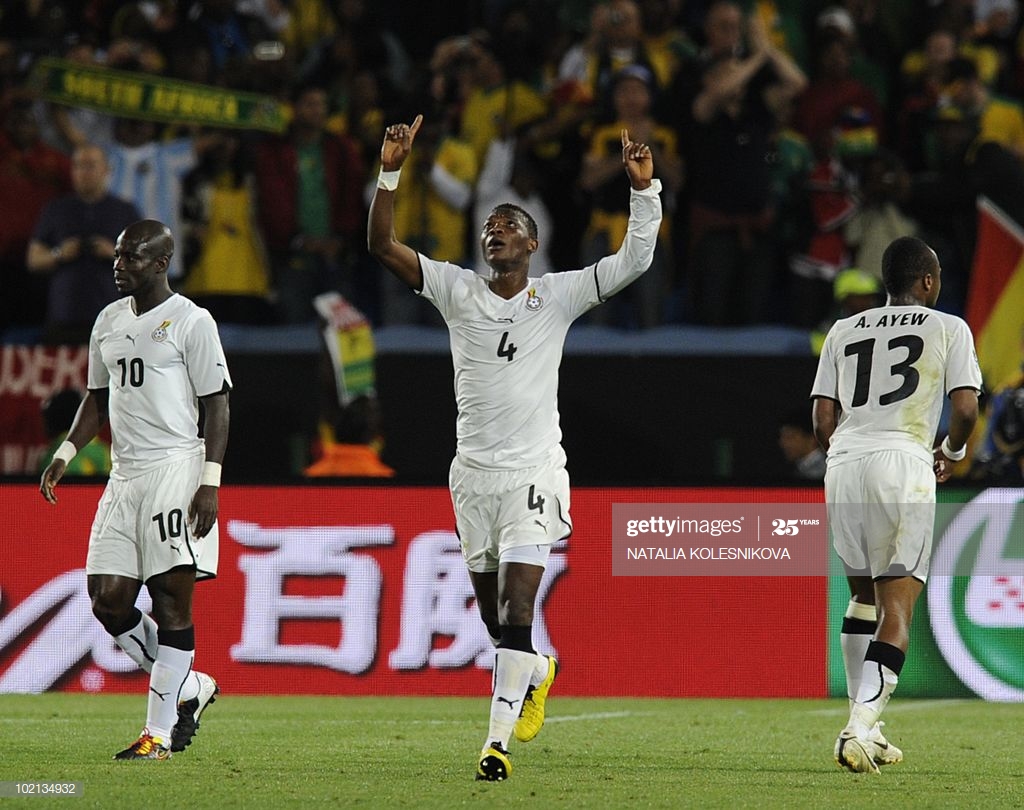 Paintsil showed huge promise at a young age. He was part of Ghana's U21 team who won the silver medal in the World Youth Championship in 2001. After that, he was eased into the senior team and never looked back.
Paintsil was named among the defenders for the 2006 World Cup – Ghana's debut shot at the biggest stage. He made a great account of himself, forming a impeccable backline with John Mensah and others. The Black Stars made it to the round of 16 where they were knocked out by Brazil.
He also featured in the 2010 World Cup where Ghana made history by reaching the quarter-finals. He featured in all five matches, doing a brilliant job in his position. In the space of 13 years, Paintsil racked up an astonishing 89 appearances in the national team; making him third on the list of all-time appearances for Ghana.
After hanging his boots, he started working towards his coaching badges. He even took on the job of assistant manager of Kaizer Chiefs. When asked why he wanted to go into coaching, he made his mentorship intentions clear.
"I want to use coaching to become a father, mentor, teacher and friend to the youth who want to use football as a career. I want to be very special for my players in particular and all footballers in general," he told Graphic Sports.
"I started from South Africa and acquired a License D."
"When I returned to Ghana, I wanted to acquire the A license but the FA was not working at the time, so it affected my programme. I am still waiting for the right time to upgrade my license, though with the experience gained in South Africa I can coach any team that comes my way."
Paintsil now has an ultimate goal after football; become the head coach of the Black Stars.
"Yes, I'm working on my badges," he said on Citisports.
"We are just waiting on the FA to give us the green light as to when we can do the course."
"Coaching the national team will be a dream come true, so I'll be praying towards that. Coaching the national team would be a very interesting [challenge]."
It is heartwarming to see that an assuring presence has shown eagerness to impact the younger generation from the touchline. Paintsil gave us some great memories; weird sleeves, passion, discipline and most importantly, quality.
In the near future, Ghana may unearth a stable right-back but none will be like John.
---
No 7 of 'The Black Stars 10' will be released on November 5 at 9am so keep an eye on the sports page.