Researchers at the Kwame Nkrumah University of Science and Technology (KNUST) have found contamination of millet and milk smoothie, popularly called Brukina, with E. coli.
The Biochemistry and Biotechnology Department has detected unacceptable levels of the bacteria, Escherichia coli, in almost all the samples examined.
Escherichia coli is an indicator of possible contamination with faecal matter.
Varied globs of milk-bathed millet fighting to exit the opening of a transparent PET bottle into an anticipatory mouth.
The palates struggling to make sense of the soured dance between milk and millet.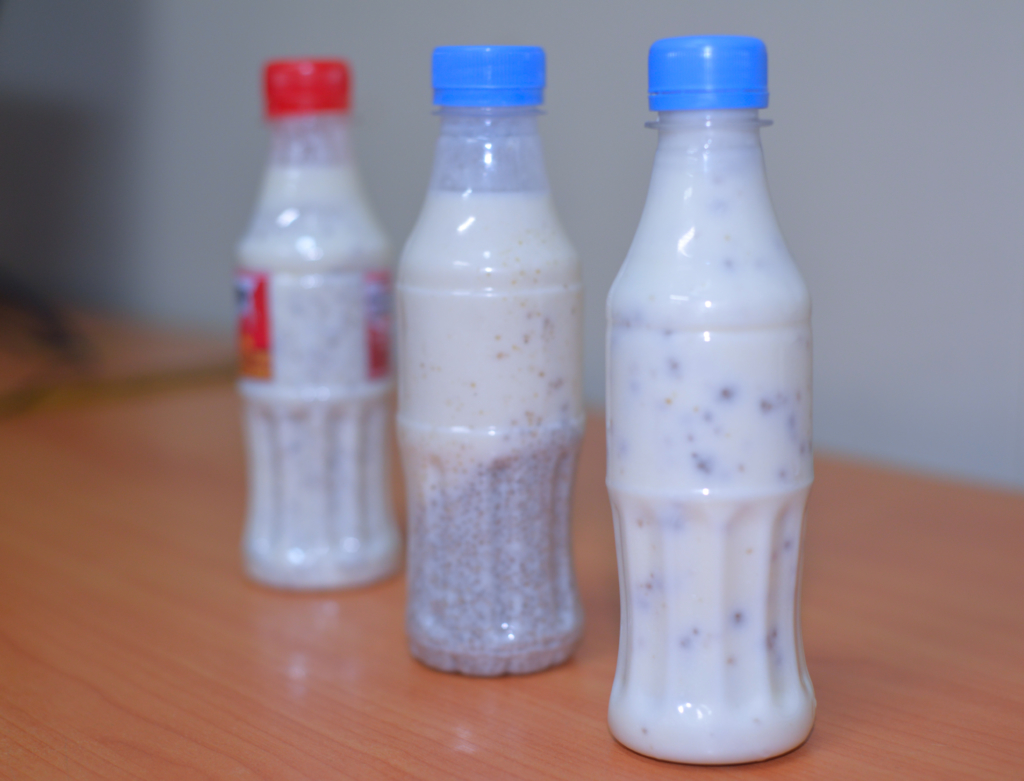 When swallowing it is so painful, not a bodily pain, but pain of 'loss'. Indeed, no matter how selfishly the mouth behaves, it will eventually lose out to the stomach, the supreme enjoyer of Burkina.
"The millet in Brukina can make it very satisfying," Gafa is full of admiration.
"Not everyone likes buying food outside but when you drink brukina it can sustain you for some time," Hawa Iddrisu said.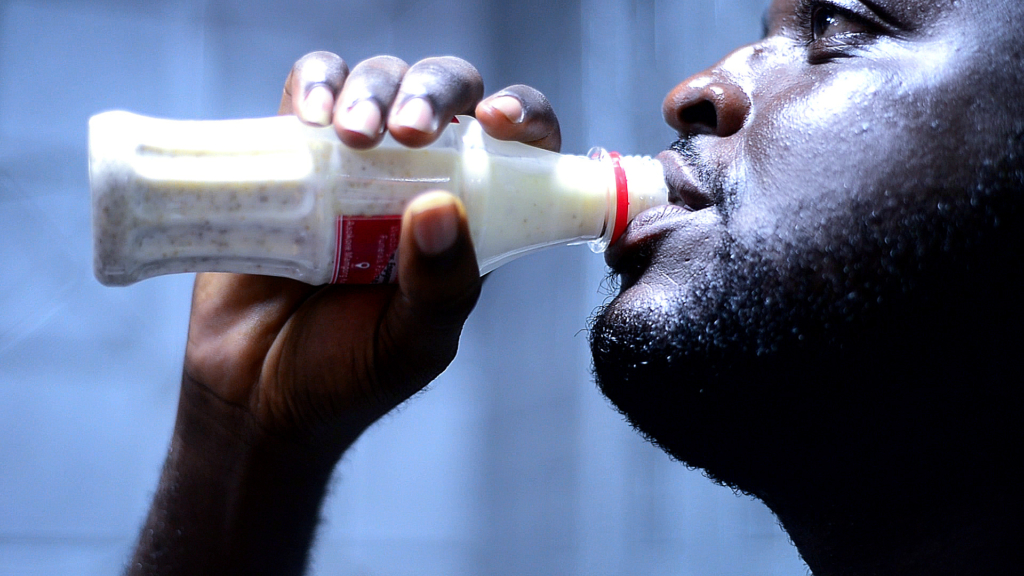 A university student, Hayford Emmanuel says "sometimes, when we're done with classes, and you can't buy the Don Simons, when we get three bottles of Burkina, it refreshes you."
Health benefits
Brukina, a millet and milk smoothie also called 'deger' or 'nunu' in some parts of West Africa is a fermented beverage made from cow milk and millet. However, in recent times, producers have resorted to milk powder to produce yoghurt for the Brukina.
Brukina can be considered a nutritious beverage. According to the USDA Food Data Central, millet contains high starch levels, B vitamins, calcium, iron, potassium, zinc, magnesium and fats. Millet has been found to possess about 10 percent protein.
The Indian Institute of Millets Research has praised millet for its ability to tone down asthma symptoms. High levels of magnesium fingered in millet can prevent respiratory issues in asthmatics.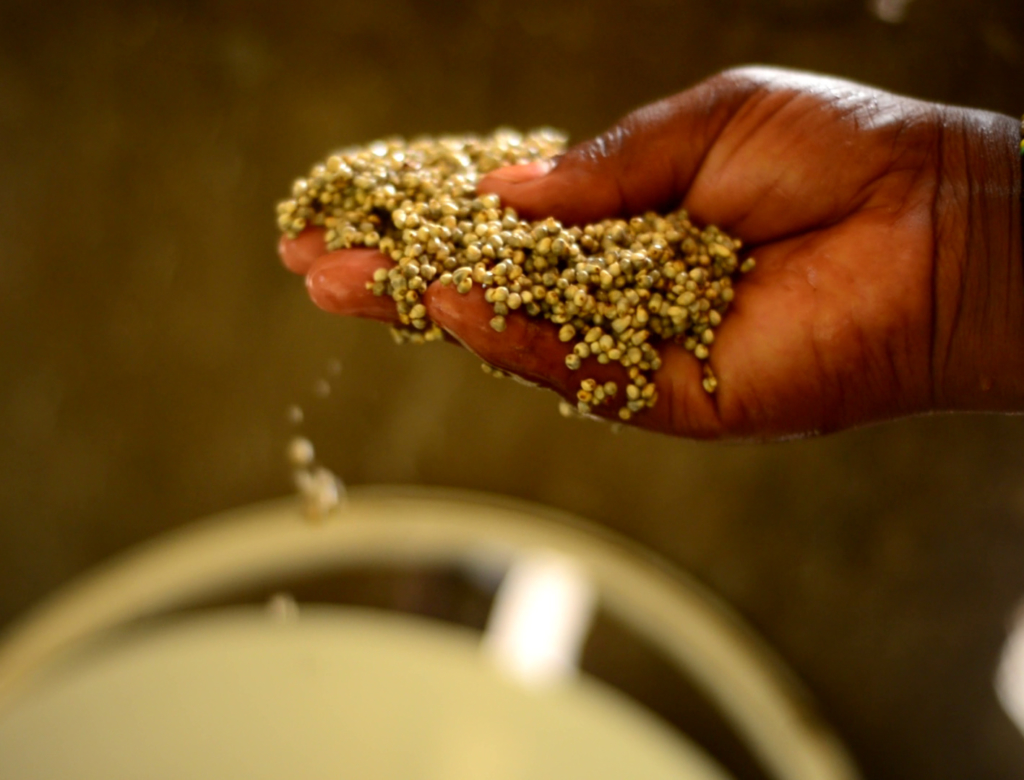 Fermented milk such as yoghurt has been found to contain protein, calcium, phosphorus, vitamin B12 and iron.
Yoghurt for instance is a rich source of probiotics. Probiotic foods are very essential in maintaining a healthy body.
A Dietician at the Kwame Nkrumah university of Science and Technology, Dr. Marina Aferiba Tandoh believes it can be promoted as a very good breakfast and snack to particularly reduce iron deficiency among Ghanaian children.
"Brukina is a very healthy beverage," she noted. "It contains the necessary carbohydrate, minerals, essential fat and amino acids, and protein. With over 50 per cent of Ghanaian children being anemic, it's important to promote foods rich in iron such as Brukina."
Investigation into a 'national beverage'
Brukina which is said to have originated from Burkina Faso is fast becoming popular in Ghana. The bottles which sell for 2 and 5 or 6 cedis seem to have almost overtaken meat pie and puff puff as the go-to food in the country's traffic.
A casual survey I conducted revealed on average 5 Brukina vendors in every popular traffic in Ghana.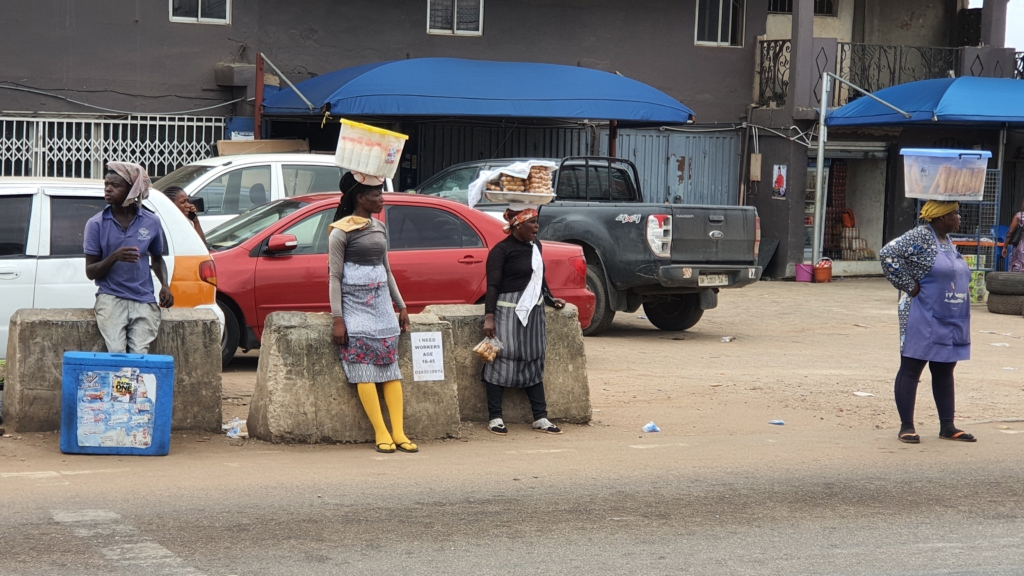 Dr. Marina Tandoh therefore decided to investigate the nutritional and microbiological quality of Brukina.
"We've seen that people are patronizing them everywhere. So, we decided to investigate the nutritional value and its safety," she said.
Together with one of her students, Baaba Kwanua Adams, they collected six 300ml burukina from local producers and retailers in different locations in the Kumasi metropolis.
The areas were Aboabo, Ayigya, Tech Junction, Anloga and SMS KNUST campus.
Coliforms
Coliforms are bacteria that normally live in the intestines of healthy people and animals. They are therefore commonly found in the faeces. They are also found in plants and in the soil.
Escherichia coli or E. coli is the major member in the coliforms family and it's found in the faeces. Of the bacteria that are part of this family, only E. coli is generally not found thriving in the environment.
Dr. Alex Owusu-Ofori, a clinical microbiologist at the Komfo Anokye Teaching Hospital notes most types of the E. coli are not harmful.
He however warns 'huge quantities' of the bacteria can cause diseases. He says even at 'normal' levels, people with weakened immune systems can be at risk.
Some strains can cause severe stomach cramps, vomiting and bloody diarrhea and urinary tract infections.
The E. coli that causes diarrhea or serious food poisoning is the type O157: H7.
Unpasteurized milk, undercooked meals and unhygienic vegetables are good media for its transmission.
Mostly, disease-causing bacteria which can invade, for instance, a particular food are vast.
Testing for all the constituent bacteria cannot be feasible. Interestingly, wherever you find Coliform bacteria it's a sure sign other disease-causing bacteria are lurking around.
Coliform bacteria which is easy to fish out therefore serves as an indicator of other disease-causing bacteria.
The KNUST team found all the samples except the Brukina from Tech junction tested positive for E. coli.
The Tech junction sample however tested positive for other coliforms.
E. coli above the permissible limit?
The permissible coliform limit is 10 coliform units per 0.1 millimetre of any food substance.
However, the maximum total coliform count recorded by the team in the Brukina was 920 coliform units and the minimum count being 100 coliforms units per 0.1 millimetre of any food substance.
That means even the lowest coliform count was 100 times the permissible coliform levels!
Baaba Kwanua Adams concluded: "All of the Brukina couldn't pass the coliforms level test!
Possible sources of contamination
I took a visit to one of the producers, Muni at Aboabo in Kumasi to examine how the beverage is made.
The setting consists of the yoghurt contained in a 10kg margarine bucket.
"We mix a fresh yoghurt with raw milk sourced from the Fulani herdsmen. We cover it and leave it for a day to ferment," Muni said.
Another bucket contains the soaked millet. This is left overnight.
It's sent to the mill and after that dried in the open.
"We mix the millet into granules and place in a colander and prepare to be steamed," she explained.
Again, those who were involved in the production process had not geared up. Their bare hands were part of every step of the process.
The millet is poured into the yoghurt and bottled and subsequently refrigerated.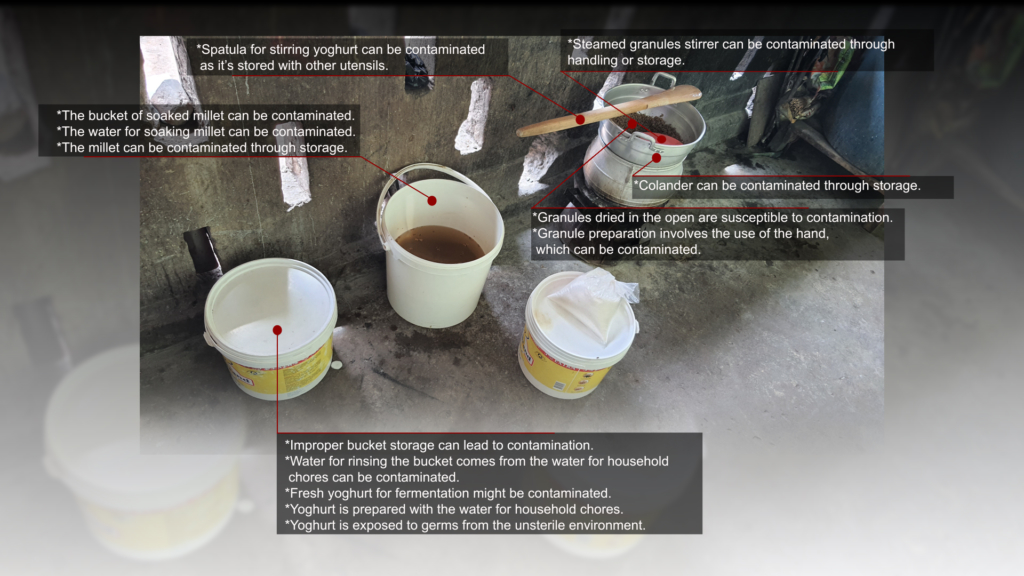 Dr. Tandoh's team have also visited some production sites. Apart from the above observations, they also saw some of their storage facilities for the millet had rodent infestation.
Dr. Marina Tandoh suspects contamination could also come from the faecal matter of the rodents.
She said poor storage of water, hygienic practices of producers, poor faecal disposal and poor treatment of sewage can be possible sources of contamination.
Part of the FDA mandate?
I also did my checks to assess the number of Brukina registered by the Food and Drugs Authority in the metropolis.
I started from Top High at Ayigya and ended at Sofo Line. At Top High and Tech Junction, I found most of the vendors had sourced from three main producers: Urmu special Brukina, Sala Brukina and Jamilla Brukina.
Though the basket had the label, the bottles were bereft of it.
I only found one nicely labelled which showed the production site at Asokore Mampong but lacked FDA approval.
At Anloga through to Aboabo, I counted 5 vendors. They lacked labels on both the basket and bottles.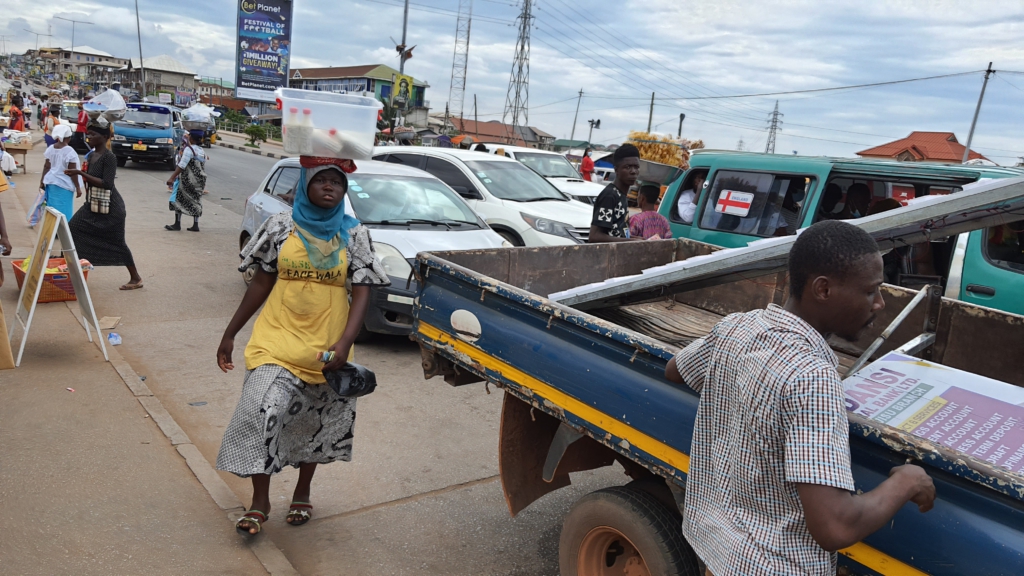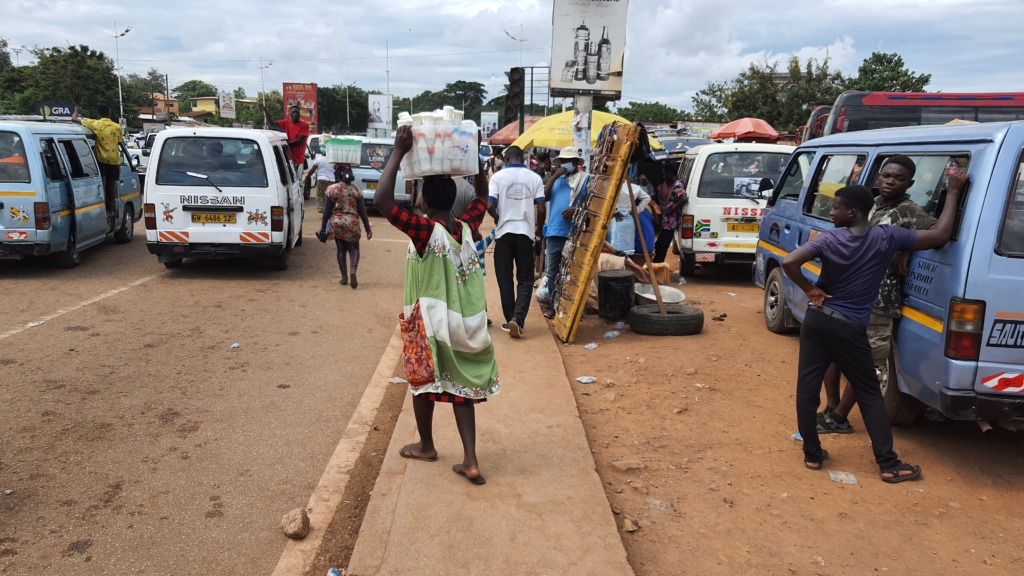 I made a stop at Abrepo junction. There, I found none of the drinks had the labels.
I finally arrived at my last stop at Sofo Line. Of the 5 vendors I spotted, none had labels on both bottle and basket.
Interestingly, I saw the nicely-labelled bottle I found at Ayigya also at Sofoline.
It had an expiry date of 14 days but had no manufacturing date.
How does one determine the start of the 14 days, if it's even true?
Dr. Marina Tandoh believes the producers have taken a cue from the expiry date set for yoghurt.
"For yoghurt, 14 days is the window by which we can consume the product.
For the producers of Burkina, I don't believe they have the proper authorization from the FDA. They're probably leaning on the information they have on yoghurt production to inform customers on the safety window," she was curious.
To standard protocols
Dr. Marina Tandoh observes most producers are not well educated on food safety.
She advocates teaching producers proper pasteurization practices.
"Surveillance is very important on the part of the FDA. The producers are not really educated in terms of food safety.
"They must be taken through the process of food safety and Hazard Analysis and Critical Control Points in food production to ensure the food they're producing are safe for consumption.
"Milk is easily contaminated so the pasteurization must be taught to these producers to make the Brukina wholesome for consumption," she recommended.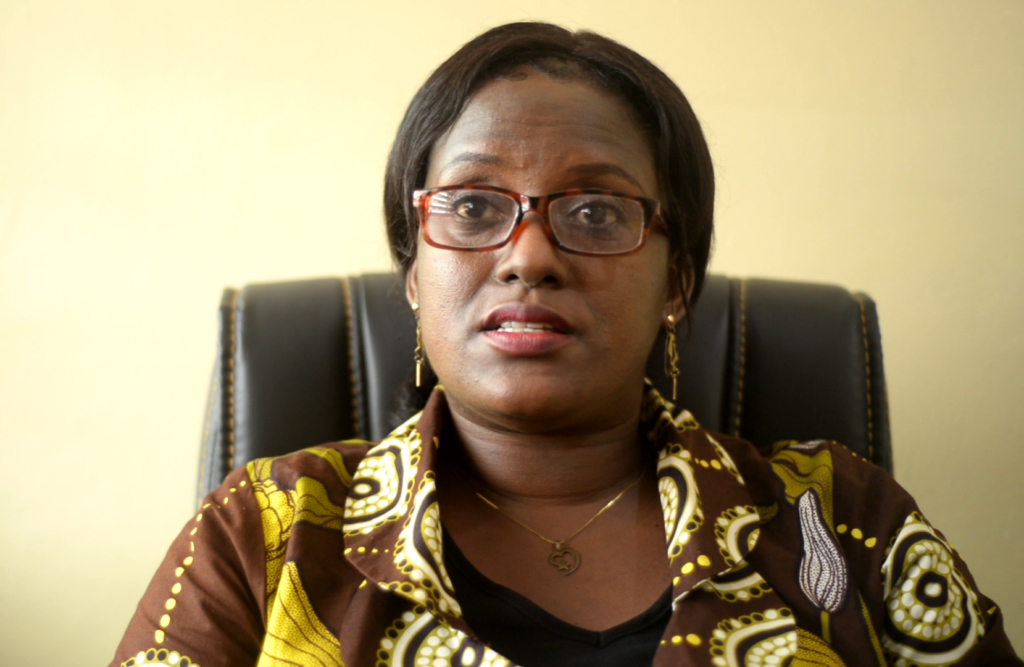 As consumption of Brukina soars, there's the need for stringent regulations to ensure the public health is well protected.
Will the FDA watch while the public gulp millet and milk smoothie laced with animal and human waste?